The One Moment That Ruined Jerry Lee Lewis' Career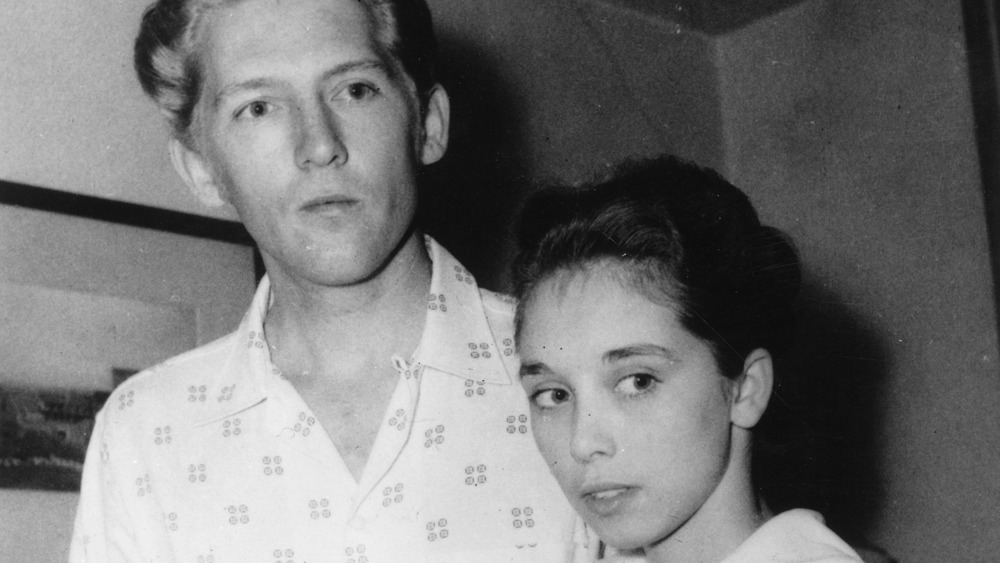 Keystone/Getty Images
When Myra Lewis Williams talked to Cuepoint in 2014 about the moment that forever changed her life and briefly made her name known worldwide, she shared that, for her, "It's not a story that ever went away." Now an author and, as recently as 2014, a real estate broker in Atlanta, according to the Daily Press, Williams was once better known as Myra Gale Brown. Before the incident that would make her infamous, Williams (Brown) was just a 13-year old girl in 1957, living with her musician father and her family in Memphis, the cradle of an emerging rock and roll scene.
As the Washington Post reported, the year before, her cousin, also a musician, had come to town to try his luck at the iconic Sun Records studios. Sometime later that year, that cousin, now either 21 or 22, moved in and, as the Washington Post cringingly described it in 1989, the two became "kissing cousins." According to Williams, one day in 1957, her cousin surprised her with a marriage proposal. As she put it, "At 13, logic does not exist," and she agreed. Williams was 13. Her cousin, Jerry Lee Lewis, was 22.
"I didn't realize how young 13 was until I got older," explained Williams in 2014. Maybe that's why it didn't occur to her to hide anything.
Jerry Lee Lewis' career never fully recovered from this moment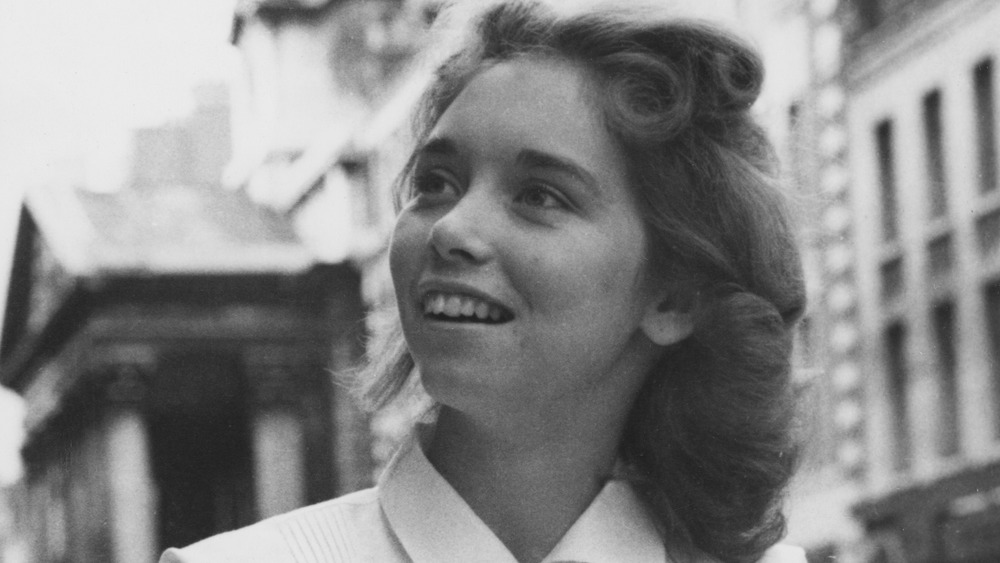 Keystone/Getty Images
Myra Gale Brown was with Jerry Lee Lewis on his 1958 tour of England, hoping to expand his fan base, when a British reporter asked who she was. "I was the one who let the big ol' cat out of the bag," she told Cuepoint. Though Lewis and his team had come up with a story about Brown being 15, Brown reportedly wasn't told about this plan. "If anybody had told me anything, I could have prevented this thing. But they didn't, and I didn't, and the rest is history, I guess," she later said, reflecting on the moment (via ATI).
Once the tabloids had the story, they didn't let it go. The furor grew even worse once it was disclosed that not only had Lewis married a 13-year-old, she was also his first cousin once removed and the daughter of his bass player. Add to that the fact that Lewis was still legally married to his second wife and the story soon became infamous. Lewis' ticket sales plummeted, and his tour was cut short.
As Cuepoint described it, it was exceptionally bad timing for Lewis, who'd been perfectly positioned to ascend to the top of the charts following Elvis Presley's draft into the army. Remarkably, the couple managed to remain married for a time and had two children (tragically, their son died as a toddler). As the Daily Press characterized it in 1989, however, those remaining 13 years were marked by "the terrors of [Lewis's] alcohol and drug abuse." In the years following the incident, Lewis again found some success, relates Live About — this time as a country performer. Perhaps surprisingly, Williams and Lewis remained in contact, and despite the turmoil, Williams appears surprisingly resilient, sharing that the aftermath of that life-changing moment "wasn't harming me, it was harming somebody I loved, that was the pain of it."