Roger Goodell's Net Worth Is Way Higher Than You Think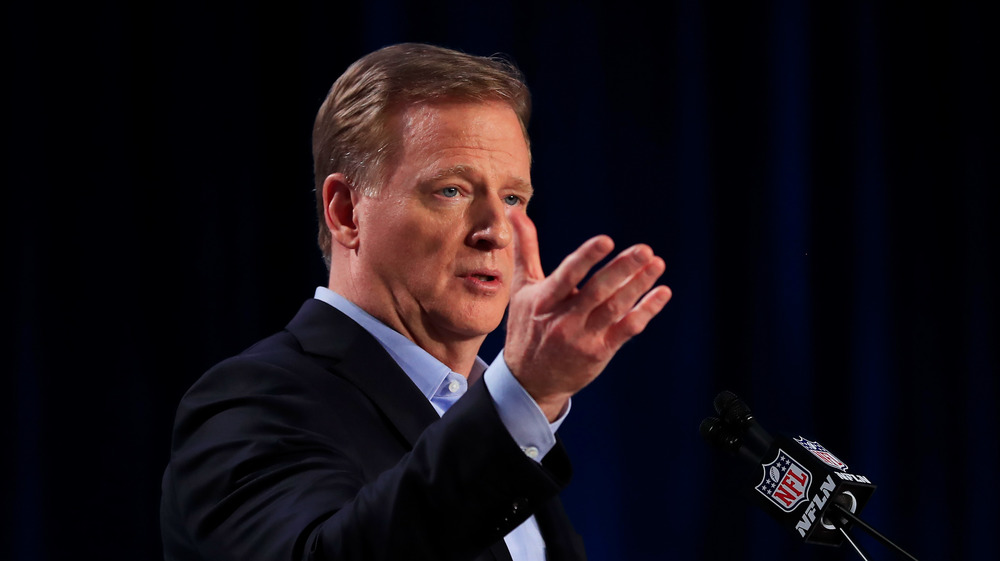 Cliff Hawkins/Getty Images
Roger Goodell hasn't exactly been the most well-loved NFL commissioner since he took over in 2006. Goodell refused to support those who knelt for the national anthem in the wake of the death of George Floyd (per CBS News), mislead Congress about why the NFL continued to use the offensive name "Redskins," flubbed investigations into players such as Ray Rice regarding accusations of domestic abuse, refused to take responsibility for player monetary compensation regarding concussions, refused to oversee a compensation package supporting retired players suffering physical and mental illnesses, blamed Bountygate on players and not coaches (where New Orleans Saints' coaches and players pooled money to pay players to deliberately injure opponents), and much more, all per Forbes. The Criterion straight up called him "the worst commissioner ever." The Ringer even called him a terrible writer.
And yet, a year earlier in 2016, as The Guardian recounts, he was called to a closed-door meeting with GOP staffers to unironically discuss "leadership lessons" (which was later canceled). A year later in 2017 he was given a five-year contract extension worth $200 million, including at least $3.5 million in base salary (although before then he averaged $35 million to $40 million a year after incentives), according to Newsweek. This means that Roger Goodell not only currently makes more than top-earning NFL players such as Joey Bosa ($44 million in 2020, per Forbes), it means that he's worth much more than many may realize.
Roger Goodell is not a stranger to wealth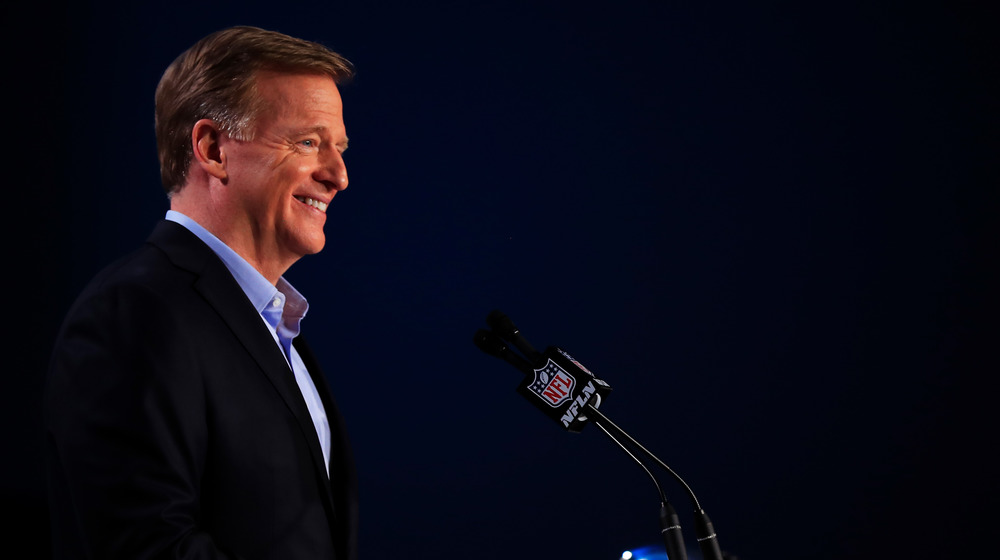 Cliff Hawkins/Getty Images
Admittedly, before becoming the "NFL's Biggest Villain" (as dubbed by Sportscasting), Roger Goodell worked his way up through the ranks at the NFL after joining the New York Jets team office as a mere intern in 1983, per The Cinemaholic. Goodell doubtlessly feels that his own personal financial success is justified, given that it took him over 30 years to go from intern to assistant to the president, to executive vice president and chief operating office commissioner, and finally commissioner. In turn, his time spent as commissioner reflects his former roles as a marketing-focus, media property-driven businessman.
Since becoming commissioner, Goodell's salary has increased every year. In 2007, as Celebrity Net Worth says, it was $6 million. This isn't chump change, by any means, but by the time we hit 2020, his salary swelled up to a whopping $50 million. It's increased steadily every year, more or less, since 2011. From that year, it experienced its biggest boost from $12 million to $29.5 million in 2012. All in all, Goodell's salary, as commissioner, totals a staggering $428.7 million. As stated, a big chunk of his salary is derived from incentives, but there's no way to parse through available data to find out exactly how much, in terms of dollars.
At present, taking all his assets and expenditures into account, Roger Goodell is worth about $150 million. No matter that Goodell may "deserves endless boos" (per FanBuzz), it's likely that he has too much money to hear them.