Sarah Thomas: What You Didn't Know About The First Female Super Bowl Referee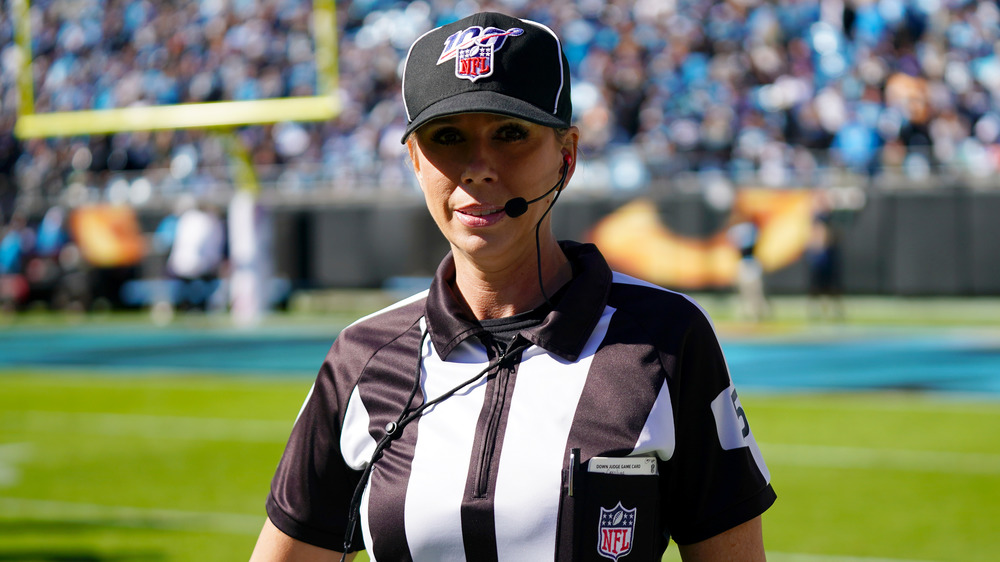 Jacob Kupferman/Getty Images
On January 19, 2021, the NFL announced its lineup of officials for Super Bowl LV, which will be played on February 7. The crew will be led by 21-season veteran referee Carl Cheffers. He has refereed 17 NFL playoff games, and this will be his second Super Bowl appearance. Troy Vincent, the NFL's Executive Vice President of Football Operations, said, "Their body of work over the course of a 17-game season has earned them the honor of officiating the biggest game on the world's biggest stage. They are the best of the best."
The lineup included a historic choice for professional football, as well. For the first time in the league's history, a woman will be among the referees calling the shots on the field. She will serve as the game's down judge, whose job it is to keep an eye out for offsides, encroachment, and other line fouls before the center snaps the ball. "Sarah Thomas has made history again as the first female Super Bowl official," said Vincent. "Her elite performance and commitment to excellence has earned her the right to officiate the Super Bowl. Congratulations to Sarah on this well-deserved honor." The NFL's official Twitter account also noted the historic moment: "Sarah makes history as the first woman to officiate in a Super Bowl." Let's take a look at Thomas' experience in the NFL to see how she got to this groundbreaking moment in her career.
Sarah Thomas has had a lot of firsts in the NFL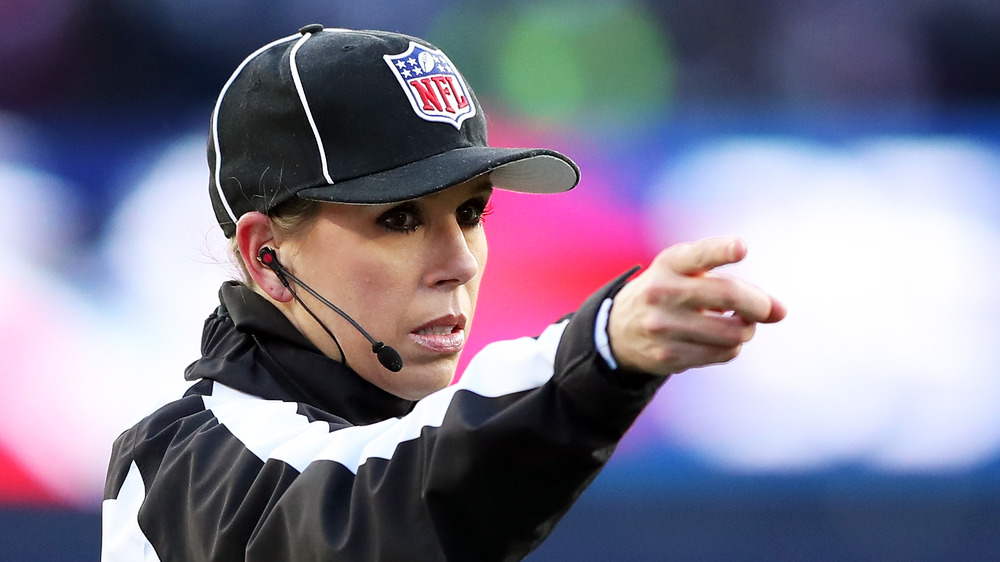 Adam Glanzman/Getty Images
"Collectively, the Super Bowl LV on-field officiating crew has 88 years of NFL officiating experience and 77 combined playoff game assignments (including past Super Bowls)," read the NFL's announcement of the officiating crew. So how much of that experience did Sarah Thomas chip in? Rocking uniform number 53, Thomas has officiated for six seasons in the NFL. And she has overseen four playoff games. In fact, according to Sports Illustrated, she was responsible for another NFL first back in 2019 when she was the first woman in the league's history to ever officiate an NFL postseason game. That game saw the New England Patriots take on the Los Angeles Chargers. And even that wasn't her first history-making game. Four years before that, she became the NFL's first-ever full-time female referee.
According to ESPN, Thomas remembers the exact moment she learned she would be officiating in the NFL. "That call came Thursday, April 2 at 10:47 a.m.," she said, adding that "I tell my girlfriends and family that I was speechless, and it's hard for them to believe that now, but it was just an honor and a humbling experience, and I'm glad I got the call."
Gerry Austin, the former NFL official who hired her for college football, praised her understanding of "the spirit of rules" and her communication skills. "She has the ability to calm the coach down and to explain whatever the coach is questioning," he said.
Being a female football official, in Sarah Thomas' own words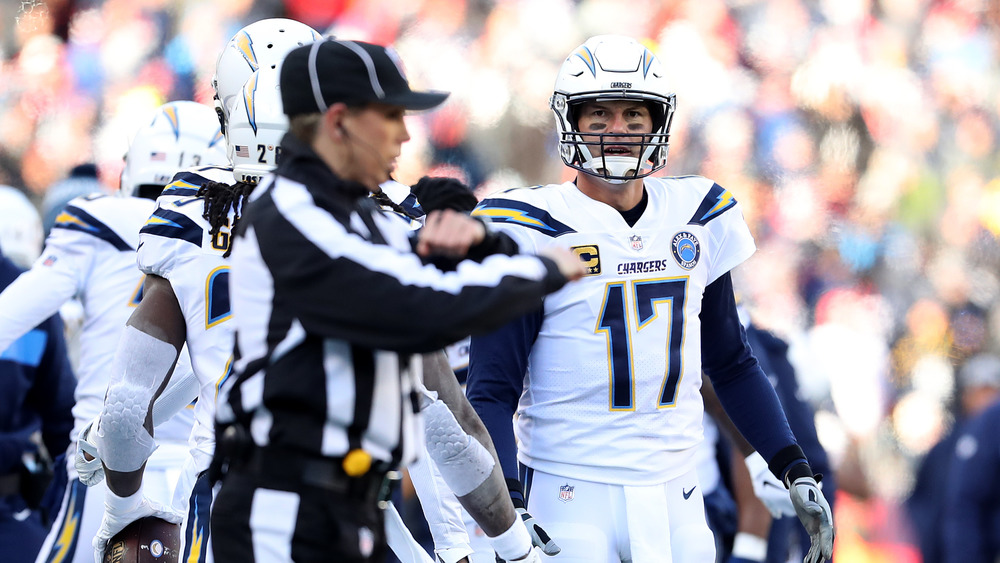 Elsa/Getty Images
So what's it like being a woman telling gigantic football players what to do on the field? Sarah told The New York Times in 2009 that she sometimes startled players and coaches who hadn't previously realized she was a woman with her long blond hair tucked up under her referee's cap, but it was not as often as you'd think. "Most of the time they are so focused on what they are doing, they don't notice me," she said. "And that is what every other official strives for. Our best games are the ones that no one knows we're there."
Just before Austin hired her to officiate college football games, Thomas almost left the field to focus more time on her family and on her career in pharmaceutical sales. She has two sons with her husband Brian, and she wanted to have more time to be with them as they began to play team sports and participate in other extracurricular activities. But then she got the call from Austin, and she and Brian decided to make it work. "I wasn't going to stand in her way," said Brian, a medical equipment salesman and baseball coach. "We've figured out a way to make our schedule work for the kids. I'm hustling in the fall, and she is in the spring and summer." Soon football fans across the globe will see just how much hustle Sarah Thomas has in her.