Inside The Life And Death Of The Last Civil War Widow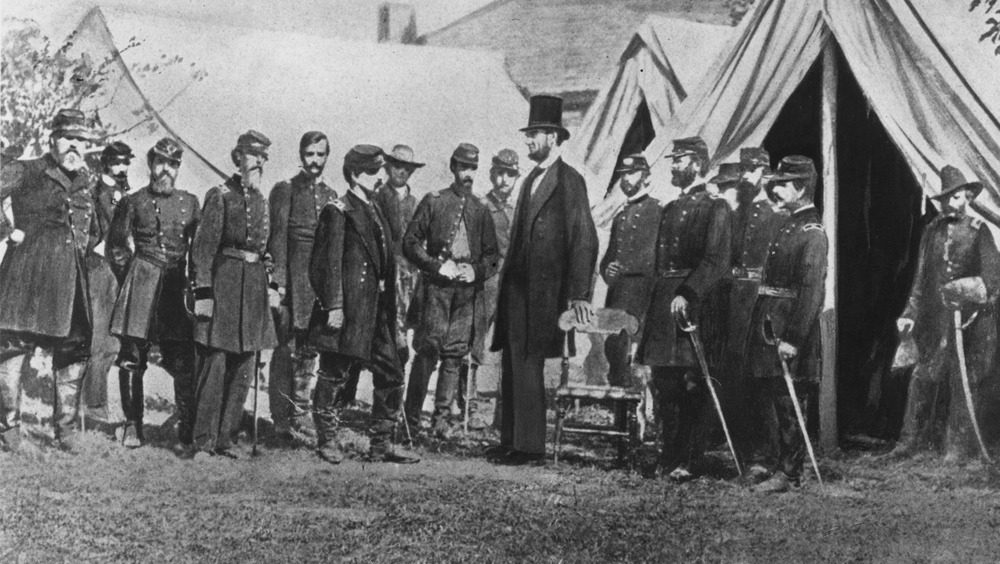 Rischgitz/Getty Images
It's hard to imagine that anyone alive in the year 2020 would have an incredible, zero degrees of separation personal connection to someone who fought in the Civil War, but when Helen Viola Jackson died in December 2020, it was the end of an era. Jackson, 101 years old, was thought to be the last living widow of a Civil War veteran, as reported by The Washington Post. 
This unlikely partnership came to be in 1936 when Jackson, just 17 years old, married James Bolin, 93. Bolin was a neighbor of Jackson and her family in the small town of Niangua, Missouri. Jackson's father "volunteered his teenage daughter to stop by Bolin's home each day to provide care and help with chores." To show his appreciation for her work, Bolin offered to marry Jackson so she would receive his military pension after he died. Jackson agreed, perhaps because "she felt her daily care was prolonging his life," according to Nicholas Inman, Jackson's pastor and friend, not to mention the lack of funds otherwise available to a 17 year old girl during the Great Depression. They married on September 4, 1936 at Bolin's home. They remained married for three years until his death, although they apparently never consummated the marriage and Jackson continued living with her family rather than her husband. She didn't tell her family or anyone else about the wedding until much, much later.
Why did a 17-year-old girl marry a 93-year-old man?
Helen Jackson never remarried, had children, or even collected Bolin's pension. In fact, she didn't speak out about having been married to a Civil War veteran until 2017. At that point, according to Inman, as told to the Washington Post, she started a "healing process" upon realizing "that something she thought would be kind of a scarlet letter would be celebrated in her later years." Jackson was honored with a spot on the Missouri Walk of Fame and received lots of mail from well-wishers. 
In an oral history recorded in 2018 and quoted on Facebook by the Missouri Cherry Blossom Festival, for which Jackson was a volunteer, Jackson explained that for years "I didn't feel that [my story] was that important and I didn't want a bunch of gossip about it." She also shared that she "had great respect for Mr. Bolin and I did not want him to be hurt by the scorn of wagging tongues." She never collected the pension because one of her stepdaughters threatened to reveal the secret marriage and Jackson "didn't want them all to think that I was a young woman who had married an old man to take advantage of him." In addition to her spot on the Missouri Walk of Fame, Jackson led her hometown's Independence Day parade as grand marshal and inspired a play, The Secret Veil, which was performed at the 2019 Cherry Blossom Festival. She died on December 16, 2020 at Webco Manor Nursing Home in Marshfield, Missouri.