The Strange History Of The Vice President's Residence
The American president lives in the White House; everyone knows that. But where does the vice-president live? Certainly not at the White House.
Vice presidents do have an official residence: Number One Observatory Circle. The address isn't familiar to most people, mainly because it doesn't have as long a history as the presidential residence. But, the home has served six vice presidents, including now-President Joe Biden, when he served as vice president under Barack Obama. Vice-President Kamala Harris will also live there, but as the Washington Post reports, she delayed their move-in until some renovations are made, residing for the time being in her two-bedroom condominium.
For years, there wasn't even an official home for vice presidents; they were expected to live in their own homes, explained The White House website. But by 1966, it became apparent that the second-most-powerful person in the country needed an official residence. The Secret Service had a hard time setting up protection protocols because every new vice-president had a different house. Costs to protect the second-in-command were also increasing.
The New York Times reported the House Committee on Public Works approved the building of a three-story mansion for $750,000. Construction was postponed while the economy recovered, so Congress approved Number One Observatory Circle, then designated as the home of the observatory's superintendent, as the vice president's temporary home. First, renovations had to be made so, and these began in 1974. It took three years before a sitting vice president would live in the home.
It has a horseshoe pit, running track, pool, and a beehive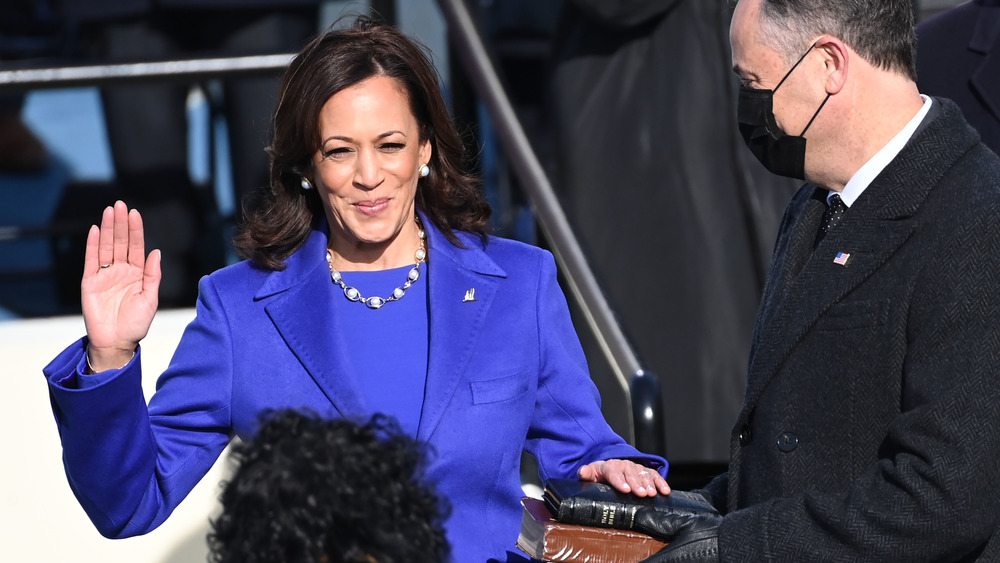 Pool/Getty Images
The first vice president to live at Number One Observatory Circle was Walter Mondale in 1977. Gerald Ford, vice president under Nixon, became president before he could live in it, and President Ford's vice president, Nelson Rockefeller, being a Rockefeller, preferred his own house.
George H.W. Bush, VP under President Reagan, moved in next, and he added his own touches to the home: a horseshoe pit and a quarter-mile track. Dan Quayle, George H.W. Bush's VP, waited a month before moving in, said the Philadelphia Inquirer, to make the house suitable for children. He also added a swimming pool. Biden reportedly loved the pool so much that he sang its praises to his successor, Mike Pence. The Pences brought in a beehive, which they unveiled in 2017.
Number One Observatory Circle has hosted many dignitaries and events, but it is closed to the public. And though it's of Queen Anne style architecture, with sloping roofs, turret-like rooms, and wide-open floor plan, the interior tends to be very traditional. Each family that lives there, though, has put their touch on it. Even though he never lived there, Rockefeller installed a bed that Barbara Bush described as "covered in mink." It was a bed sculpture called the "cage bed" by artist Max Ernst. The Bushes declined to use the bed, said USA Today.
While the house awaits its new resident, it will undergo a few more changes as renovations begin soon.