Tag Team: The Untold Truth Of The Hip Hop Duo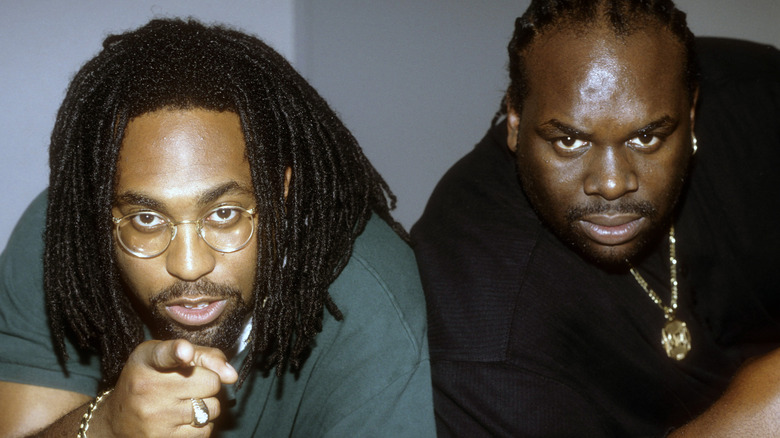 Al Pereira/Getty Images
Before Outkast was known as the biggest hip-hop duo from Atlanta, there was the multi-platinum-selling group called Tag Team who was known for one of the biggest hits of the '90s: "Whoomp! (There It Is)." While the group helped bring more attention to the ATL hip-hop movement, both members actually originated from a vastly different part of the country. During an interview on Atlanta Rap History's podcast, Tag Team members Steve RollN and DC the Brain Supreme explained how they spent most of their childhood growing up in Denver, Colorado. According to SI, Steve was the more established of the two musically; he played in a band at Manual High, and DC, who had taken music lessons, convinced his schoolfriend to let him join. Similarly, Steve was in a hip-hop duo with his cousin, called, as it happens, Tag Team. Again keen to join Steve in his musical projects, DC joined that too, and when Steve's cousin moved away, the two continued on as a duo.
DC the Brain Supreme would later study at Sacramento State University and develop his music repertoire as a DJ before coming to Atlanta for a job he had lined up at CNN. Steve RollN explained how he eventually moved across the country to pursue music education at the Art Institute of Atlanta. Little could they have known that they were in training to deliver one of the biggest songs in musical history.
Tag Team is still cashing in on Whoomp! There it is
There are only a handful of songs that have enjoyed immense success like Tag Team's "Whoomp! There it is," which has continued to be a huge earner for Steve RollN and DC the Brain Supreme, in a way that usually only happens for seasonal evergreen numbers like Mariah Carey's "All I Want For Christmas (Is You)."
In 2013, Tag Team gave an insight into the song's longevity and how lucrative their one-hit-wonder track continues to be for them in the 21st century in an interview with 5280. According to DC, at the time of the interview the song still often generated up to $500,000 dollars a year for the duo and the song's copyright holders, its afterlife buoyed by its prominent use in the hit movie "Elf," starring Will Ferrell, in 2003. 
DC explained the feeling of watching the movie and hearing the Tag Team classic make an appearance: "All of a sudden, the song comes on and I smile because a check will soon be coming to my mailbox." Per the same source, during a particularly high-earning year, the group's two members can each bag in the region of $70,000 – not bad for a song written 20 years ago.
Was Barack Obama in the Whoomp! There it is video?
Tag Team's "Whoomp! (There It Is)" is a timeless classic and prime example of how a song can easily bring you back to a certain time and place in your life. In 2010, it seemed many fans of the song were convinced that former United States President Barack Obama was a part of such nostalgia, making a brief appearance in the music video for the song. While bearing a striking resemblance to Obama, as it turned out, sadly, it wasn't the president wearing a baseball cap and sunglasses in the video, per Gawker.
On Tag Team's official site, if you're looking to book the rap duo for a corporate event or a fundraiser, the good news is that you and your fellow employees can immerse yourselves in '90s nostalgia, chanting "Whoomp! There it is!" six ways to Sunday. And it doesn't stop there. You can also catch the group at state fairs, casinos, cruise ships, and of course, at one of the most fitting venues: the halftime shows at sporting events.
Where have I seen Tag Team recently?
You likely know "Whoomp! There it is" even if you have never laid eyes on the two men behind it, but as the years roll on Tag Team continues to make public appearances in front of large audiences, in part thanks to the countless brands, companies, and events that want to channel the energy of their classic hit.
In 2020, Tag Team made a notable appearance in an ad for Geico, in which they suddenly appear to help a woman to prepare ice cream for a family meal. Of course, the lyrics of their signature song were changed to "Scoop, there it is!" in the process.
The ad became so popular that an ice cream company went on the create a flavor especially for Tag Team, according to USA Today. The same source quotes DC the Brain Supreme, who explained the appeal of the ad: "Here we come with spinning scoops, and throwing sprinkles and smiling and dancing, and just end up bringing so much joy to everybody when everybody needed it exactly at the same time."