Why This Film Writer Was Briefly A Suspect In The Night Stalker Murders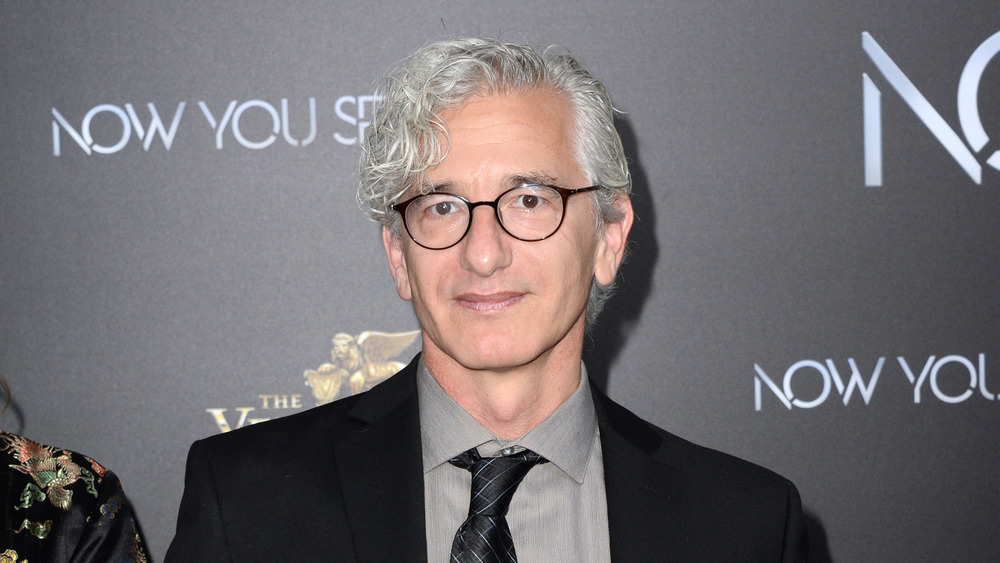 Andrew Toth/Getty Images
"I was in alliance with the evil that is inherent in human nature... Walking death."
These were the words spoken by Richard Ramirez, aka the "Night Stalker," a serial killer who murdered at least 13 people and committed 11 sexual assaults throughout the Los Angeles area in the 1980s. At a time when L.A. seemed to be on the economic and social uptick, as the new Netflix docuseries chronicles, the Night Stalker prowled the streets according to what seemed like a disconnected pattern of attacks with "handguns, knives, a machete, a tire iron, and a hammer," per The Sun. The only consistent pattern between attacks, as L.A. homicide's veteran detective Gil Carrillo describes in the docuseries, was that the killer exhibited the deviancy of needing to see his victims in fear before killing them.
When Ramirez was put on trial after finally being apprehended in 1985, he called himself a Satanist and turned his trial into a media circus by drawing pentagrams on his hands and making devil horns in the courtroom, as History describes. He even, sickeningly so, became a kind of national sex symbol to groupies who called him the "Jim Morrison of serial killers," as recounted by The Sun.
So who better, besides Ramirez, to be a suspect in a series of savagely brutal murders and assaults than the man who co-penned one of the most strangely endearing and innocent "be excellent to each other" peaceathons in cinematic history?  
A most heinous accusation
Yes, that's right: Ed Solomon, co-writer of the adventures of Bill S. Preston, Esq., and Ted "Theodore" Logan (Bill & Ted's Excellent Adventure, Bill & Ted's Bogus Journey, and Bill & Ted Face the Music, featuring beloved human Keanu Reeves), was a "prime suspect" in the Night Stalker case, as the Hollywood Reporter states. Solomon, who started his career as a comedy writer and stand-up comedian, broke into Hollywood as a staff writer on the late '70s TV show Laverne and Shirley, and became the youngest member of the Writers Guild of America, per People Pill. 
Solomon related his brush with his cosmically evil double, the Night Stalker, in a series of tweets on January 21, 2021. Apparently (bear with us – it gets a little confusing), the Night Stalker had stolen his car, a "crappy red Toyota station wagon." But it wasn't actually Solomon's car; he'd just co-signed for it for a friend several years earlier. That friend sold it to its new owner, which is when it was parked outside a "Chinese restaurant downtown" and stolen by the Night Stalker. Solomon received a warning call from a reporter saying that he was a suspect and a visit from the police mere minutes later. The friend who sold the car? In jail at the time, overnight, after putting a pot plant in the window. 
Solomon's story is all uncorroborated, of course, but at least it's full of fun anecdotes befitting a writer of wacky hijinks.