The Devastating Death Of Hank Aaron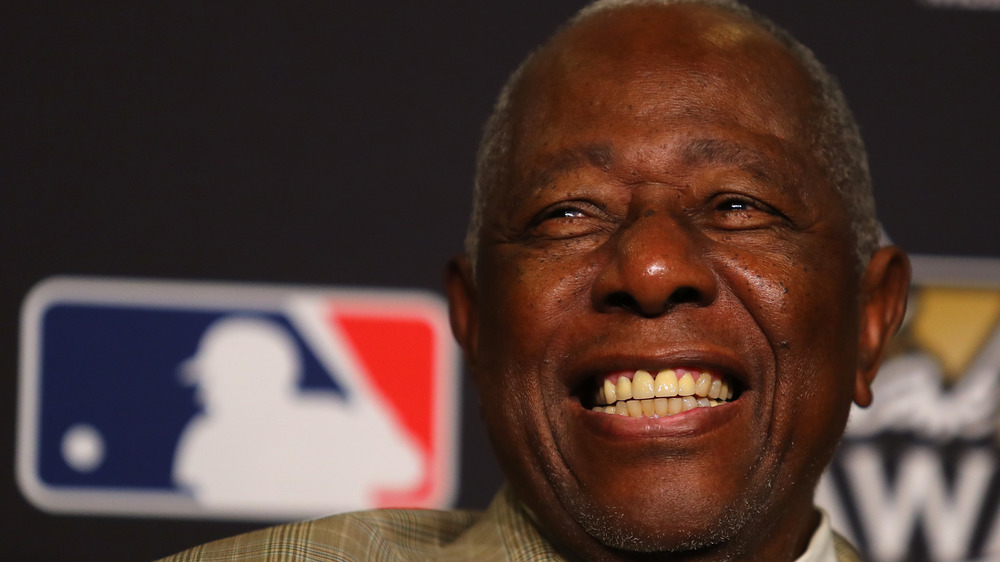 Tim Bradbury/Getty Images
The hits to the Baseball Hall of Fame just keep coming. Just on the heels of the death of legendary Dodgers manager Tommy Lasorda comes the news that home run legend Hank Aaron has died at the age of 86.
ESPN published a mournful statement from Terry McGuirk, chairman of the Atlanta Braves, the franchise where Aaron spent the majority of his stellar career that spanned nearly two-and-a-half decades. "We are absolutely devastated by the passing of our beloved Hank," said McGuirk. "He was a beacon for our organization first as a player, then with player development, and always with our community efforts. His incredible talent and resolve helped him achieve the highest accomplishments, yet he never lost his humble nature. Henry Louis Aaron wasn't just our icon, but one across Major League Baseball and around the world."
Hank Aaron was an absolute legend in the game of baseball. He broke Babe Ruth's home run record in 1974, ended his career with 755, and held the record for more than three decades. It wasn't until Barry Bonds hit his 756th home run in 2007 that Aaron was bumped to number two on the list, where he remains to this day.
Aaron was a true role model both on and off the field, so let's take a look back both on his baseball legacy and life as champion of civil rights.
Hank Aaron still held a lot of baseball records at the time of his death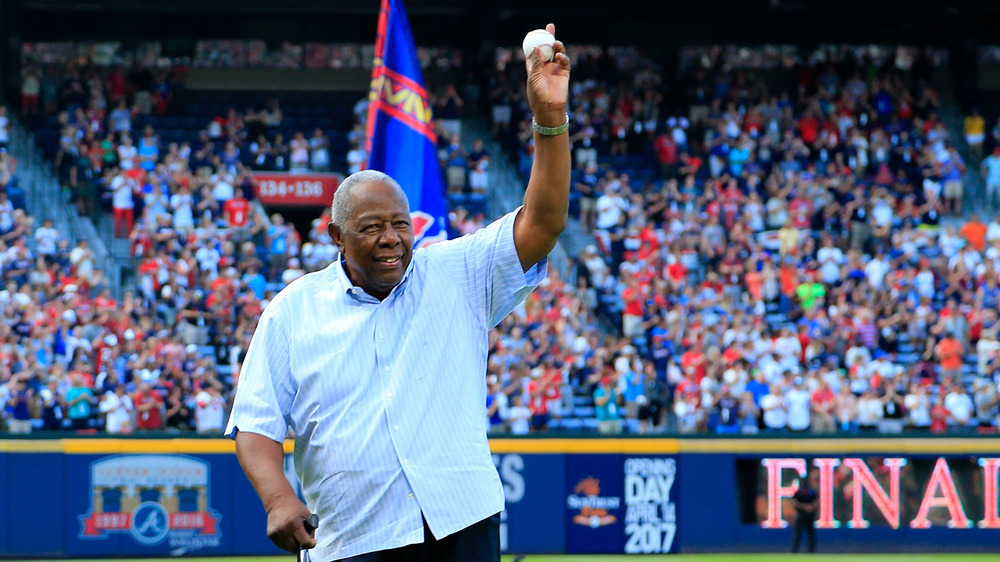 Daniel Shirey/Getty Images
Bonds may have taken Aaron's title of home run king in 2007 (though Bonds' record is tainted due to his steroid use), but Hank Aaron still held a number of league records at the time of his death. As ESPN notes, he still tops the MLB lists for RBIs with 2,297, extra-base hits with 1,477, and total bases with 6,856. He's third in the rankings of games played (3,298) and of career hits (3,771), and his 2,174 runs scored put him at number four on that list. He has the record for most All-Star seasons with 25, and he won three Gold Gloves as a right fielder, was a two-time National League batting champion, and also was the NL MPV in 1957, the year he won a World Series with the Braves.
Aaron was a shoe-in for the Baseball Hall of Fame when he was inducted in 1982. It was his first year on the ballot and he received 97.8 percent approval (it takes just 74 percent to get in). His legacy as a titan of the MLB was reinforced in 1999 with the creation of the Hank Aaron Award, an annual prize given to the best hitter in both leagues. It's obvious from his record on the field that a coach couldn't have asked for a better player, and neither could a country ask for a better citizen.
Hank Aarons was a civil rights icon both on and off the field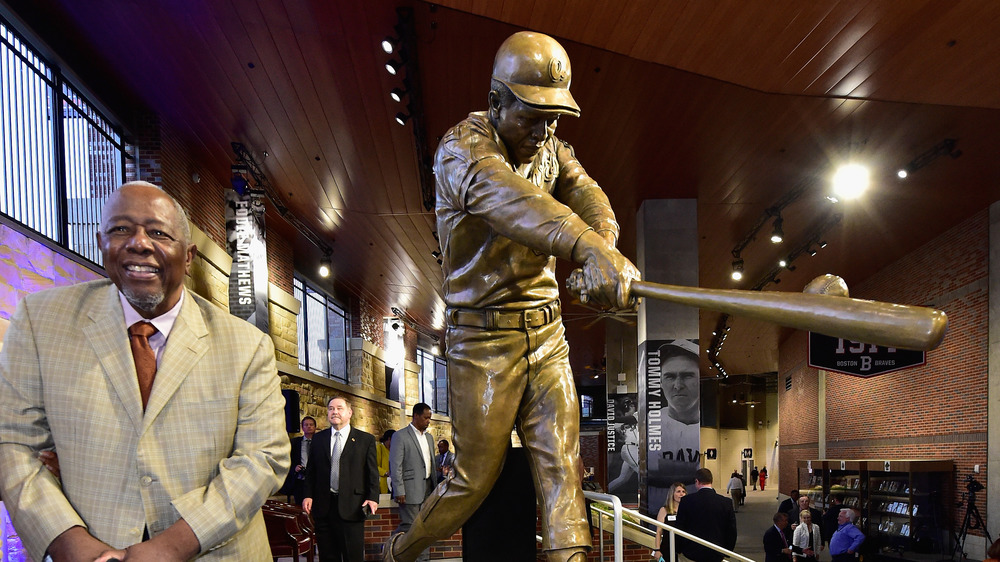 Moses Robinson/Getty Images
The impact of Aaron breaking Ruth's home run record was felt far beyond the baseball diamond. According to The Washington Post, Aaron had been receiving tons of hate mail in the years leading up to the milestone moment. He received letters that said things like, "If you come close to Babe Ruth's 714 homers, I have a contract out on you. Over 700, and you can consider yourself punctured with a .22 shell." Aaron remembered those years as bittersweet in his autobiography, I Had a Hammer, published in 1991. "I couldn't believe there was so much hatred in people," he wrote. The threats forced him and his family to hire a security team. Aaron took inspiration from legendary Brooklyn Dodger Jackie Robinson, who also received death threats for his achievements in the sport.
Aaron was an ally of the civil rights movement, campaigning for Democratic Senator John F. Kennedy in 1960. His support was credited with helping the future president come away with the Wisconsin primary. When the Braves were moved from Milwaukee to Atlanta in 1966, Mr. Aaron went with trepidation, quoted by The Washington Post: "I have lived in the South, and I don't want to live there again." But he stayed strong, going on to make history in the city at the crux of the movement. He was awarded the Presidential Citizens Medal in 2001 and the Presidential Medal of Freedom the following year.