The True Story Of Albert Cashier, A Transgender Civil War Hero
On August 6, 1862, a young man by the name of Albert Cashier answered the call by President Abraham Lincoln to fight on behalf of the Union Army in the American Civil War. The 16,000 men would be no match for the hundreds of thousands serving in the Confederate States Army. Like the 2.5 million people who eventually joined the Union Army, Cashier did so as a volunteer. Cashier, who enlisted in the Union Army in Belvidere, Illinois, fought with the 95th Illinois Infantry, and was involved in some of the most important battles in the war, fighting in Mississippi, Missouri and Tennessee and Louisiana.
Several accounts from the time noted Cashier's bravery. In Mississippi, at the Siege of Vicksburg, he was captured and escaped by attacking a Confederate guard. Another report recalled Cashier climbing up a tree to sweep up a tattered Union flag that had been shot up by Confederates, and hoisting a new one to show the Union was not backing down, according to The New York Times. Fellow soldiers noted that Cashier's courageous acts were even more impressive because he was the smallest of the group at just 5 feet, 3 inches.
Cashier's comrades did not know, however, that he was born Jennie Hodgers in a small fishing village 40 miles north of Dublin, Ireland, on Christmas Day 1843. He came to the U.S. as a child, settled in Illinois, and was presenting as a man by the time he enlisted.
'Little Al Cashier' served in the Union Army without any suspicion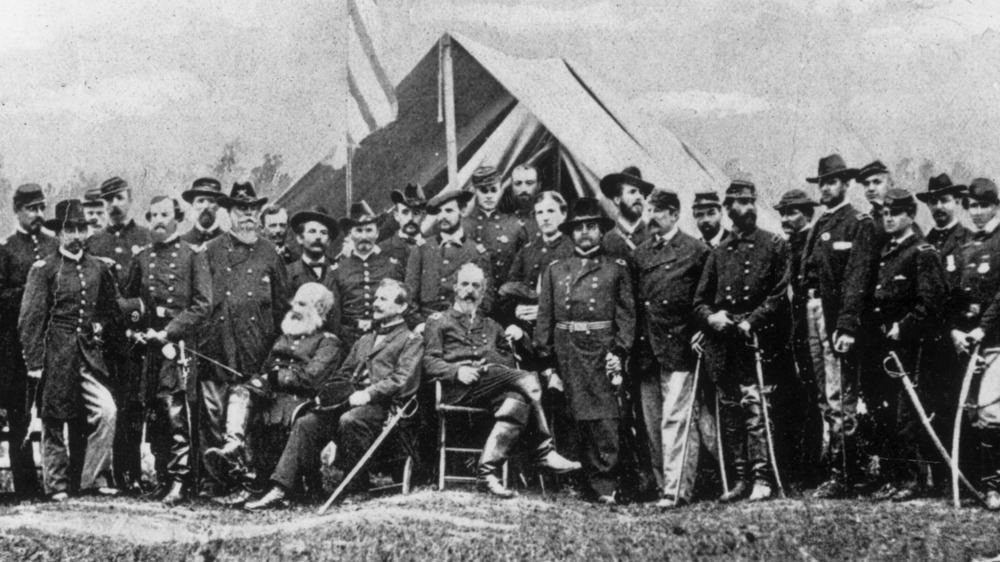 Hulton Archive/Getty Images
Affectionately called "Little Al Cashier" by his fellow soldiers, others in the Union Army just thought Cashier was a little feminine and, at times, a bit detached. "We never suspected that 'Albert' was not a man," Corporal Robert Horan later told the Pittsburgh Press [via The Daily Beast]. "But we did think sometimes that she acted more like a woman than a man. For one thing, she always insisted on bunking by herself. And she did lote [lots] of washing for the boys — she used to wash our shirts. . . . She was a soldier with us, doing faithfully and well."
For the rest of his life, Cashier identified as a man, and was able to keep his secret for 50 years — until an accident changed everything. In 1911, Cashier was fixing a car for a former Illinois state senator, who accidentally drove over him. At the hospital, Cashier's anatomical sex became apparent. The senator and the doctor promised to keep the discovery quiet, but slowly it leaked out and, by 1913, Cashier's secret was told to the world in the press.
Over the next two years, Cashier's physical and mental health declined, and he was forced to live in an institution. He died on October 10, 1915, at the age of 72. He was buried in uniform, according to American Battlefield Trust, and his headstone reads: "Albert D J Cashier, Co. G 95 ILL. Inf, Civil War. Born Jennie Hodgers in Clogher Head, Ireland 1843-1915."