The Truth Behind Dismaland, Banksy's Biggest Flop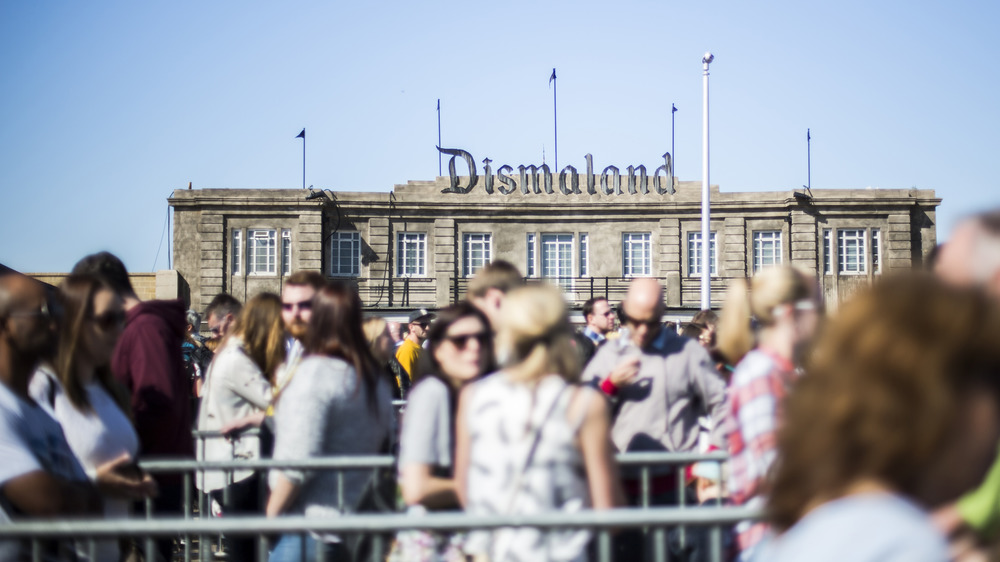 Helen Boast/Getty Images
Graffiti artist Banksy impresses audiences with his work while remaining ever elusive in identity. From his start painting walls in Bristol, England, during the 1990s to becoming a worldwide icon, Banksy continues to delight and surprise fans. "He has moved from graffiti on gritty urban walls to paint on canvas, conceptual sculpture and even film, with the guileful documentary Exit Through the Gift Shop, which was nominated for an Academy Award," said Smithsonian magazine. 
He developed his special stencil method at 18 after the British Transport Police interrupted a paint session on a train. Banksy needed to hide under a truck for more than an hour as the cops toured the tracks. "I realized I had to cut my painting time in half or give it up altogether," he said to the magazine. "I was staring straight up at the stenciled plate on the bottom of the fuel tank when I realized I could just copy that style."
Banksy discovered a distinctive style that day, which propelled his career as an artist. His July 2003 show in a Hackney warehouse, "Turf War," increased his fame and his habit of slyly placing his artwork in museums and other locations to showcase his talent and quirkiness. Who else sneaks counterfeit cave art into the British Museum, as Essential magazine reported –and gets away with it. No one learned of the prank for three days.
Despite his magic touch, not every Banksy effort finds celebrity. His 2015 effort, Dismaland, was received ... well, dismally.
A subversive but depressing exhibit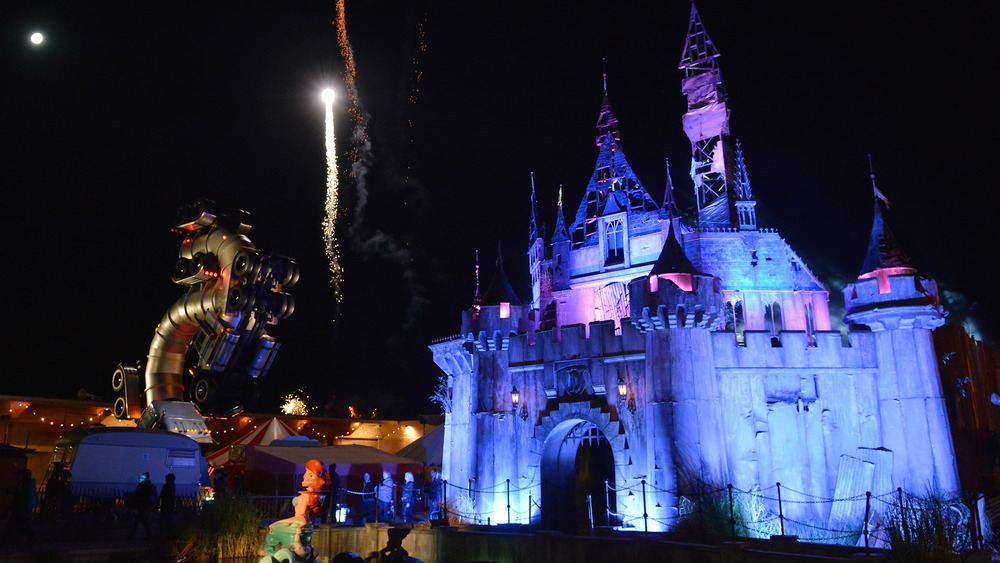 Jim Dyson/Getty Images
The conceptual art piece created a 2.5-acre theme park built on an old English resort in Weston-super-Mare. The large-scale exhibit featured not only 10 new Banksy sculptures, but the work of 58 international artists, such as British phenom Damien Hirst, who has created everything from installations to paintings, according to the Gagosian Galleries. 
The 36-day show included fake security guards and employees who sported grimaces instead of the usual grins common at such tourist sites. The desire to see Banksy's piece crashed the ticketing website, as hundreds vied for the opportunity to visit. Reaction to the project was mixed, however. As The New York Times summarized the reviews, "Mark Brown, an art correspondent for The Guardian, called it 'sometimes hilarious, sometimes eye-opening, and occasionally breathtakingly shocking.' Mike Nudelman, the graphics editor at Business Insider, described it as 'bad and boring' and likened Banksy to the director Michael Bay," who produced the Transformers movies, among others.
Why so little love? Some felt that Banksy's "Bemusement Park," with its decaying buildings and grim representations of theme park staples like fairy tale castles ,felt "truly depressing," as the Guardian called it, adding that Banksy's "one-dimensional jokes and polemics lack any poetic feeling."
Still, Banksy's reputation received little tarnish after the exhibit ended. According to Celebrity Net Worth, he's valued at $50 million. Even the pandemic has inspired him to create a piece last year titled, "If You Don't Mask, You Don't Get" (there's video on his Instagram page), with rats putting on face masks in the London Underground.