A Look Into Cheech Marin And Tommy Chong's Relationship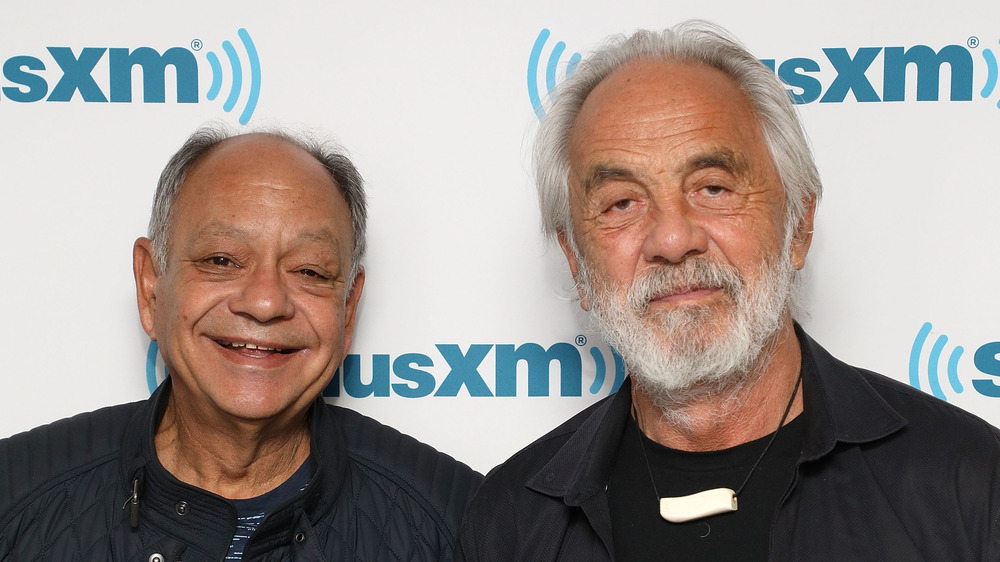 Taylor Hill/Getty Images
The comedic duo Cheech and Chong, or Richard Marin and Tommy Chong, respectively, are probably best known as the godfathers of the stoner film genre. Their debut pothead film "Up In Smoke" is one of the most noted (and successful) movies of that variety. Their classic Cheech and Chong film series helped shape the modern weed-centric comedies that we know and love today.
Together, Cheech and Chong made seven feature films and recorded eight sketch comedy albums. They dominated much of the late '70s and early '80s with their humorous takes on reefer love. And they even co-wrote and voiced the characters of their first and only animated film, "Cheech & Chong's Animated Movie." 
Before the fame, Chong was making his way as a musician, and Marin was living in the Canadian woods and working as a potter. But how did they come to be a comedy act that influenced popular culture for decades?
A Dynamic Duo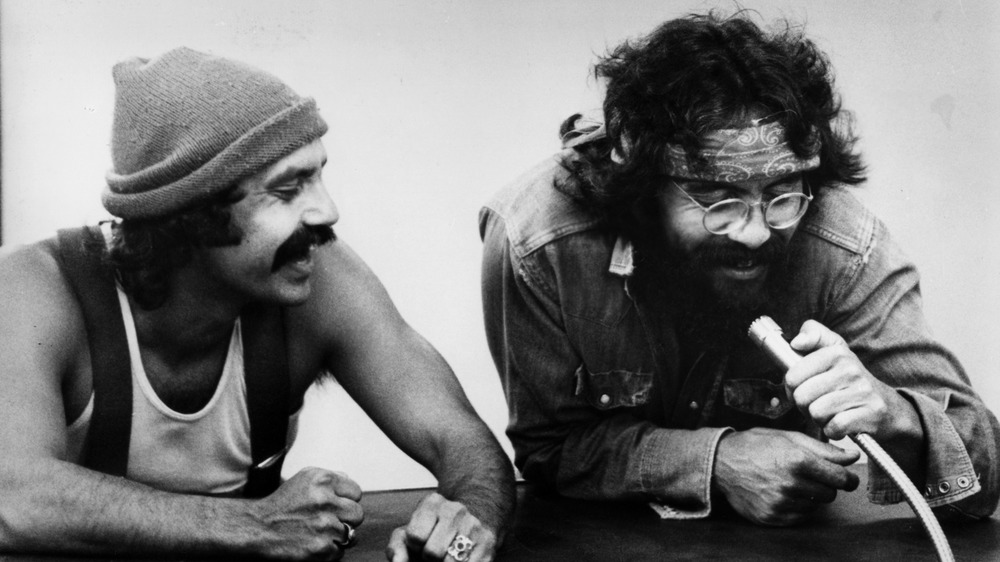 Michael Ochs Archives/Getty Images
The two met in 1968 at a topless bar in Vancouver, Canada, according to Cheech in an interview with CBS This Morning (posted on YouTube). It might have helped that Chong was also the owner of the bar. Cheech said that their partnership worked well because they were "exactly opposites of each other."
Eventually they would forge a brotherhood and created the name Cheech and Chong. The two began performing improv skits at the bar and their budding friendship was formed. They released their self-titled first comedy album in 1971. And by 1978, their first film was released. They would continue making their film series until 1981.
Like a lot of friendships, not to mention professional partnerships, fallouts happen. Cheech and Chong were no exception. According to The Intelligencer, in 1986 Cheech and Chong split. Why? They separated because Cheech started to grow tired of the act, and wanted to undergo a mental and physical detox, according to Chong in an interview with Freedom Leaf.
"By that time, Cheech was tired of doing Cheech and Chong. He wanted to get away from the drugs. We spent almost 10 years making records and doing live performances, and then another 10 years doing movies. That's enough. Cheech wanted to try other things, and he did," stated Chong.
Reunited and It Feels So Good
Rich Polk/Getty Images
The duo would not reunite or perform again until 2008. That same year they announced their tour, "Cheech and Chong: Light Up America."
In a 2017 interview with the New York Post about his memoir "Cheech is Not My Real Name...but Don't Call Me Chong!," Cheech says the pair's reunion took a lot of reconciling. But over time serious medical scares would push their effort to patch things up — according to USA Today, Chong battled prostate and rectal cancer.
"Yeah. When we first got back together, there was still a lot of animosity, and it persisted for a while," said Marin. "But eventually it kind of waned. I think when health issues come into play, you do another assessment. He was sick for a while. He's fine now. But it took awhile to get there," he told the Post.
Cheech and Chong have since been in good spirits with each other and of course, they are still avid fans of the spliff.