Why Hines Ward Was One Of The NFL's Dirtiest Players
Grant Halverson/Getty Images
During Hines Ward's NFL career as a wide receiver for the Pittsburgh Steelers, he helped lead his team to two Super Bowl championships and was voted MVP. According to the Steelers official site, Ward finished his career with 1,000 receptions, a Steelers record. Along with his intensity of going after the ball, Ward also went after his opponents, and his dedication, along with a certain menace, helped him develop a grisly reputation in the league. While many fans in "Steeler Nation" may have celebrated his playing style, there are many people, including certain players, who share a vastly different opinion.
In 2012, former safety for the Cincinnati Bengals Chris Crocker said Ward "tried to end people's careers and that's not the way the game is supposed to be played," per the Bengals official site. Crocker also praised Ward's abilities, saying: "He was a dirty player, but he made a lot of plays. They used him perfectly to suit his abilities and he was a big-time player for them. Some people might think of him as a borderline Hall of Famer, but I think the fact he helped them win two Super Bowls and all the things he did for that team make him deserving."
Crocker joined the Bengals less than two weeks after Hines Ward ended the rookie season of linebacker Keith Rivers due to a block that ended up breaking his jaw. The following year, in 2009, Crocker claimed Ward punched him after a ball snap.
Hines Ward was once voted the dirtiest player in the NFL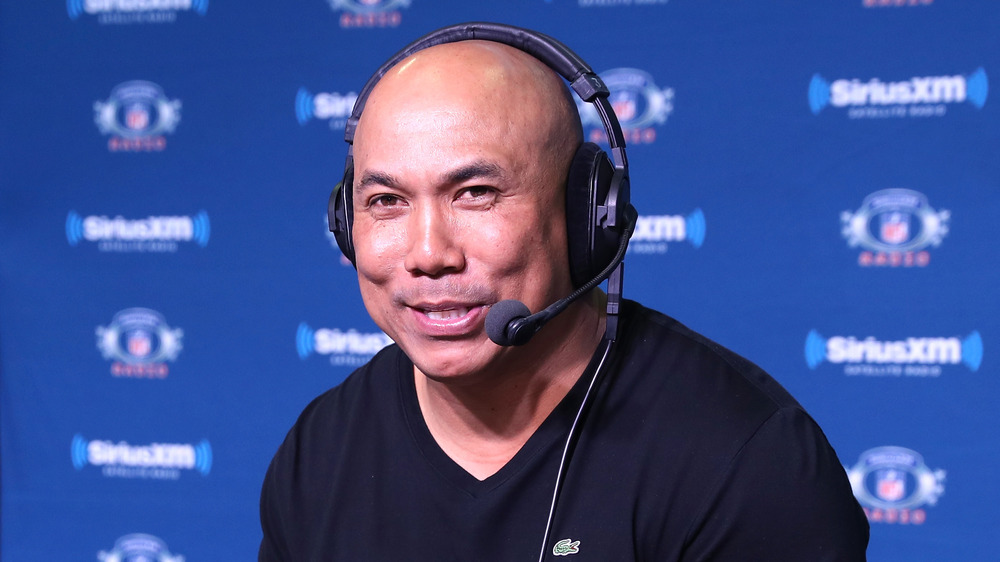 Cindy Ord/Getty Images
According to ESPN, in 2009, Ward was named the NFL's dirtiest player in a poll held by Sports Illustrated. After retiring, Ward finally addressed his reputation while on The Dan Patrick Show. "I didn't want them saying this guys out here trying to hurt everybody and trying to take food off their table, whatever... But for me, I just played the game I've always played. There's nothing wrong with cut-blocking. ... If I get an opportunity to hit you, I always took the approach, I'm gonna' hit you before you hit me."
While a common practice amongst many in the game, the former Steelers player also noted that he would seek out any weakness and exploit it. After reading the scouting reports and looking for players who were injured, Ward said: "Needless to say, I'm circling that. ... I'm cut-blocking all the time. That's how I got to be considered one of the dirtiest players." Ward also mentioned on the show how after his NFL career, he started making appearances in movies and on television. Ward appeared in The Dark Knight Rises, Dancing with the Stars, and The Walking Dead. In 2019, Hines Ward became an offensive assistant for the New York Jets. Ward also contributes to CNN and HLN as a sports contributor, per CNN.