Tony Bennett's Relationship With Lady Gaga Explained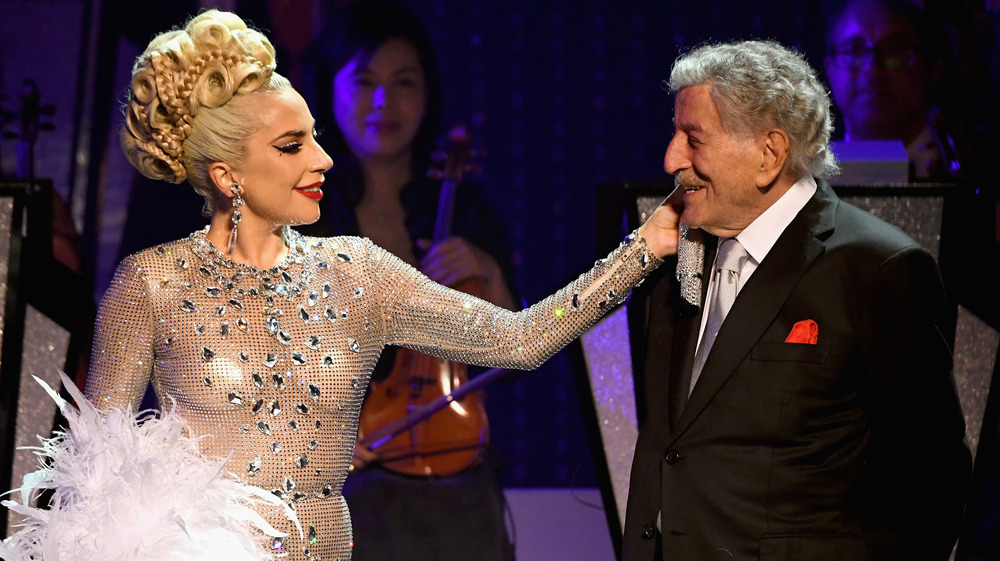 Kevin Mazur/Getty Images
The singer Tony Bennett is known for his classic performances of American standards. So when he teamed up with the ambassador from Chromatica, Lady Gaga, people raised their eyebrows.
But it was a match made in music heaven. Their 2014 album Cheek to Cheek won praise for the inventive melding of their voices. At that time, Lady Gaga was more famous for her pop songs and fashion choices, and people overlooked how strong a singer she actually is.
The pairing of Lady Gaga and Tony Bennett may have been unexpected, but the idea to partner up happened pretty soon after they first met. And they get along really well, too.
Lady Gaga and Bennett first met in 2011 when they attended a benefit for the Robin Hood Foundation, wrote Rolling Stone. Bennett talked to Lady Gaga after her performance — she sang a medley of her songs and a cover of Nat King Cole's "Orange Colored Sky" — and asked if she wanted to record a jazz duet together.
The result was a duet to "The Lady is a Tramp" for Bennett's album Duets II. By 2013, they recorded what would become Cheek to Cheek, an album full of American standards. They even toured together to promote the album.
The heartwarming friendship of Tony Bennett and Lady Gaga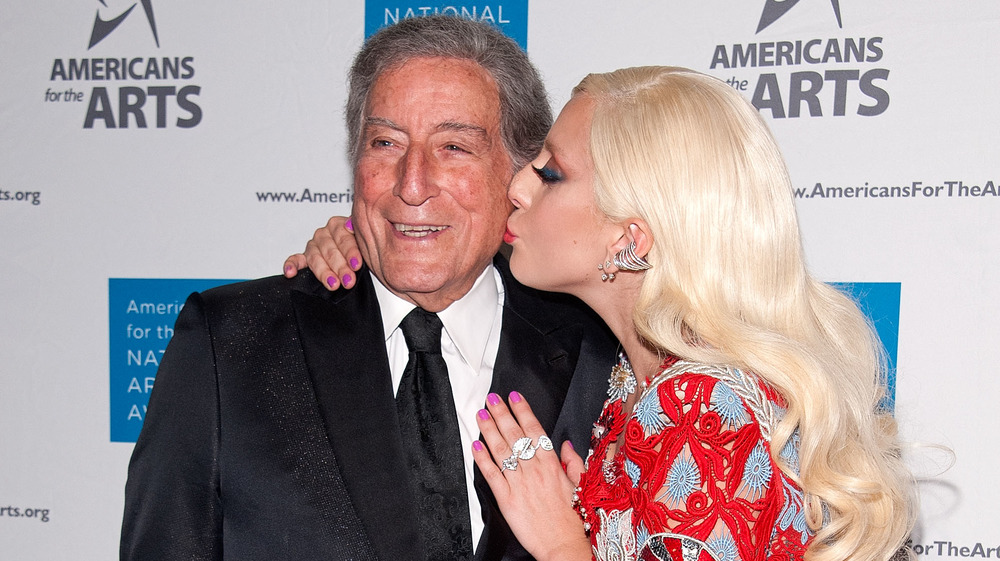 D Dipasupil/Getty Images
Tony Bennett and Lady Gaga became fast friends after they met. They're so comfortable with each other that Bennett sketched Lady Gaga in the nude, reported Billboard. The sketch was eventually auctioned off to benefit the Exploring the Arts Foundation founded by Bennett and Lady Gaga's Born This Way Foundation.
After Bennett's family revealed the singer was diagnosed with Alzheimer's disease, they also announced that he and Lady Gaga recorded a follow-up album, explained Entertainment Weekly, all while Bennett was already suffering from the disease.
The family said Lady Gaga has been very supportive and protective of Bennett throughout the process. She engaged Bennett in several conversations to remind him of their time touring, and footage of the recording sessions showed Lady Gaga sobbing at Bennett's condition. Bennett's family believes it's important to keep him engaged in music as it helps his therapy.
While the rest of the world was surprised by Tony Bennet and Lady Gaga's friendship, it does seem their relationship is genuine. It's a partnership made stronger by music.