The Untold Truth Of Kremlin Critic Alexei Navalny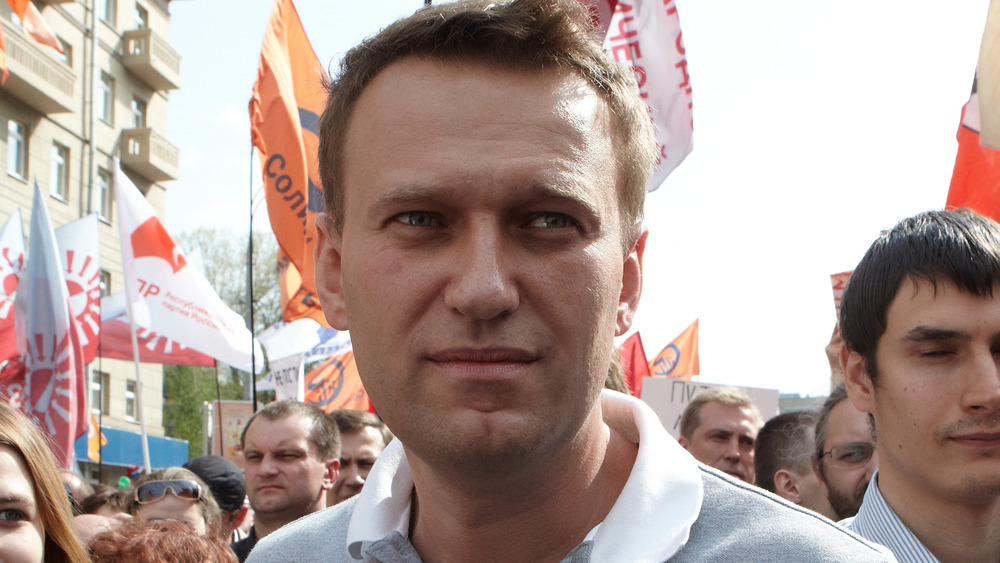 Oleg Nikishin/Getty Images
On February 2, 2021, a Russian court sentenced Russian activist and opposition leader Alexei Navalny to a two-and-a-half year prison sentence, per CNN. A staunch critic of Russia's President Vladimir Putin, Navalny has been at the center of recent global news after he fell sick from being poisoned while on a plane from Tomsk to Moscow last summer. According to CNN, this current sentencing is a continuation of a previous delayed sentence from in 2014. A Russian judge presiding over the case imposed the new sentence, which Navalny must complete while incarcerated. 
Navalny had returned to Russia last month, after months recovering from a coma in Germany. On August 20, 2020, Navalny boarded his flight and started to feel sick. The BBC states that he was in excruciating pain and screaming, leading to an emergency landing. Medics attempted to give him first aid but realized his immediate needs were far beyond the care they could provide. Doctors also started to suspect his illness was caused by poisoning, and eventually under scrutiny, had to release him to be airlifted to Germany for care. It was determined to be the nerve agent novichok, which can cause symptoms like paralysis, seizures, and death. The Kremlin was blamed for the poisoning, though they have fervently denied. In January Navalny returned to Russia and was immediately detained, sparking massive protests in Russia for his release, via The Guardian.
Target on his back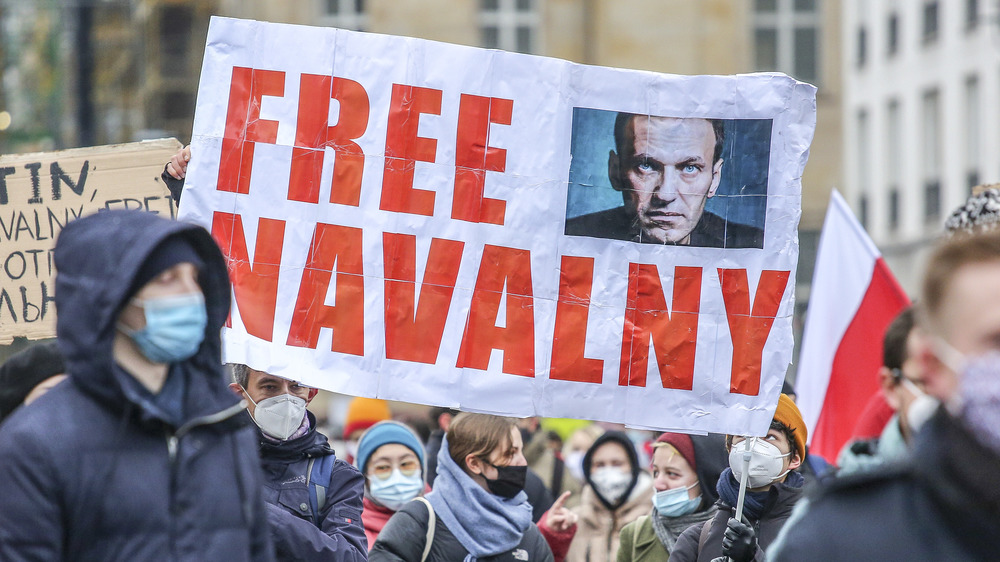 Omer Messinger/Getty Images
Navalny made a name for himself criticizing and investigating Putin and the Kremlin for corruption. As a vocal critic of the Russia's prominent leaders, and the man behind of some of the country's biggest anti-government demonstrations, Navalny was not (and still is not) on the best side of the government. 
He was born on June 4, 1976, in a small town outside of Moscow. Navalny obtained his education at the University of Russia where he studied law, and at a Russian government academy where he studied finance, according to his former campaign website. Not long after completing his studies he started an anti-development group to prevent dangerous construction. This was only the beginning for Navalny.
In 2008, he gained notoriety for publishing an exposé on the misuse of funds at the hands of Russian government officials. He continued down this path and created a series of projects aimed at informing Russian citizens of the levels of corruption. Finally in 2011, he founded the Anti-Corruption Foundation, an organization focused on exposing government corruption. He ran for Moscow mayor in 2013 and lost, but by then he was a household name and people knew where he stood against Putin. Navalny would organize a number of anti-government protests in the years after his mayoral loss, and was arrested repeatedly.
In 2017 he announced his run for president, but was banned shortly after. He urged a boycott of Russia's 2018 presidential election, and remains one of the Kremlin's biggest threats.