Did The Weeknd Get Paid For Performing At The Super Bowl?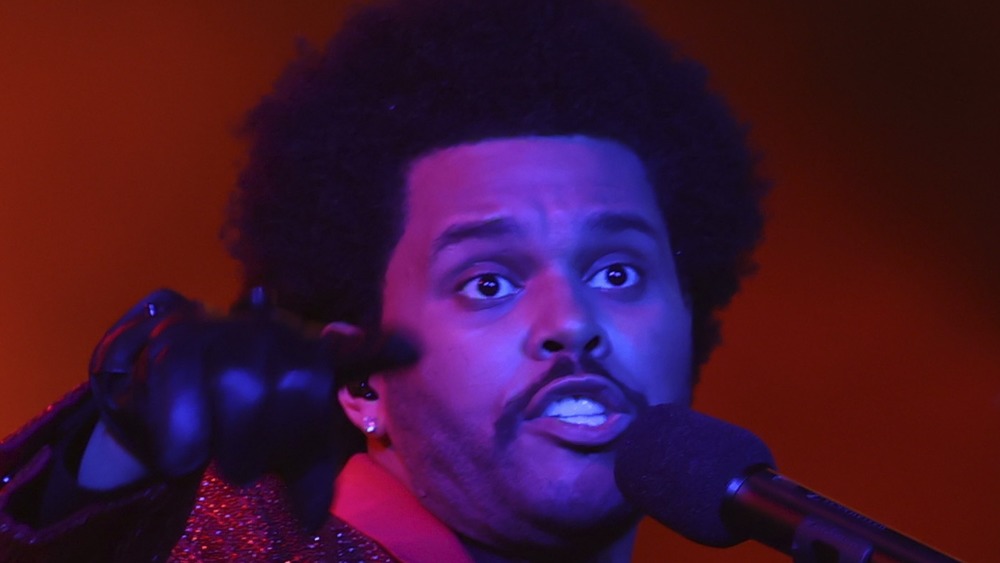 Pool/Getty Images
The Weeknd gave a face-melting performance at the 2021 Super Bowl halftime show, running through hits like "Starboy," "The Hills," and "Can't Feel My Face" before hitting the crowd with the new stuff off his 2020 album After Hours. As The Hollywood Reporter noted, throughout the performance he was backed by a choir and violinists and joined by dancers dressed like him with their faces bandaged similarly to how he attended the American Music Awards in November. Some recent Super Bowl halftime shows have included surprise performers, per People. For example, Bad Bunny and J Balvin showed up alongside Jennifer Lopez and Shakira in 2020, and Katy Perry landed guest appearances from Lenny Kravitz and Missy Elliott in 2015. But for 2021, The Weeknd kept the show a solo act as he had previously promised, not bringing out any other special celebrity singers for a surprise appearance.
With such an entertaining show, you'd think that The Weeknd would make a killing, but you'd actually be wrong. He and all other Super Bowl halftime performers actually make no money for their quick medley of greatest hits in the middle of the game. Not from the NFL, at least. They tend to see the benefits in increased sales due to all the attention on their show. With literally hundreds of millions of people watching a pop star going through a medley of their greatest hits, the halftime show tends to strike a chord of nostalgia in listeners, many of whom take to the internet to give the performers a flood of new business just after the game.
The Weeknd actually spent quite a bit of his own money on his Super Bowl halftime show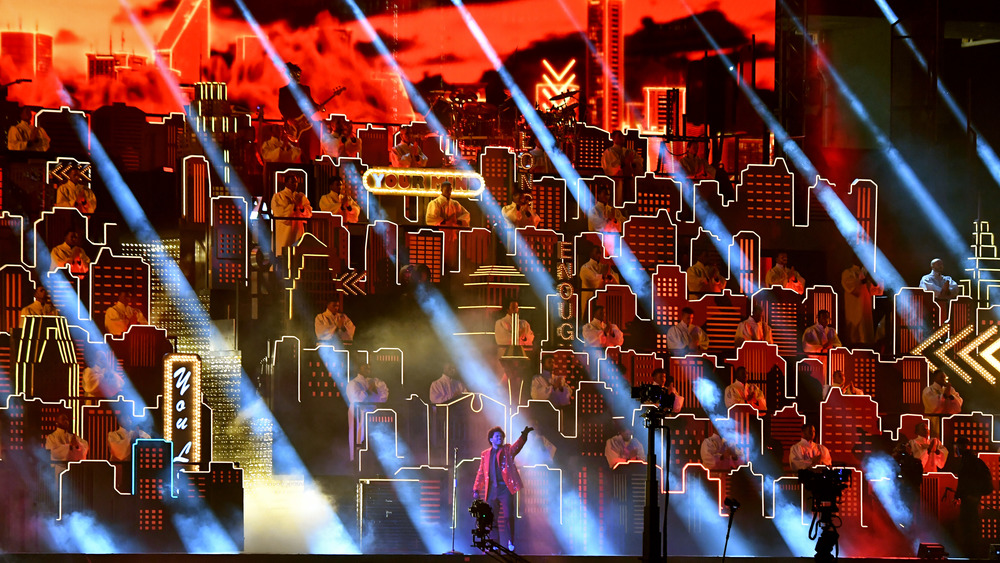 Kevin Mazur/Getty Images
The Super Bowl halftime show costs a pretty penny each year — the spectacular performances tend to run as high as a million dollars a minute — and the egregious amount is usually ponied up by the NFL. However, this year, The Weeknd had a bone to pick with the music industry. According to Billboard, he was pretty irked that he got completely snubbed by the Grammys, despite After Hours being on the top of many people's lists of the best albums of 2020.
So for his halftime performance, he wanted to make sure everything was exactly how he wanted it. And as Yahoo! reported, he coughed up a whopping $7 million of his own dough to make that happen. And if you saw the show, you'll know it was money well spent. He apparently had a performance in mind for the Grammys, but after they left him high and dry, he decided to put his all into the Super Bowl halftime show. "We've been really focusing on dialing in on the fans at home and making performances a cinematic experience, and we want to do that with the Super Bowl," the singer, whose real name is Abel Makkonen Tesfaye, said. Unfortunately, fans will have to wait awhile to see another Weeknd performance like this one, as the coronavirus pandemic forced him to postpone his "After Hours World Tour" until 2022.
How the Super Bowl halftime show has paid off for past performers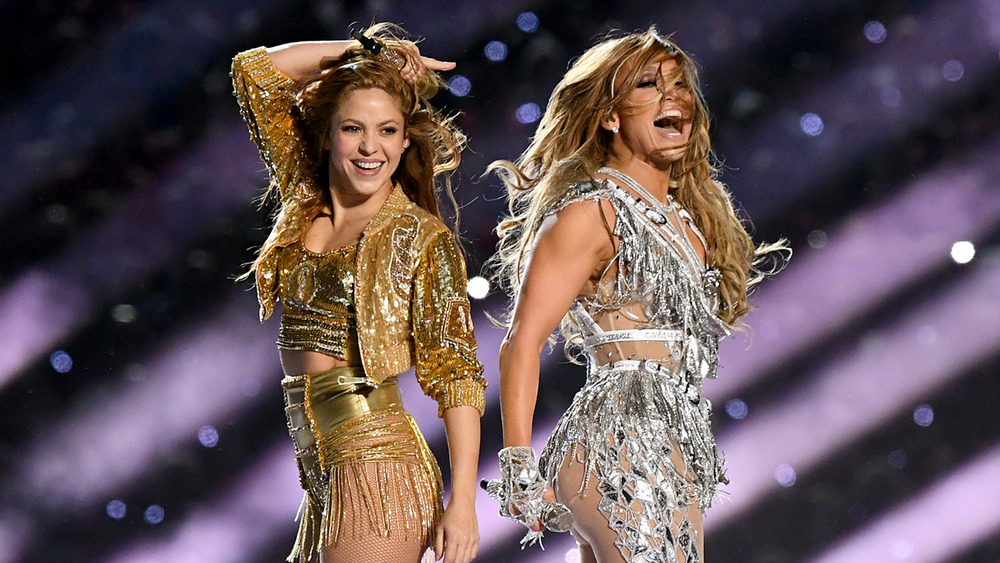 Kevin Winter/Getty Images
Although they don't get paid by the NFL, Super Bowl halftime show performers can receive some pretty substantial benefits for the pro bono gig. For example, according to Market Watch, the songs that Jennifer Lopez and Shakira sang during their 2020 halftime show saw a 1,013 percent boost in sales that Super Bowl Sunday. The self-styled "two little Latin girls" gave a raucous 15-minute performance that mixed up 14 of their biggest hits, with J-Lo giving the audience a peek at those curvaceous moves from her recent film Hustlers and Shakira reminding us all that no, her hips do not lie. The biggest winner of the night was Shakira's "Whenever, Wherever," which saw an increase of 1,194 percent in digital download sales from the previous day. Other recent performers who have seen big bumps in sales post-halftime show were Lady Gaga (1,980 percent) and Maroon 5 (434 percent).
But perhaps one of the biggest halftime show Cinderella stories in recent years was Justin Timberlake's 2018 performance, just after his latest album Man of the Woods had been released to pretty tepid reviews. According to Reuters, although it was "disappointing" and "kind of embarrassing" by Esquire's standards, the album shot straight to the top of the U.S. Billboard 200 album chart after his halftime show. That performance had as many as 103 million pairs of eyes on it in the United States alone, proving that while Super Bowl halftime performers may do the show for free, there is definitely something in it for them if they give the people what they want.