Four Seasons Total Landscaping Documentary Reveals What Really Happened That Day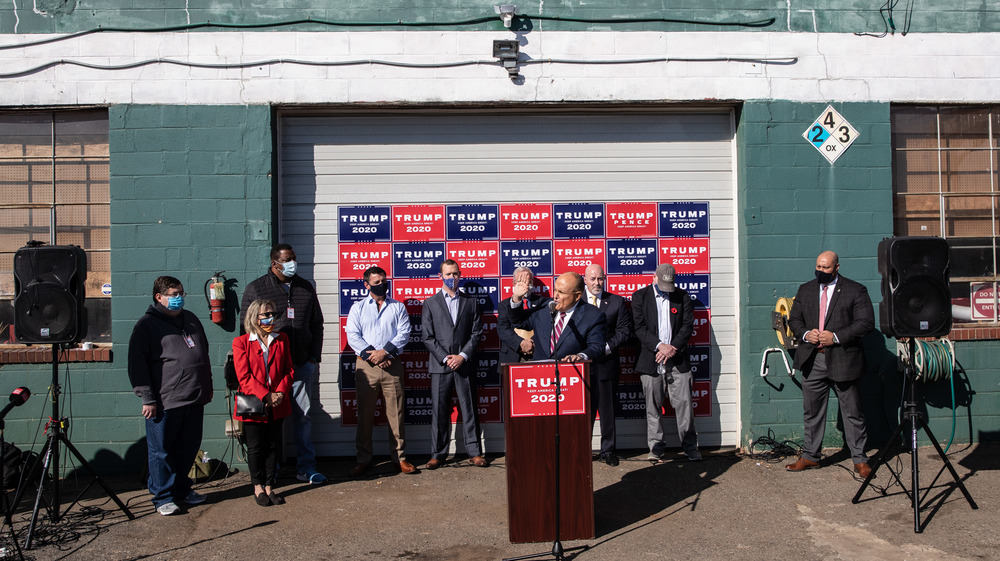 Chris Mcgrath/Getty Images
Before Saturday, November 7, 2020, Marie Siravo's Philadelphia landscaping business was just that: a local landscaping business. Then the president tweeted that his legal team was going to have a press conference there to contest the election results in Pennsylvania, and Siravo's life changed forever. For obvious reasons, and because the tweet was quickly deleted, it is believed that the Trump campaign confused the landscaping business with the popular luxury hotel chain of the same name. But ever incapable of admitting he has made a mistake, Trump forged ahead, and soon his attorneys were giving a press conference in Siravo's gravel parking lot in front of her business' garage door.
As Intelligencer reports, the Four Seasons Total Landscaping crew was savvy enough to take advantage of the campaign's epic fail. They sold T-shirts and stickers with parody slogans on them, like, "Lawn and Order!" and "Make America Rake Again!" And rake it in they did — to the tune of over $1 million! "We don't really know how it happened. We heard it might've been a mistake or something," said her son Mike. "We just kinda picked up the phone and said yes and cleared some stuff out and managed to make it happen." And they haven't stopped capitalizing yet. According to The Hollywood Reporter, the company is now set to be the subject of a new documentary that will tell the story of what really happened that fateful day in November.
The Four Seasons Total Landscaping documentary is being made by accomplished filmmakers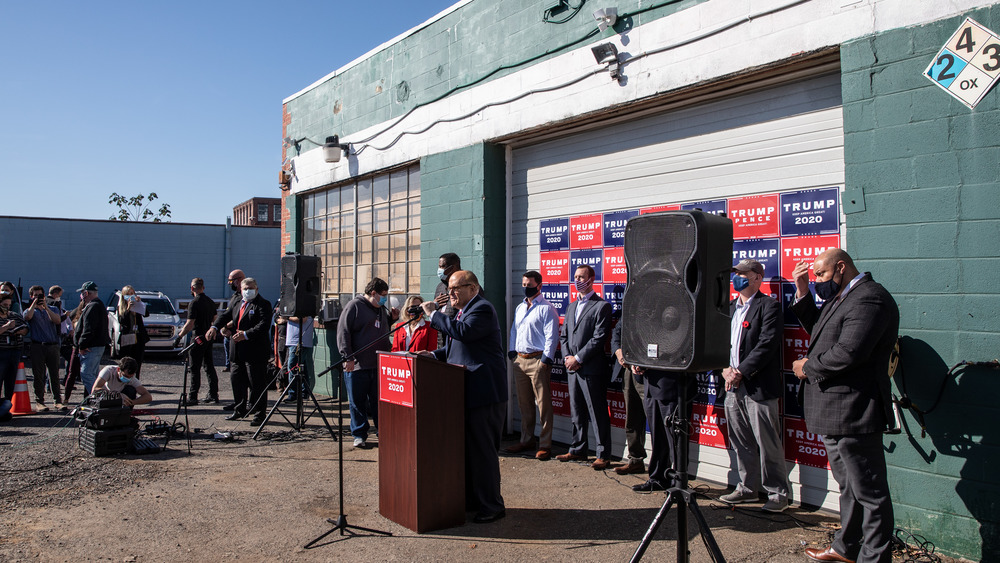 Chris Mcgrath/Getty Images
The film will be titled Four Seasons Total Documentary, and it promises to deliver both high quality production and engaging content. The production team has a long list of other compelling documentaries under its belt. It was directed by Christopher Stoudt, who directed the 2020 doc Camp ALEC. One of the producers, Glen Zipper, was part of the team behind the Oscar-winning 2011 documentary Undefeated. An announcement for the doc said that it "will give a firsthand account of the rollercoaster journey that one well-meaning small business in Philadelphia went through when they agreed to host a political press conference in the midst of the most hard-fought American election in recent history."
According to Deadline, Stoudt said it was "an honor and a privilege to be able to help tell a story that the world has been waiting months to hear." He added that the world is in good need of a laugh. "Little did we know it would come from a press conference that took place across the street from a crematorium (down the road from a sex shop). This film is a chance to wipe the slate clean, not just for Four Seasons Total Landscaping, but for the entire country."
As they have done since the day that mistaken tweet put their small business in the national spotlight, the folks at Four Seasons Total Landscaping didn't shy away from the attention. Marie Siravo and sales director Sean Middleton were interviewed for the film.
Four Seasons Total Landscaping was also featured in a Super Bowl commercial
The wave of attention didn't stop at T-shirts and documentaries. As People magazine reports, the Four Seasons Total Landscaping crew starred in a Super Bowl commercial this year, as well. The commercial was for a company called Fiverr, a service that connects businesses to various freelance services, such as graphic designers and writers. Fiverr tweeted the commercial with the text: "Opportunity knocked, [Four Seasons Total Landscaping] answered. Their incredible story is exactly why we teamed up to make our big game commercial. With the right talent, you can build anything — even a press conference parking lot."
The ad follows Marie Siravo as she extols the virtues of Fiverr's services while riding a futuristic cart through a laboratory that looks like something out of a James Bond movie. "From graphic design, to web development, or even a PR expert for things like — I don't know — booking a press conference," she says. Then she pokes a little more fun at the Trump campaign's tremendous snafu, when, at the end of her spiel, a woman in a pantsuit asks, "Is this the lobby?" Siravo leans out of her cart to look down at the woman and say, "This is not a hotel." As Fiverr was able to appreciate, Siravo and her crew are experts at capitalizing on a serendipitous situation, so we're sure that this and the documentary won't be the last we hear from Four Seasons Total Landscaping.