The Most Violent Crash In Daytona 500 History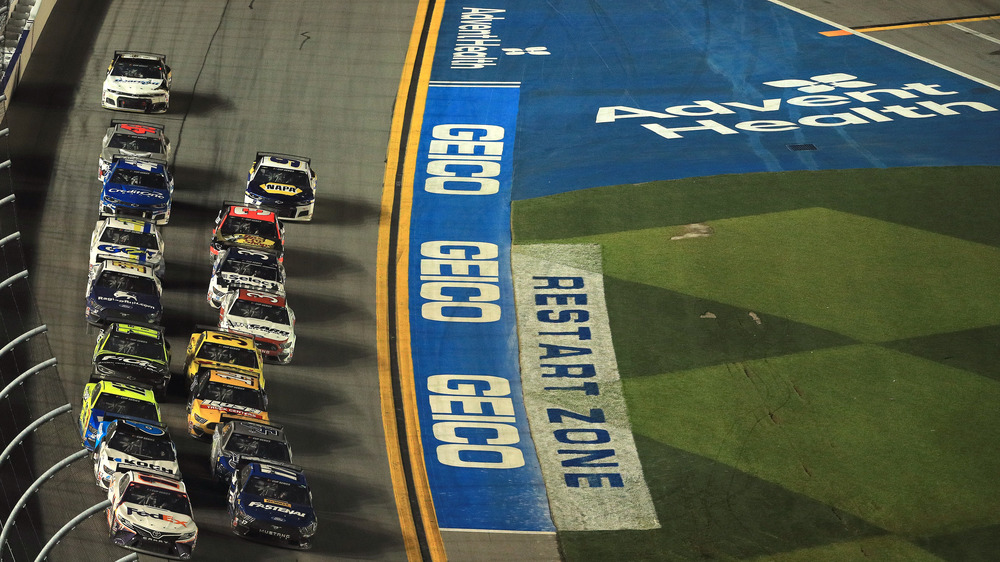 Mike Ehrmann/Getty Images
Now that the NFL season has wrapped up, with Tom Brady putting yet another Super Bowl ring on his finger (he's going to have to start using his toes soon), we can now all shift our attention to another — sure, we'll call it a sport. NASCAR racers are all set to hit the track for the Daytona 500, and this year it's one for the lovers. The race will take place on Valentine's Day — Sunday, February 14, 2021.
The legendary event has been host to some pretty impressive feats of stock car racing. According to Sporting News, the driver with the most Daytona 500 wins under his belt is Richard Petty, who took the Harley J. Earl Trophy seven times during his more than three decades as a stock car racer. Cale Yarborough comes in second with four Daytona wins. But there's one thing that these champions can't say they've done, and that's surviving the most violent one-car crash in the history of the race.
Maynard Troyer survived an epic crash at the 1971 Daytona 500
While the 1971 Daytona 500 went down in history as the race in which Richard Petty became the first NASCAR driver to win it three times, it's also remembered for an epic wipeout that luckily hasn't been topped since. According to Sportscasting, that distinction goes to Maynard Troyer. After just nine laps (it takes 200 to complete the race's 500 miles), Troyer lost control on the second turn and sent his Ford flipping so quickly that the number of flips couldn't even be counted with the naked eye. Slow motion footage revealed that his car flipped a whopping 15 times before finally coming to rest right side up.
Luckily, Troyer wasn't seriously injured. He was pretty banged up — had a concussion, hurt his shoulder, and was covered with bruises — but suffered no serious injuries. He continued to race for a few years after that, even qualified for the Daytona 500 again in 1973, but aside from some wins on smaller tracks, he wasn't a very accomplished racer. He did, however, go on to have a successful career as a car designer. Maynard Troyer died in 2018. He was 79 years old.