This Is How Johnny Cash Proposed To June Carter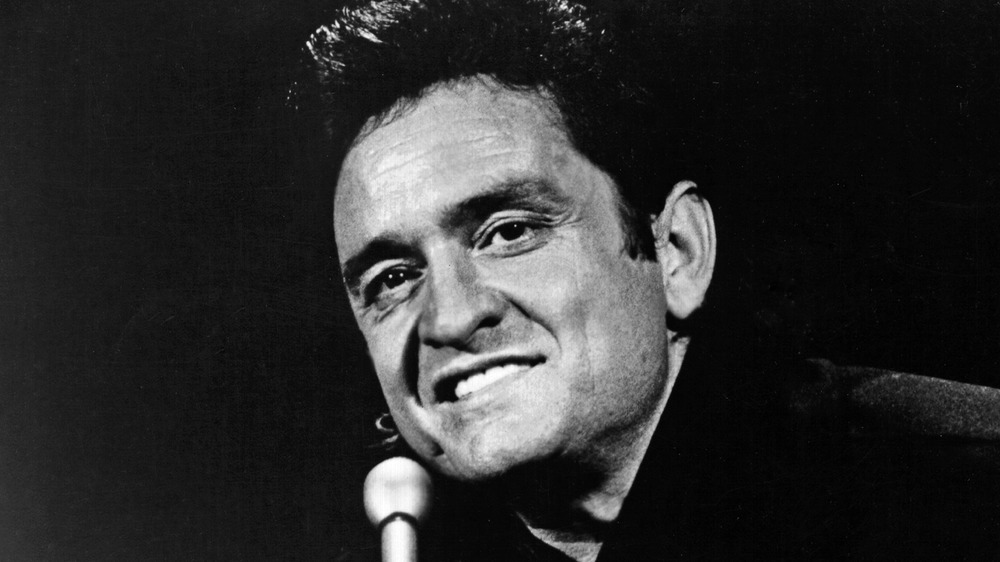 Michael Ochs Archives/Getty Images
Known for wearing all black and moving listeners with the lower notes of his voice, legendary country singer Johnny Cash lived a life filled with excitement and tragedy that could be heard throughout his music. And whenever the country icon comes to mind, there's another country singer, just as iconic, who also comes to mind: his wife, June Carter Cash. Throughout their 35-year marriage, the country music couple performed together and made history, but it all began during their first meet at the Grand Ole Opry on July 7, 1956. According to Rolling Stone, when they first locked eyes, Cash said, "I've always wanted to meet you," and Carter replied with, "I feel like I know you already." Things were complicated, however: Cash was already married, and Carter was on her way to starting a new marriage.
Prior to even meeting, it seemed fate was in their favor, as both had been enormous fans of each other's music. Cash and Carter would end up touring together and performing duets together. Over the next 10 years, the two couldn't ignore their flame, and would become closer as their respective marriages fell apart. Eventually, they both divorced and Cash would finally be able to seize the moment he'd wanted for the longest time: proposing to June.
Johnny Cash proposed to June Carter while on stage in front of 7,000 people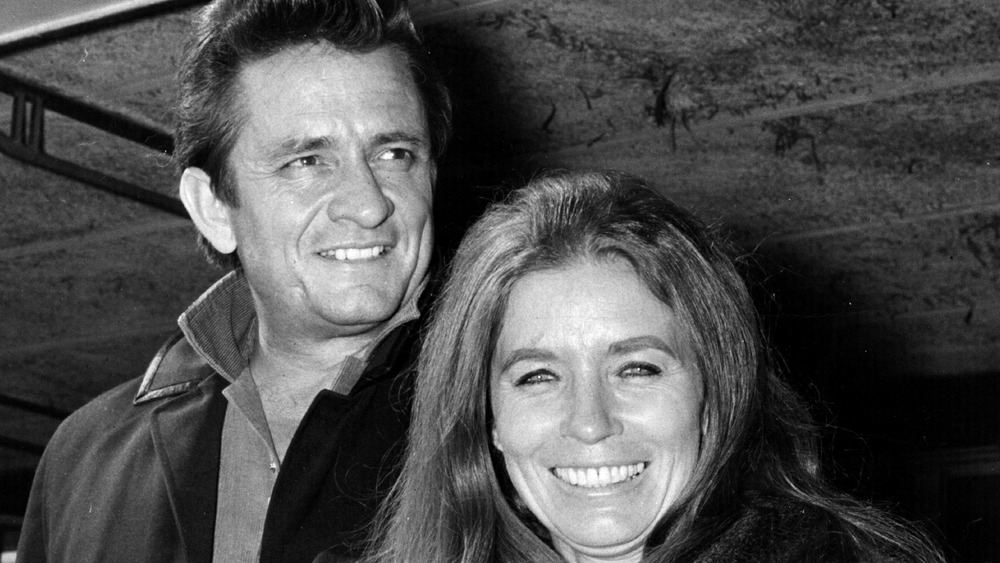 Getty Images/Getty Images
On February 22, 1968, Johnny Cash and June Carter were performing their famous duet "Jackson" in front of 7,000 people in London, Ontario. Singing, "We got married in a fever," Cash picked just the right song as a prelude to his proposal. Once it ended, Cash spoke into the microphone, asking June, "Will you marry me?" Cash explained the tense yet romantic moment while on The Mike Douglas Show (posted on YouTube) saying: "She said 'sing another, sing another, sing another.' I said, 'I'm not going to sing until you answer me. Will you marry me?' ... she turned her back, you know, trying to get somebody in the band to play some music or something. Kept going until she finally said 'yes.'"
Cash and Carter married a week later, on March 1, 1968 in Franklin, Kentucky and eventually had a son, John Carter Cash. Cash and Carter would stay with each other to the very end. Carter would inspire Cash, helping give rise to his network variety program The Johnny Cash Show, and would also try to help him stay sober. Carter would also give Cash his most famous song, "Ring of Fire," which was about their relationship. The two would continue their music careers, together and separately, for as long as they were married.