Where Does Denny Hamlin Live And How Big Is His House?
Jared C. Tilton/Getty Images
It's no understatement to say that Denny Hamlin is one of the most successful race car drivers in modern memory. Amassing a stunning 44 NASCAR cup wins, including three Daytona 500 victories, Hamlin has certainly come a long way since his early childhood days of winning his first go-kart race at age 7 and identifying NASCAR drivers on sight at age 3, as his parents describe in the Richmond Times-Dispatch. His parents and teachers played an integral part in allowing Hamlin to pursue the one, singular passion — obsession, really — that he's had since childhood: being a race car driver. And since winning his first race at the Pocono 500 in 2006, Hamlin has stuck to the mantra he wrote in an article for the Virginia Pilot back in 2009: "Never forget where you came from." In this case, that's Tampa, Florida, though he grew up in Chesterfield, Virginia.
Now 40 years old and having a fortune of $65 million (per Celebrity Net Worth), Hamlin continues to analyze, break down, and number crunch after each race, with no intention of slowing down or stopping, as depicted on Sportscasting. He's created the Denny Hamlin Foundation, which has raised $2.2 million for children with cystic fibrosis and "other chronic diseases," as the charity's website says, and of course, kept a bit of money for himself. In 2008, Variety reports Hamlin selling his first, 9,969 square feet, Cornelius, North Carolina home for $4,900,000. Starting 2014, he built a custom-made "smart home" that he moved into in 2017.  
A truly luxury estate with bowling alley, basketball court, and indoor garage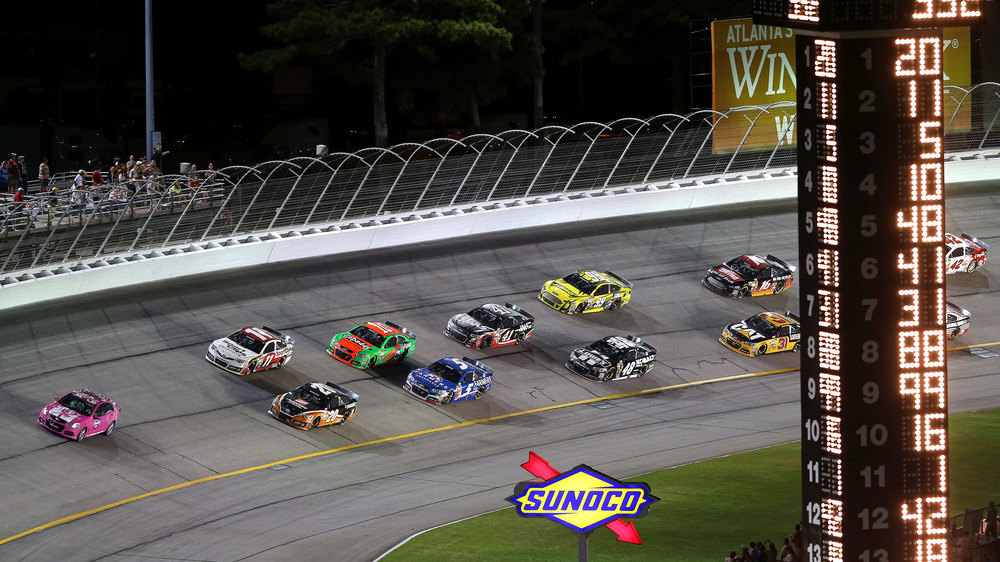 Mike Ehrmann/Getty Images
As described on Work and Money, Hamlin's custom-made home is in the same place as his old home, Cornelius: north of Charlotte and right along the eastern edge of Lake Norman, about four-and-a-half hours from where he grew up in Chesterfield. In 2014, he purchased a 2.8-acre lot for $1.375 million and hired designer Scott Carpenter to design the house, who stated that it was a "little more modern – more West Coast" than other homes in the area, as Charlotte Magazine cites. "Commercial contractors" helped build the entire facility, and created a sleek, modern installation composed largely of wood and glass at right angles. Hamlin's home spans over 30,000 square feet, which is the largest project that Carpenter has worked on. Carpenter said of features like the all-glass elevator, "You just don't see that in residential construction projects."
Naturally, the house and grounds are full of goodies you'd expect, plus a few cool, creative add-ons like an app-controlled lighting system. Each room has a very discrete function such as the "entertainment room," which has a virtual golf course, pool table, bar, and one of the house's (you ready?) 24 60-inch TVs. There's a bowling alley named "Victory Lane," a trophy room, basketball court, kitchen, master bedroom, pool, and because why not, a "show garage" inside the house containing some of Hamlin's victory cars, including his 2016 Daytona 500 car sponsored by FedEx.