The Real Connection Between The Black Dahlia And The Cecil Hotel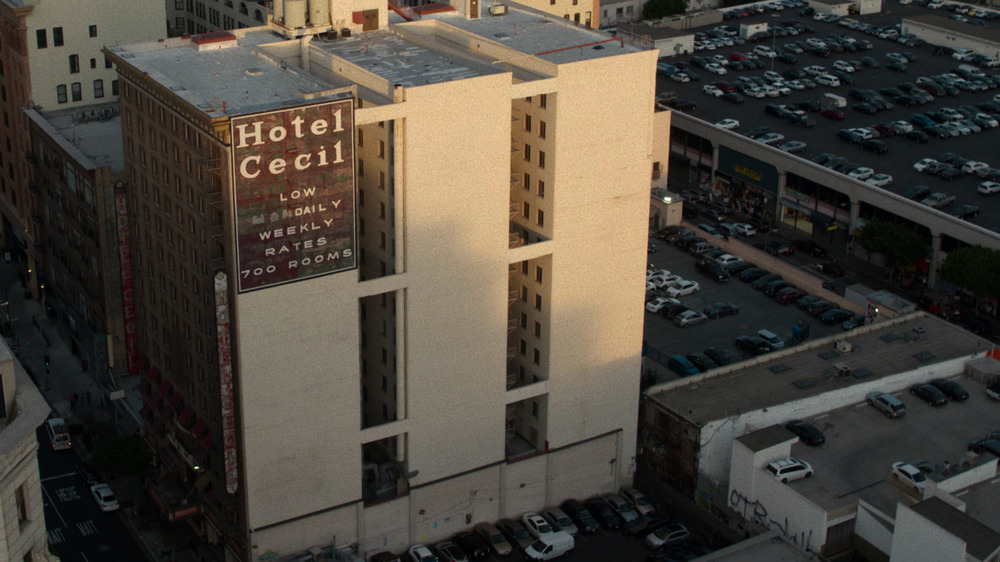 Netflix
Nothing could be scarier than a coincidence, and it gets even creepier when the coincidences involve particularly gruesome or mysterious deaths.
Nowhere are these creepy coincidences more apparent than in the Cecil Hotel in Los Angeles. Thanks to its prime location in what was the city's skid row area, it attracted a less than savory clientele. Followers of true crime stories know that the serial killer Richard Ramirez, known as the Night Stalker, stayed at the hotel during his crime spree.
The Cecil Hotel, though, has a more tragic but no less creepy coincidence. It has a connection to both the Black Dahlia murder and the disappearance of Elisa Lam. These two events happened 66 years apart, but each tie to the hotel in small and large ways, wrote Radio Times. Lam, of course, stayed at the Cecil Hotel and ultimately met her tragic fate in the building's water tower. It was here that Lam was seen acting erratically inside an elevator.
But the Black Dahlia connection is a little more vague.
The hotel has a gruesome past
According to Marie Claire, Elizabeth Short, a 22-year old actress, supposedly visited downtown LA bars and disappeared one night in January 1947. Six days later, her mutilated body was found in the Leimert Park neighborhood. Short had striking dark eyes and dark hair, earning her the moniker the Black Dahlia.
The fact that Short also disappeared before her body was found is not the connection to Lam, but rather, it's been long reported that Short was at the Cecil Hotel before she died.
Screenrant said rumors that Short was at the Cecil Hotel stemmed from a police report filed in the 1940s by officer Myril McBride of the Los Angeles Police Department. McBride noted she encountered a young woman who told her she was running from someone threatening to kill her. McBride said the encounter happened on Main street, where the Cecil Hotel happened to be, and the woman had just left a hotel bar. While McBride never identified Short as the woman and never mentioned the Cecil Hotel by name, amateur sleuths took this fact and ran with it.
McBride mentioned the young woman she met planned to meet her parents that night, but Short had been estranged from her family. LA Daily Mirror also pointed out the Cecil Hotel is 11 blocks from where Short's body was discovered and no evidence showed she'd even been to the Cecil Hotel. Even so, Short's name is now part of the Cecil Hotel's tragic, seedy lore.