Here's How Jeffrey Dahmer Was Finally Caught
Notorious cannibalistic murderer and rapist Jeffrey Dahmer is a well-known name to anyone familiar with the deadliest serial killers, or true crime in general. Before he was handed down a life sentence for the murders of 17 victims in 1992, Dahmer spent years hunting and killing young men, mostly in the Milwaukee area. From the late '70s until the early '90s, he was a ruthless killer who kidnapped, lured, drugged, and tortured boys and men that he invited back to his apartment. He was also arrested for exposing himself to children, and even spent time in prison for sexually assaulting an underage boy. 
In the years leading to his capture, Dahmer managed to evade some close calls getting caught. He committed his first murder in 1978 just after graduating from high school. On a drive to get rid of the body, he was pulled over by cops in Ohio to perform a sobriety test — all the while having the body of Steven Hicks (his first victim) in the car, reported the Chicago Tribune. That same year he enlisted in the Army and a decade would go by before he started his twisted and perverted killing spree.
The day Dahmer got caught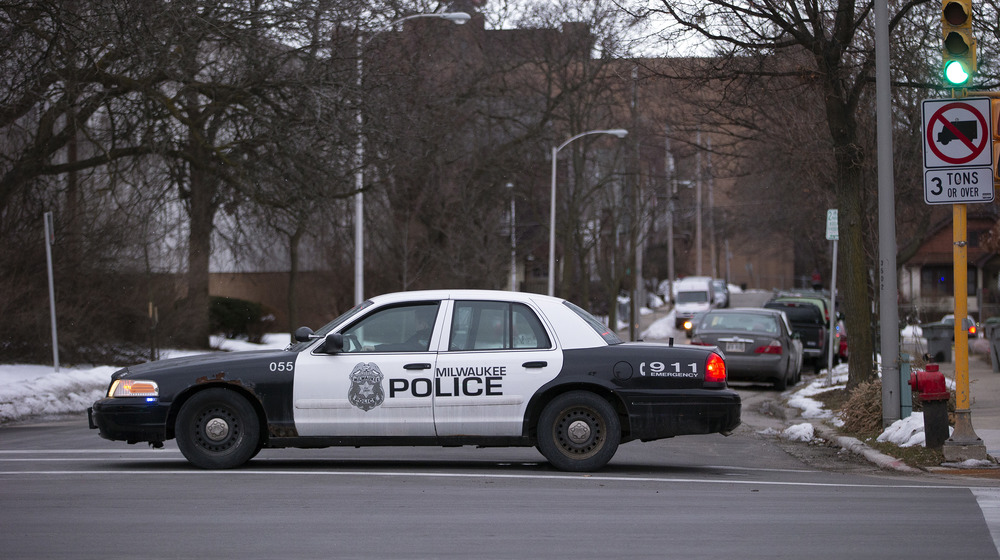 Nuccio Dinuzzo/Getty Images
Time finally caught up with Jeffrey Dahmer on July 22, 1991. That day, one of Dahmer's victims escaped death and was seen running with handcuffs on by police officers nearby, as reported by Desert News. The victim was 32-year-old Tracy Edwards, who alerted police that Dahmer was trying to kill him. The pair had met at a Milwaukee bar earlier, and Edwards agreed to join Dahmer at his home for drinks, a movie, and money he was offered, per the Orlando Sentinel. But the friendly man that Edwards initially encountered switched gears once he was in the apartment. Luckily, after being held against his will for several hours, Edwards narrowly escaped death and immediately found authorities. 
What happened after would introduce the world to one of the country's most depraved serial killers. 
Upon investigation of Edwards' claims, officers were led back to Dahmer's apartment and made several disturbing discoveries. The search turned up photos of dismembered bodies throughout his apartment, but the most appalling were the findings of severed body parts in his fridge and human remains settling in an acid-filled barrel. There was also evidence that suggested he was eating human flesh. Dahmer was arrested on the spot, and later confessed to all of his sick crimes.
How Dahmer evaded authorities
Some of his victims could have lived if Dahmer was caught earlier. In fact, not only was he known for the crimes he committed — it is widely discussed how he got away with it for so long. It is believed that Dahmer — who was white — intentionally chose Black or Asian victims because he knew he could get away with it, reported Newsweek. 
Per The New York Times, the Milwaukee police department was also heavily criticized for their handling in what could have been a life-saving situation for one of Dahmer's victims. In a show of the department's negligence, just months before Tracy Edwards escaped, a young boy had also found a way out of Dahmer's murder house. Two young women tried to make a report to police about a naked boy in need and seen running, but he was returned to Dahmer's apartment by police who wrote off the incident as a couple's conflict, according to the Associated Press. The boy was 14-year-old Korenak Sinthasomphone, who was later killed by Dahmer and discovered as one of the many corpses in the apartment.
A few years before, Jeffrey Dahmer had spent 10 months in prison for the assault of Sinthasomphone's brother but was released early.
He would kill four more men before Edwards' brave escape finally got him caught in 1991.