The Letter JFK Wrote His Secret Lover Before He Died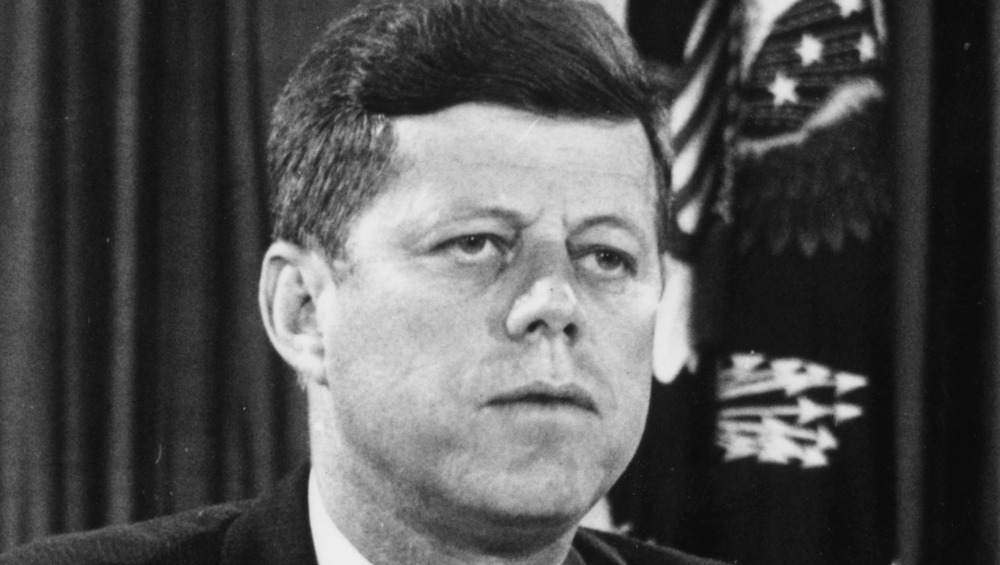 Keystone/Getty Images
President John F. Kennedy was notorious for being a bit of a philanderer, most famously with Marilyn Monroe. Per Irish Central, in 2016 a letter thought to be from Kennedy to the artist Mary Pinchot Meyer, a family friend with whom Kennedy may have been having an affair, went up for auction. Kennedy wrote the letter, which was never sent, in 1963, just before he was shot and killed while riding in a presidential motorcade in Dallas, Texas. Meyer and Kennedy reportedly met when Kennedy's brother Robert sold his house to a friend of Meyers'. 
Meyer was murdered in 1964, at which point her brother-in-law, Washington Post editor Benjamin Bradlee, became aware of his sister-in-law's diary, which presumably contained details about her affair with the president. When he went to Meyer's house to retrieve the diary, CIA director Janes Angelton was already sawing off the door's locks to get inside. Meyer's ex-husband Cord Meyer was himself a CIA official. Bradlee took the diary and its contents were never made public; it's thought that he turned it over to the CIA and it was ultimately destroyed. Meyer's death remains a mystery, as reported by Smithsonian Magazine. She was shot twice while walking by the C & O Canal in Georgetown. A man named Ray Crump, Jr. was found in the woods shortly thereafter with wet clothes and an injured hand. He was arrested for the murder, but was eventually acquitted due to lack of evidence. 
Did Meyer 'know too much'?
Michael Ochs Archives/Getty Images
Neither the murder weapon nor the murderer of Mary Pinchot Meyer ever came to light. Smithsonian Magazine notes that at the time of Meyer's death, it wasn't common knowledge that she was having an affair with Kennedy, nor that her ex-husband managed "clandestine services" for the CIA. Writer C. David Heymann later claimed that while Cord Meyer was dying he'd told Heymann that "the same sons of b****** that killed John F. Kennedy" had killed Mary. Another writer, Leo Danmore, claimed that Ray Crump Jr., who was Black, was a "perfect patsy" who could easily be blamed for the murder and that Meyer was really killed by a professional hitman, possibly someone connected to the CIA, because she "knew too much for her own good," as Smithsonian reported in 2008. 
Another interesting, although perhaps unlikely, theory was described in Robert Greenfield's Timothy Leary: A Biography from 2007, in which it's reported that the psychologist/LSD guru met Meyer "several times," supplied her with psychedelics, and that "she wanted Tim to teach her how to run an LSD session so she could turn on a close friend" who was "a very important man as well as a public figure." Upon hearing about her death, Leary (shown above) jumped to the conclusion that "she had been killed for giving LSD to the president and then recording this information in her diary." There is "no evidence" that Meyer and Kennedy took LSD together, per author Robert Greenfield.
An 'unwise' and 'irrational' affair?
Kennedy's letter to Meyer was sold by R.R. Auction of Boston, Massachusetts, per Irish Central. R.R. Auction executive vice-president Robert Livingston noted that Kennedy's secretary Evelyn Lincoln had identified Meyer as the intended recipient. The letter came to R.R. Auction from the estate of Bob White, a man who had bought several Kennedy papers and artifacts from Lincoln.
The handwritten letter read, in part, "Why don't you leave suburbia for once — come and see me — either here — or at the Cape next week or in Boston the 19th. I know it is unwise, irrational, and that you may hate it — on the other hand, you may not — and I will love it." R.R. Auction expected the letter to sell for at least $30,000. As reported by the Boston Globe, it went for much more: $88,970, to an anonymous buyer. 
According to Just Collecting, Kennedy's letters to Meyers are among the most valuable Kennedy memorabilia ever sold. Kennedy was apparently an avid writer of love letters; among his other personal items that sold for a great deal are his love letters to Swedish aristocrat Gunilla von Post, whom he met just before marrying Jacqueline Bouvier and whom kept seeing until he and Jackie were expecting their first child. These letters sold in 2010 for $115,537. During World War II, Kennedy met married Danish journalist Inga Arvad when she shared an apartment with his sister Katherine. Arvard was a suspected Nazi spy and was under surveillance by the U.S. government during their affair. Kennedy's letters to Arvad sold for $144,000 in 2007.