Did Sgt. Slaughter Ever Serve In The Military?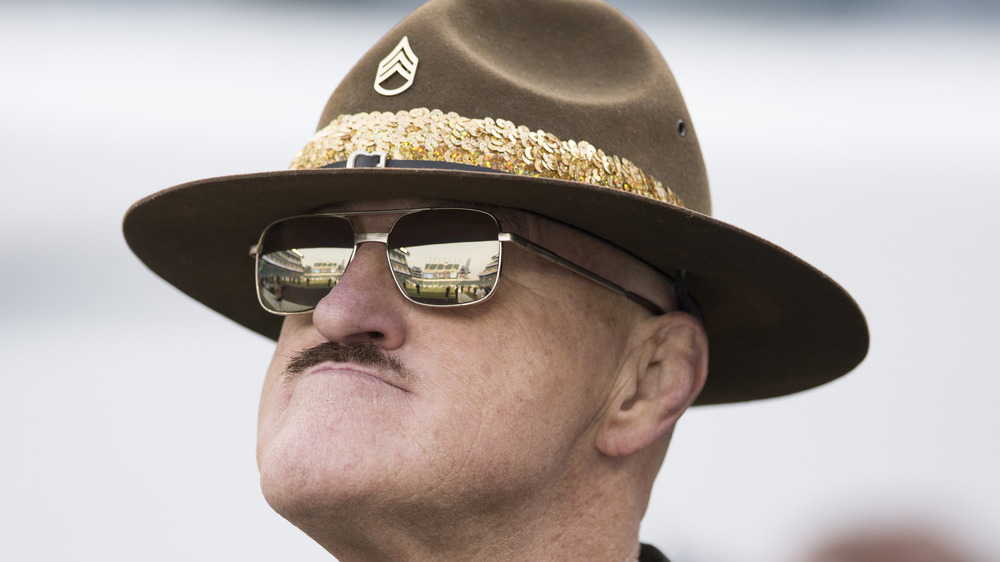 Mitchell Leff/Getty Images
Pro wrestler Sgt. Slaughter schooled other fighters in the National Wrestling Alliance (NWA), the American Wrestling Association (AWA) and the World Wrestling Federation (today's World Wrestling Entertainment or WWE) as the ultimate drill instructor for decades, and his image even graced a G.I. Joe action figure in the late '80s when he became a spokesman for the brand and did voice-over work in its cartoons.
His U.S. Marine-based character, portrayed by Robert Remus, resonated with the public throughout the '80s and '90s — although he never actually served. Still, he recounted stories during interviews that seemed like memories from a military career. He came to a 2019 appearance on the Jim Norton & Sam Roberts SiriusXM radio show wearing a camouflage jacket, mirrored sunglasses, and a drill sergeant hat with a blinged-up band, asserting he entered the Corps in 1968 until 1974 — even serving in Vietnam — during the interview.
Yet, according to the Marine Corps Times, citing government records, he never enlisted. The WWE also told the publication that the man who played Sgt. Slaughter never was part of the U.S. Marine Corps and "that when Remus is in character as Sgt. Slaughter for public appearances, such as the 2019 interview, he is speaking as his character, not as Remus."
Questions about the truth behind Sgt. Slaughter's military history have swirled around the wrestler for years. For instance, a Baltimore Sun article from March 24, 1985, said, "Slaughter dodges all questions about his armed service record — for good reason." 
A decades-long career in wrestling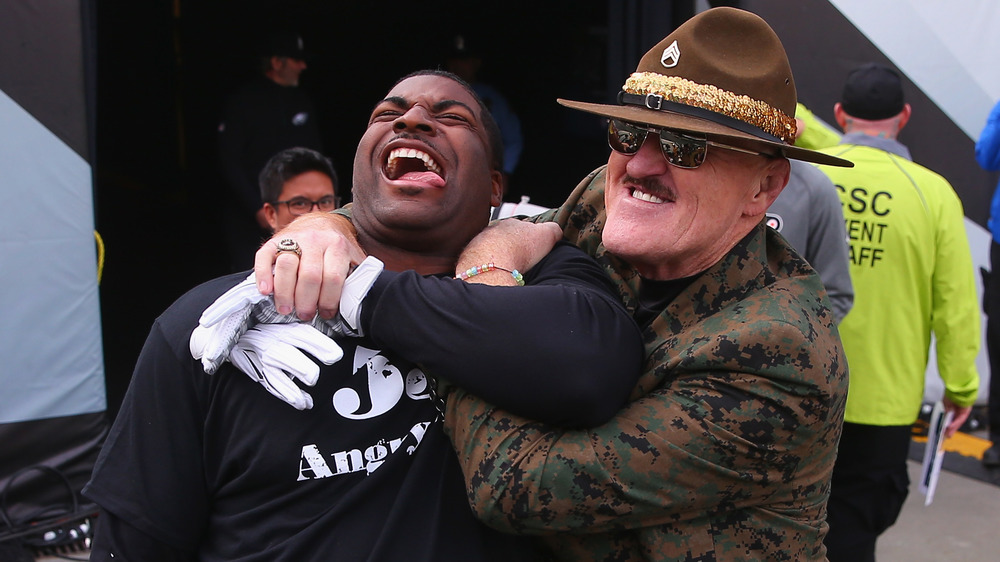 Mitchell Leff/Getty Images
The article also revealed that the USMC often got complaints about his "abuse of the uniform" — something his secretary-booking agent addressed with "no comment."
After the SiriusXM interview, the murmurings returned after several sites commented on the conversation, including @socaluncensored on Twitter and a forum on the Wrestling Observer Newsletter, reported Wrestling News. 
Remus, born on August 27, 1948, was raised in Eden Prairie, Minnesota. He worked as a barber and for his father's roofing company before entering the AWA in 1974 after attending a camp headed by WWE Hall of Famer Verne Gagne.
After six years in the field, he debuted the Sgt. Slaughter character, who, according to the WWE website, "referred to his outmatched opponents as scum, slime and maggots." During his career there, he would leave and return several times — also wrestling in the NWA and the AWA.
Besides fighting Bruno Sammartino in his last Madison Garden match before retirement, Sgt. Slaughter's career highlights also included a 1991 WWF Championship and becoming part of the WWE Hall of Fame in 2004, according to IMDb.
During his time with the NWA, he became a United States Champion and a World Tag Team Champ with Don Kernodle. "Sarge experienced a popularity explosion that coincided with Hulk Hogan's in 1984," according to WWE All-Stars. "Along with Hogan and 'Superfly' Jimmy Snuka, Slaughter was one of the WWE's most beloved Superstars of the mid-1980s."
After retiring, Sgt. Slaughter continued a career in wresting as a commissioner, a road agent, and an ambassador.