Inside Tiger Woods' Injury Car Crash
On the morning of February 23, 2021, the Los Angeles County Sheriff (LASD) responded to a single-car rollover. When they got to the wreckage, they discovered that the driver was golf superstar Tiger Woods. According to the official LASD Twitter account, the SUV was in such a state that rescue workers had to use the jaws of life to extricate the golfer from the totaled vehicle. Tiger was rushed to a nearby hospital in an ambulance for treatment.
TMZ Sports reported that his agent, Mark Steinberg, said that Tiger had suffered multiple injuries to his legs in the crash. Investigators are looking into what caused the accident. They said that they do not believe that he was under the influence of alcohol, but did not say if other drugs might have been in his system.
Woods, 45, was in town for a golf tournament, the annual Genesis Invitational, which was being played in the Pacific Palisades at the Riviera Country Club. He had recently snapped some selfies with other sports stars and celebrities, such as Dwayne Wade and David Spade. In the last week he had lamented the fact that his recent back surgery may have kept him from being able to play at the Masters, but it appears that the possibility has unfortunately become a reality.
This was not Tiger Woods' first car trouble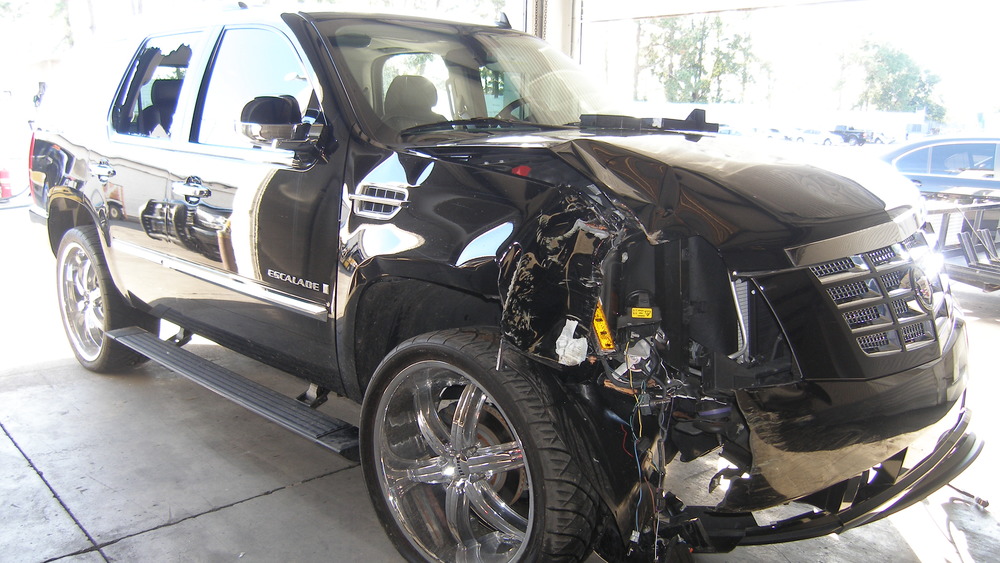 Handout/Getty Images
The crash was not Woods' first. As TMZ noted, the legendary golfer infamously crashed his SUV into a tree during a fight with his ex-wife, Elin Nordegren, in 2009. He was allegedly under the influence of the prescription sleep aid Ambien at the time, but was not arrested for driving under the influence.
However, Woods was arrested for DUI in Florida in 2017, and prescription drugs were apparently behind that incident, as well. Woods said he had taken a mix of prescription medications and had not expected the effects to be so strong. At the time, he offered a heartfelt apology to his friends, family, and fans, and promised not to let such a thing happen again. We can hope that he kept that promise, but the fact his was the only car involved the February 2021 accident definitely poses the question of his sobriety. According to The New York Times, Woods' condition was still unclear as of the afternoon of his crash.