This Was The Last Public Execution In The United States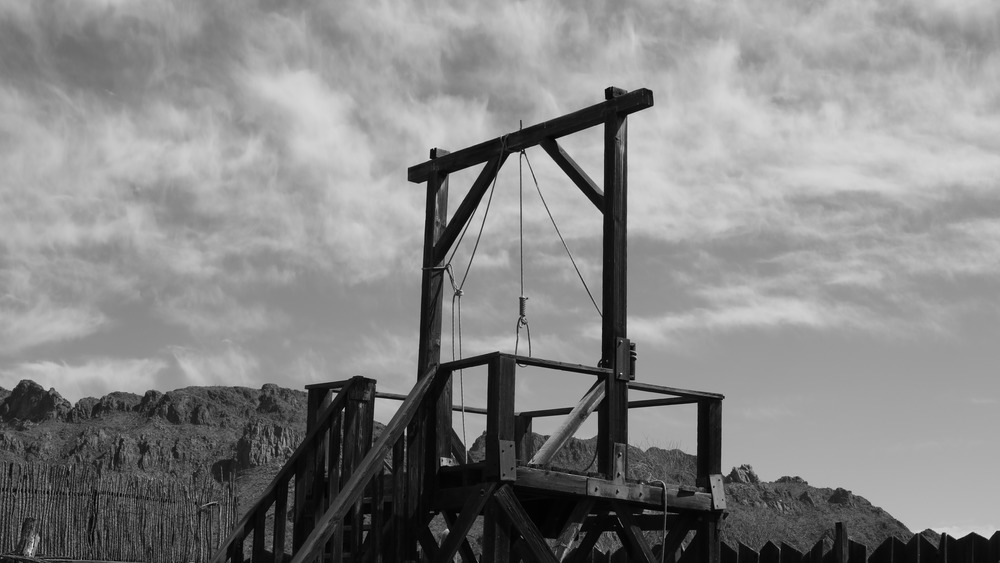 Shutterstock
Public executions are a dark and troubling part of American history. Punishments for crimes have long come in many forms. Examples of capital punishment include electrocution, gassing, hanging, lethal injection, and more gruesome ones like stoning or the guillotine — which France greatly utilized during the French Revolution. While some are considered more barbaric than others, in modern day, all methods of the death penalty have growing choirs against them. Last year, Amnesty International reported a significant drop in executions around the world.
Most of these executions today take place in detention facilities and unseen by many. In the U.S for instance, executions usually have witnesses and there is even an adjacent room where people can watch the final moments. These witnesses are usually relatives of the prisoner being executed, and the families of their victims, along with other prison and judicial staff.
But once upon a time it was more than just relatives and personnel watching the execution. It used to be a public affair that Americans young and old came out to see.
The last public execution was carried out in 1936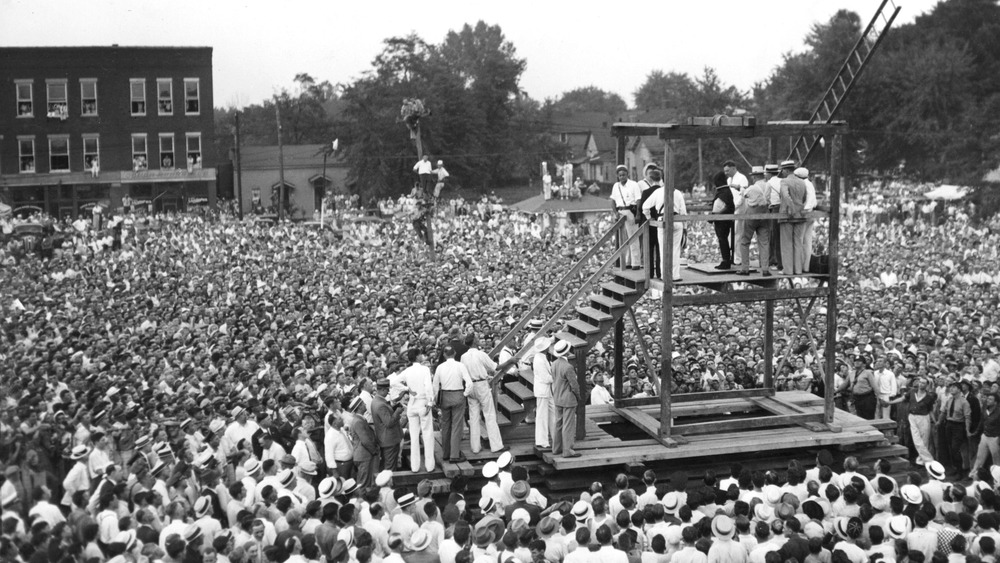 Getty Images/Getty Images
The state of Kentucky is famed for a lot of things, and it is known as the location of the last public execution in the United States. In the early morning hours of Aug. 14, 1936, some 20,000 spectators turned out in the city of Owensboro to watch the public execution of 26-year-old Rainey Bethea. Bethea, who was Black, had been charged with the rape of a 70-year-old white woman, reports the Death Penalty Information Center. The punishment for his crime: public hanging.
In makeshift gallows constructed on a lot near the Ohio River, thousands of people from all over Kentucky and the U.S. came to see Bethea's execution (pictured above). Some say the bigger story was really due to the fact that it was going to be the first execution led by a woman. Sheriff Florence Thompson was responsible for overseeing the execution, but she didn't follow through with the grim task (per Timeline).
Photos of events that day show a large crowd of mostly white onlookers, looking up at the gallows. Some are seen watching on from building windows, roofs, and trees. Negative media attention followed in the aftermath of Bethea's execution, which subsequently led to Kentucky outlawing public executions. But the state remains as one of the 28 states that has the death penalty.
Public executions are a thing of the past in the U.S. now, but in other parts of the world like Saudi Arabia, Iran, and South Sudan, state-sanctioned executions for public viewing are still happening, says Amnesty International.