The Sad Truth About The Notorious B.I.G.'s Childhood
Al Pereira/Getty Images
Before he was Biggie, before he was Notorious, he was just Christopher Wallace. Born in Brooklyn to Jamaican parents, Wallace grew up in the borough's Clinton Hill neighborhood on a block of St. James St now known as Christopher Wallace Way, reports Curbed New York. But before the fame and accolades that led to that honor, Wallace struggled as a young man trying to break out of the circumstances life had handed him.
On account of his size, he was known as "Big" around the neighborhood. At the age of two, his father left the family, leaving Wallace's mother to work two jobs to pay the bills. Though she was able to send her son to private school for a better education, she couldn't always be around to monitor what he got up to. Soon, excelling in school and winning awards gave way to the pressures of the environment Big was raised in. According to Biography, the soon-to-be rapper was dealing drugs by age 12.
Brushes with the law
Raymond Boyd/Getty Images
By 17, Big had dropped out of school and was getting deeper into the drug trade, says Biography. The New York Times reports that in 1989, he was picked up on his own street and charged with weapons possession (for which he was sentenced to five years' probation), before being arrested in 1990 for a probation violation. The following year, Wallace was arrested for dealing cocaine in North Carolina and reportedly spent nine months in jail.
Life on the musical front, though, was a different story. Based on the success of his first demo tape, Biggie Smalls (the origin of one of his stage names), he began making a name for himself. How good was it? So good that Biggie got famous without really trying to. According to the New York Times, Smalls considered his rapping something he just did for fun, until some editors at The Source got a hold of the demo and started to hype him up. It was the beginning of the career that would see a troubled kid from Brooklyn climb to the heights of the music world.
Biggie's legacy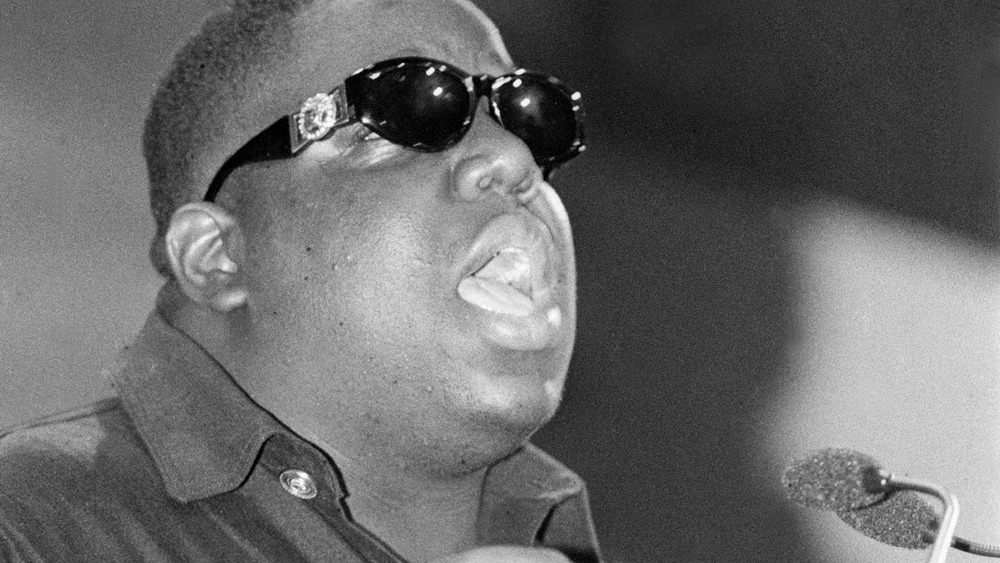 Al Pereira/Getty Images
Given Biggie Smalls' outsized influence on rap and the larger culture, it can be easy to forget that Christopher Wallace never got much chance to be a kid at all, nor was he granted much time to revel in his success as an adult. When he was gunned down by an unknown assailant in Los Angeles in 1997, he was just 24 years old.
Back in Brooklyn, he's remembered for much more than the violence of his death or the criminal elements of his life. Shortly after his death, the New York Times went back to his old neighborhood and talked to a woman who'd known him. "Find a woman who says he took her purse and someone who says he stuck a gun in their face," she was quoted as saying, adding "He was no gangster." Regardless of whether Biggie's early years were more myth than reality, there's no denying that the music inspired by them continues to resonate with old and new fans today.