Paul George Is Worth A Lot More Money Than You Think
Douglas P. Defelice/Getty Images
The Los Angeles Clippers star Paul George became an integral part of the team ever since moving from the Oklahoma City Thunder in 2019. Since he jumped from college to professional basketball, George has only seen his star and his bank account rise.
George has played for three teams in the NBA since he was drafted in 2010. He began his professional career with the Indiana Pacers, where he was the 10th pick overall. George became the highest-drafted player coming out of Fresno State during his rookie year, where he went to college, said Scout.com. George scored big for the Pacers in the seven years he was there, even being named to the All-Star team several times. While playing for the Pacers, George scored a berth to the US Olympic team and won a gold medal during the 2016 Olympics.
The Pacers decided to trade George to the Oklahoma City Thunder before his free agency, and he moved there in 2017. But George wanted to go back to playing in his home state of California and got the opportunity when the Clippers came calling. And he might stay there until the end of his career. He told Sports Illustrated he'd like to retire as a Clipper, but not for a long time, as he wants to have longevity like that of LA Lakers legend LeBron James.
One of the highest-paid stars of the NBA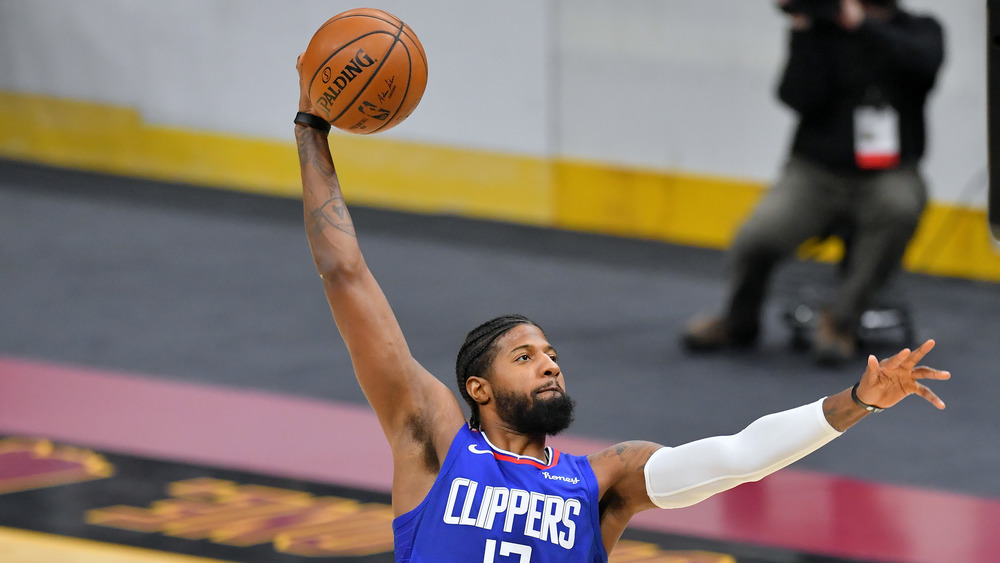 Jason Miller/Getty Images
For the majority of his career, George has been one of the most admired players in the NBA. And according to Celebrity Net Worth, he's also one of the highest-paid.
While playing for the Pacers in 2017 and 2018, George earned $30 million in both salary and endorsements. When he moved to the Clippers, the team granted him a new deal that would pay George at least $176 million for four years, reported the International Business Times. This means he will earn $35 million for this season and $40 million from 2022 to 2024. Not only that, but George has real estate assets, too. He sold his 16,000-square foot Hidden Hills, California home for $9.5 million in 2020 and moved into a $16 million home in the Pacific Palisades area of Los Angeles.
And if he continues to play well, the $8 million George gets in endorsements may even grow, which could put his current net worth of $90 million to shame and keep him as one of the highest-paid athletes in the NBA.