The Truth About Tony Bennett's World War II Service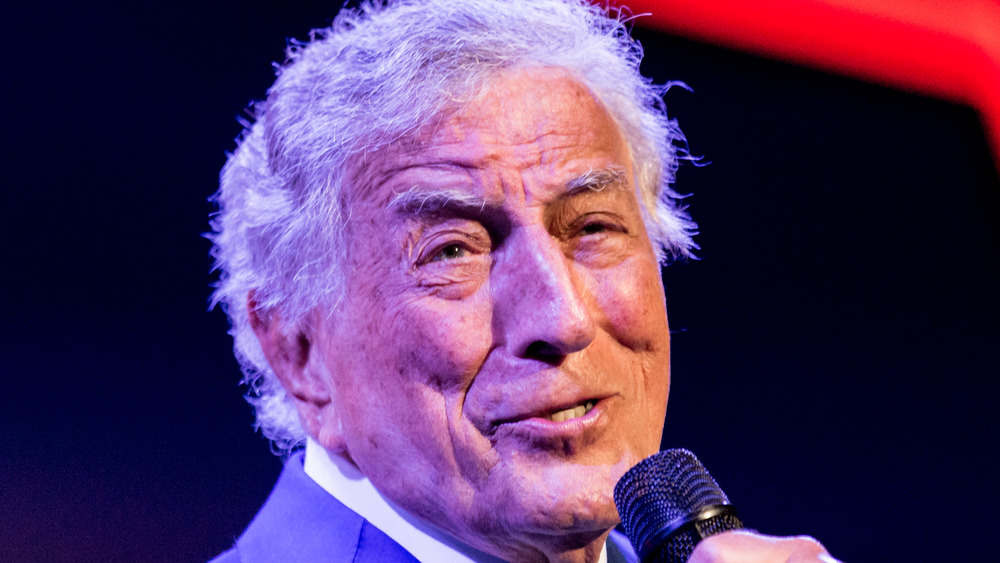 Greg Doherty/Getty Images
Anthony Benedetto, more famously known by his stage name, Tony Bennett, captivated audiences for over 70 years with his smooth, sultry crooning and jazzy musical stylings. Although Bennett began singing at a young age, his musical career was put on hold with the outbreak of World War II. In November of 1944, the talented 18-year-old native of Queens, New York was drafted into the U.S. Army. 
After completing basic training in Fort Dix, New Jersey and Fort Robinson, Nebraska, he was assigned to the 63rd Infantry Division and shipped out to Europe, according to PBS. Soon, he was fighting against Germany on the front lines, facing heavy fire, sleeping in fox holes, and watching his friends and fellow soldiers die. He described the war as a "front-row seat in hell," per War History Online. In the spring of 1945, the war was finally starting to come to a close, and in May, Germany officially surrendered, bringing the war on the European front to an end.
Bennett's experience in World War II made him a pacifist
On one of Bennett's last official missions in the war, he helped to liberate the Kaufering concentration camp in Landsberg, Germany, where American POWs had been kept during the war, per the Belleville News-Democrat. In doing so, Bennett (center, above) came face to face with the atrocities of the concentration camps, an experience that had a significant impact on his life. He would later recall that he "saw things no human being should ever have to see" (via PBS).
What Bennett saw in the concentration camps affected him for the rest of his life, and his experience in the war made him a lifelong pacifist. "The main thing I got out of my military experience was the realization that I am completely opposed to war. Every war is insane, no matter where it is or what it's about. Fighting is the lowest form of human behavior. It's amazing to me that with all the great teachers of literature and art, and all the contributions that have been made on this very precious planet, we still haven't evolved a more humane approach to the way we work out our conflicts," he would later write in his memoir The Good Life.