The Tragic Death Of Bing Crosby's Wife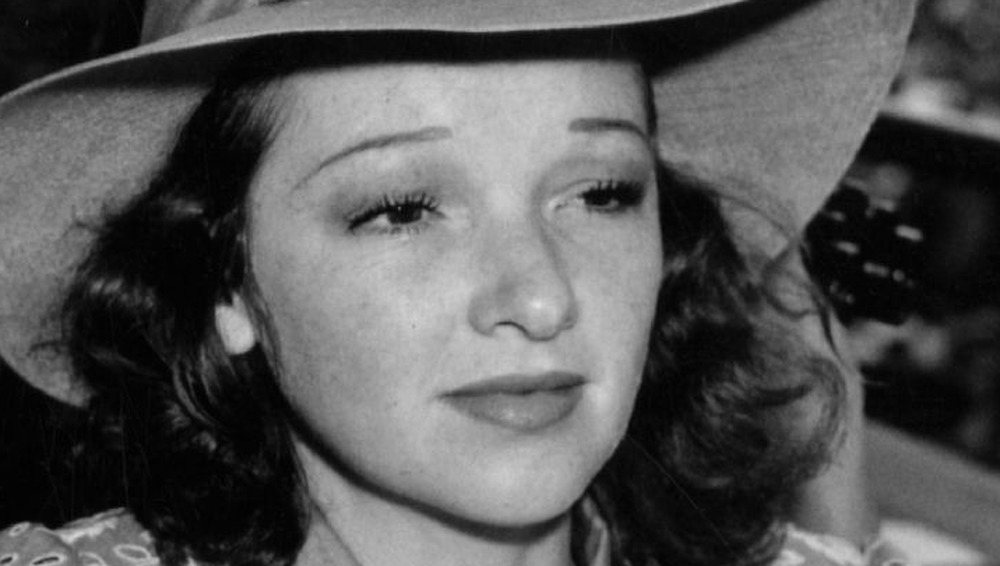 Hulton Archive/Getty Images
Bing Crosby was one of the most famous and beloved of American entertainers. He was known for his popular hit recordings, like "White Christmas" and "Don't Fence Me In." He starred in several movies, including the "Road" series with Bob Hope and Dorothy Lamour, for much of the 20th century, and picked up an Academy Award for Best Actor in 1944. Just as his career took off, he married actress and singer Dixie Lee, in 1930.
She was born Wilma Winifred Wyatt in Harriman, Tennessee on November 4, 1909. When she was in her late teens she started singing and won a contest for her talent in Chicago. Later she chose the stage name Dixie Lee and signed a contract with Fox in 1929, reports CBS Knoxville. She starred in a few films that same year, per IMDB, and would meet Bing Crosby. The following year they got married. Together they had four children, all boys, including twin sons.
But between the two of them, only one career would take off exceptionally well. Bing's fame was growing, and Lee became a homemaker, raising their children.
Crosby's wife was lonely before death
Lee retired from acting in 1935, shortly after giving birth to all of the Crosby boys — Gary, Phillip, Dennis, and Lindsay — according to IMDB. She would record two songs with her husband in 1936, "The Way You Look Tonight" and "A Fine Romance," but afterward, Lee wasn't visible in the entertainment business at all. Out of the spotlight, she apparently had a serious drinking problem. While Bing was touring the country, recording music, and acting in films, his wife found herself lonely and became dependent on alcohol.
A 2014 PBS documentary, Bing Crosby Rediscovered, examined how Lee's drinking may have affected their marriage and their children, particularly the twins Phillip and Dennis. As People reported, the film's director suspected the Crosby twins had fetal alcohol syndrome based on examining their physical appearance.
"Something had told me that it was fetal alcohol syndrome, so I took existing photos of the twins and showed it to a couple of specialists at USC ... the specialists looked at them and said 'Yeah, this is a [sic] like a textbook case of fetal alcohol syndrome,'" said Robert Trachtenberg.
Fetal alcohol syndrome is the result of a mother's drinking alcohol during pregnancy. Lee never quit drinking, and later would die of ovarian cancer on November 1, 1952, a few days before her birthday. She was 42 years old.