What Happened To The Three Finalists From Ink Master Season 13?
The last season of Ink Master premiered on January 7, 2020. Even though the season came at the early start of the year, the COVID-19 pandemic into 2020 would still prove to have a negative effect on the entertainment industry in different ways. And that it did for the outcome of the popular tattoo competition show.
After the last filmed episode aired that April, most of the country was under lockdown and the series' Instagram page shared a post revealing that the show would not have its traditional finale show for the remaining finalists. The final three contestants were Bob Jones, Angel Rose (pictured, above), and Jimmy Snaz, and all were instead awarded cash prizes for making it to the finale. Their master canvases were revealed via the show's Instagram page. For the first time in the show's history, no one was given the title of ink master. 
Today, the artists who may have been the Ink Master last year are all still at their craft. Most states eased restrictions on tattoo and piercing parlors and most are fully operating.
Back to tattooing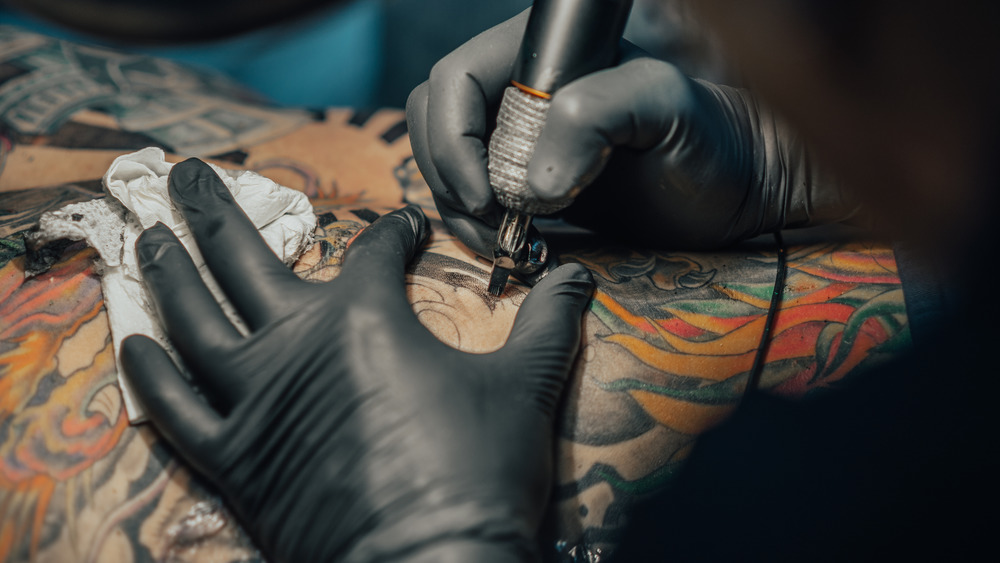 Shutterstock
According to contestant Bob Jones' Instagram, he's been tattooing in his hometown of Portland, Oregon presumably since August of last year. When the season's last episode aired, he took to the social media site to share his experience on the show and why despite everything going virtual — it wouldn't have worked in their case. The final task for the artists was to finish an hours-long design. But with non-essential businesses closed for a significant time, it would've been impossible, he said.
"...Because tattooing is currently banned in all states there would have been no legal way to show each artists remaining style in a 6 hr tattoo. Throwing out a style wasn't an option because artists did different styles on different parts of the body, so it wouldn't be fair to judge a style put on a back to a style put on a chest to a style they never got to tattoo."
Angel Rose has made two appearances on Ink Master, and she is currently tattooing in Los Angeles and Salt Lake City, according to her website. On her social media she states that she also works at the Olympus Tattoo Gallery in Salt Lake City.
And like his fellow competitors, artist Jimmy Snaz returned to tattooing around last summer. Per his Instagram page, he does some work at the Speakeasy Tattoo and Art Gallery in Massachusetts.