How Much Does The Pope Emeritus Get Paid?
Franco Origlia/Getty Images
When Pope Benedict XVI announced in 2013 that he would be resigning from office, it sent a shockwave through the Roman Catholic Church. It was the first time in more than 600 years that the sitting pope hadn't died in office. The Vatican had lived through a number of popes who could've brought the church down, including one who allegedly bribed his way in, another who dug up his dead predecessor for trial, some who ordered the deaths of cardinals, and others who nearly bankrupted the church, per CNN.
However, for all the extreme papal behaviors the Vatican has survived, it didn't have answers to many of the questions they now faced with a pontiff who wanted to step down instead of ending his life still in the papacy. What would he be called? How many perks should he keep? Where will he live? And should he get a retirement plan?
Pope Benedict XVI made some of the decisions himself, but relied on consultation with others in the Vatican for answers to several questions. He announced he would keep his papal name, Benedict, instead of reverting to his birth name, Joseph Ratzinger. He would also keep the title of "His Holiness" and be referred to as "Pope Emeritus," according to CBC. The papal ring, seal, and red shoes, however, were no longer his.
The Pope Emeritus salary isn't too shabby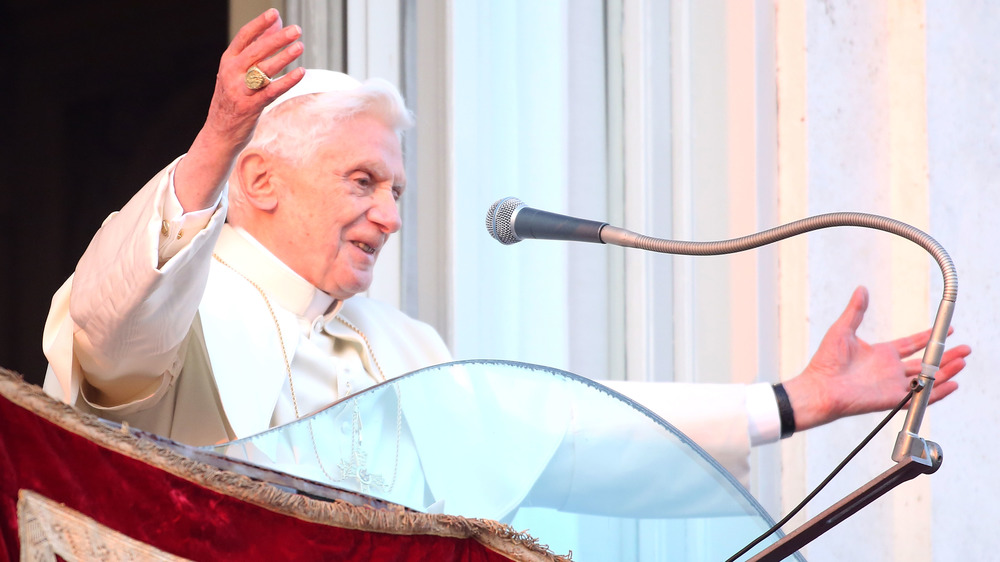 Franco Origlia/Getty Images
As Pope Emeritus, Benedict receives a monthly pension of 2,500 euros, about $3,000 in early 2021. It's the standard pension for retired bishops (technically, the pope is the Bishop of Rome). However, should Pope Francis decide to make the pope emeritus a Cardinal Emeritus, Benedict's pension would double, to 5,000 euros a month, the Independent reported.
That's not a bad retirement salary, given he lives rent-free in the Mater Ecclesiae, a renovated former monastery inside Vatican City, which overlooks the Sistine Chapel. And the Roman Catholic Church covers all of his living expenses, as well as the salary of his personal secretary. The former pope is also still covered by the Vatican's private health care policy, according to the Independent. As for his leisure activities, Benedict said he would spend his time praying, reading, watching the news, and playing with his cats, as USA Today reported.
In all, it's a much better retirement plan than the last pope who resigned. As Britannica reports, when Pope Celestine V called it quits in 1294 after just five months in the papacy, his successor, Pope Boniface VIII, worried Celestine would pose a threat and imprisoned him in a castle. Celestine died shortly after that.
As Deadline reports, Discovery+ will stream Francesco, a documentary about Benedict's successor, Pope Francis, beginning March 28.