The Truth About What Happened To The Titanic Orphans
The tragic sinking of the Titanic was a tale of terrible class inequality. First Class passengers were much more likely than Second and Third Class passengers to get a spot on the lifeboats aboard the doomed ship, according to Titanic Facts. Around 63 percent of the ship's passengers died in the icy waters of the Atlantic on April 15, 1912, but nearly two-thirds of them were traveling Third Class. More than three-quarters of the 709 Third Class passengers on the Titanic died, while 58 percent of Second Class passengers died, and just 39 percent of those in First Class died.
Two Second Class passengers that did survive became media sensations thanks to their unusual back story — they were just 2 and 4 years old and had lost their father in the disaster, per the Daily Mail. No one even knew their true identities since their father had kidnapped them from their mother and registered them under false identities when they boarded the doomed ship. They were listed as Louis and Lola, but the press called them the "Titanic orphans" since they were the only children who survived the sinking without a parent or guardian. When they were older, one of the boys ended up becoming a philosophy professor and the other an architect, according to Titanic Cherbourg. But before all that, the authorities had to figure out just who these two children were and whether they had any surviving family.
Their father saved them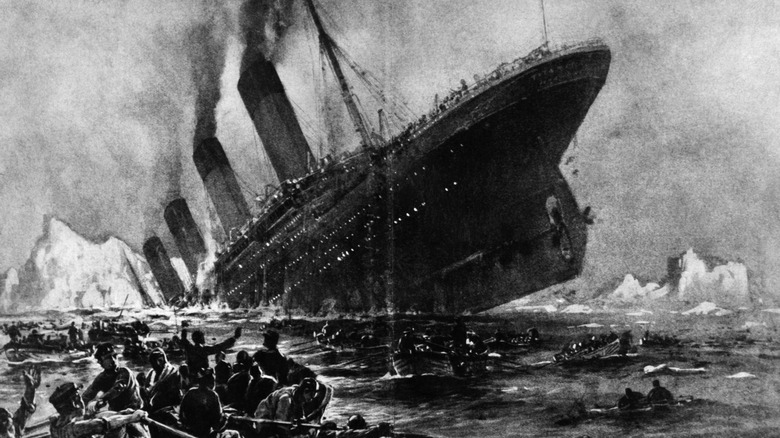 Bettmann/Getty Images
Michel Navratil, a tailor born in Slovakia in 1880, was living in Nice, France when he decided to take his two young boys to America without telling his estranged wife of his plans, per Titanic Cherbourg. She had custody but had allowed them to visit him over Easter. On board the ship, he and the boys, Michel Jr. and Edmond, were sleeping when the ship struck an iceberg near Newfoundland, Canada. "I was woken up by my father," Michel Jr. recalled years later in a letter (via the New Zealand Herald). "He carried me in his arms to the deck of the Titanic. My brother and I were put in a boat. That was already almost full of passengers."
It was the last lifeboat to escape. A first-class passenger, Margaret Hays, her dog wrapped in her cloak, heard someone yelling as the boat was being lowered, according to a 1912 article in The Day Book. A man called out and tossed his two children to a sailor. "My father charged me to give my mother his affection and he left us," Michel Jr. recalled. Hays took the children under her wing. When they were rescued by the Carpathia, the authorities had a heck of a time figuring out who they really were. The two young survivors spoke no English — only French — and even when authorities were able to find a translator, the boys just answered "Oui" to everything they were asked, per Encyclopedia Titanica. No one knew how to figure out who these kids were.
Reunited thanks to the press
Michel Jr. and Edmond stayed in the home of Margaret Hays in Manhattan while the authorities tried to locate anyone who might know their identities, and they received lots of media attention, per the New Zealand Herald. Meanwhile, back in France, a woman named Marcelle Navratil saw their photo in the paper and was overjoyed. She knew the identities of the Titanic orphans. They weren't Louis and Lola, but rather Michel and Edmond, her boys who had been taken from her by their father, with whom she was going through a bitter divorce.
Marcelle went to New York, confirmed that she was the boys' mother, and took them back home to France on the ship Oceanic. "I am the happiest mother in the world," she told reporters, per The Day Book. Hays, 19, who had taken care of them until their mother arrived, kissed them goodbye. Both boys grew to adulthood. Edmond was an architect who joined the French Resistance during World War II and became a prisoner of war of the Nazis, per Titanic Cherbourg. He died in his 40s in 1953 after suffering from his time as a prisoner. Michel Jr. was a professor at Montpellier University. He visited the U.S. for the 75th anniversary of the sinking of the Titanic and a few years later saw his father's grave in Canada for the first time. His father's body had eventually been recovered and buried in Halifax. Michel died in 2001, age 92, The New York Times reported.