Whatever Happened To Titanic Survivor J. Bruce Ismay?
English businessman J. Bruce Ismay was the chairman and managing director of the White Star Line, a British shipping company. Ismay never missed the first journey made by one of his ships, according to the Encyclopedia Titanica, and so when he boarded White Star Line's Titanic on April 10, 1912, with his valet, Richard Fry, and secretary, William Henry Harrison, everything seemed like business as usual.
NPR described him as the man who "owned the Titanic." As a company head who believed 20 lifeboats were sufficient for a ship that carried 2,800 people, he is often reviled, reported NPR. At the time, the British Board of Trade only required that their ship carried 16. Despite making that call, he got in one of those lifeboats on April 14 as the Titanic sank after hitting an iceberg. 
"Some people describe Ismay as getting into the first lifeboat," said Frances Wilson, author of How to Survive the Titanic: The Sinking of J. Bruce Ismay, in a 2011 interview with NPR's Scott Simon. "Other people describe Ismay as being ordered into a lifeboat by the captain."
Ismay stuck with a more heroic tale, and told people that he only jumped into the boat after no one else remained on deck — this was after helping others onto eight other lifeboats.
An investigation ruins Ismay's reputation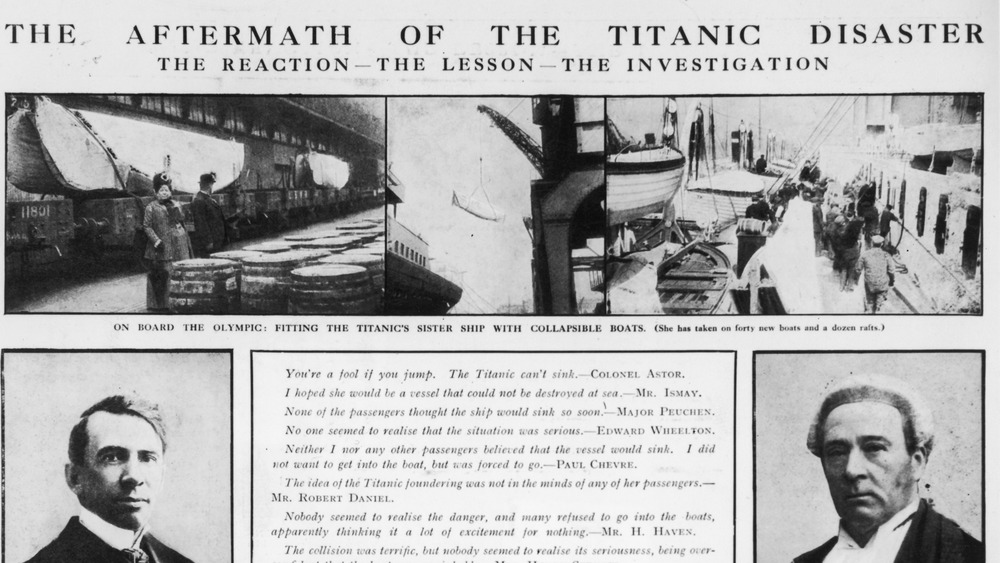 Hulton Archive/Getty Images
After the tragedy at sea, investigations questioned Ismay's account and his reputation became damaged. According to Britannica, "Ismay faced lengthy questioning, and he denied reports that he had encouraged Capt. Edward J. Smith to increase the ship's speed — despite iceberg warnings — in order to garner positive press coverage by arriving in New York earlier than scheduled."
The event sullied the family's reputation so much that his wife, Julia, would not allow anyone to discuss the event in front of them. Ismay was eventually cleared of wrongdoing, according to the BBC. 
Still, the incident haunted Ismay for the remainder of his life, and he retired from the White Star Line and the International Mercantile Marine Company (IMM) just a year after the Titanic sank. According to Historic UK, he did contribute to pension funds for those widowed by the ship's sinking. 
Ismay died at his London home in 1937 at the age of 74.