How Much Money Kevin Owens Is Actually Worth
Kevin Owens is a rising star in the pro wrestling world. Often called KO for his ability to do just that in the ring, the Canadian grappler has shown the world that he means business. According to his official WWE bio, Stone Cold Steve Austin said he possesses one "hell of an arsenal," and he's even been given a shout-out by legendary jabroni stomper Dwayne "The Rock" Johnson. Owens first took the NXT (one of the major WWE brands) by storm, then went after the big shots on the main roster, such as John Cena, knocking out star after star on his way to becoming a fan favorite. 
KO has had epic bouts with other big names in the promotion, as well, including Roman Reigns, Daniel Bryan, Seth Rollins, AJ Styles, and more. His stellar rise to the top continued in 2020, when he was drafted onto the SmackDown lineup. So you can bet he's cashing in on all that success. Let's take a look at just how well Kevin Owens is doing and see if we can get an idea of his net worth.
Kevin Owens has already laid the foundations for a nice wrestling fortune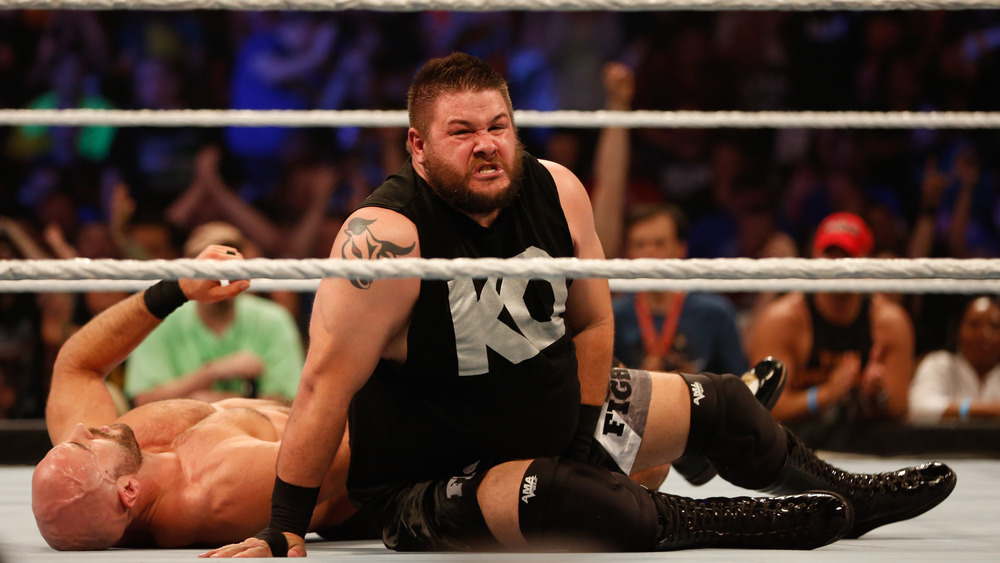 Jp Yim/Getty Images
In 2018, Forbes compiled a list of the top ten highest-paid wrestlers in the WWE, and rounding the list out at number ten was Kevin Owens. He earned $2 million that year. The magazine reported that his spot on the list was thanks to his indefatigable work ethic, and his status as Universal Champion surely helped out a bit, as well. That year, Owens fought in over 60 main event matches. Only AJ Styles and Roman Reigns worked more than that.
The financial paparazzi over at Celebrity Net Worth calculated that Kevin Owens is worth around $3 million. He appears to be set to make more in the 2020s, as he still has a couple more years to go on the contract he signed with the WWE in 2018, and he hopes to renew his contract with the promotion once it is up. According to Wrestling News, he said he wants to finish out his career with the WWE, as long as it's a right fit for him, his family, and the promotion. "I do not intend to go anywhere," he said.