The True Meaning Behind Kissing The Pope's Ring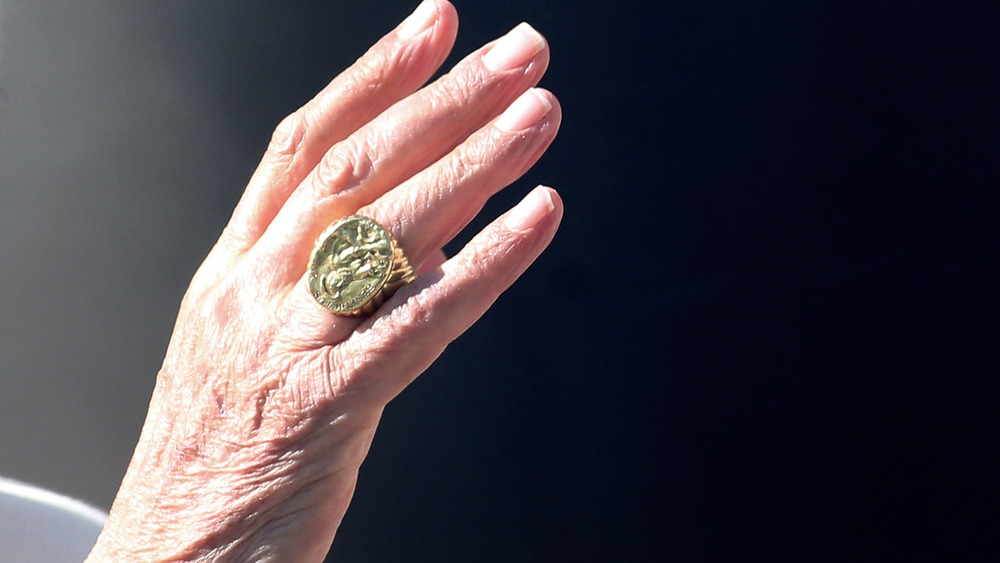 Franco Origlia/Getty Images
It is the Catholic belief that the pope is the highest authority of the Roman Catholic faith and ultimately represents and leads the Church. His leadership is meant to unify the world's one billion Catholics. He not only perform the duties of a religious leader, but acts as a diplomat as well. When a pope visits a country, said nation usually deploys their best security teams to ensure his safety and protection. During these trips and visits, the pope typically meets with world leaders and greets pilgrims. Getting the chance to greet and touch the pope's hand is considered a golden opportunity for many Catholics. And one of the many customary greetings is also kissing his ring.
Catholic bishops wear a ring as a sign of their office, says the Catholic Education Resource Center. Technically speaking, the pope is the bishop of Rome, but of course has larger responsibilities and authority beyond that city. The pope always wears a papal ring on his right hand. It is called the Fisherman's ring, says Britannica, and is also utilized as a personal stamp that the pope uses to sign off letters. Popes have worn a ring of this kind for over seven centuries. When worshipers come in close contact with the pontiff's hand, it is normal to kiss the back of it and moreover, the ring worn on it.
A traditional token of respect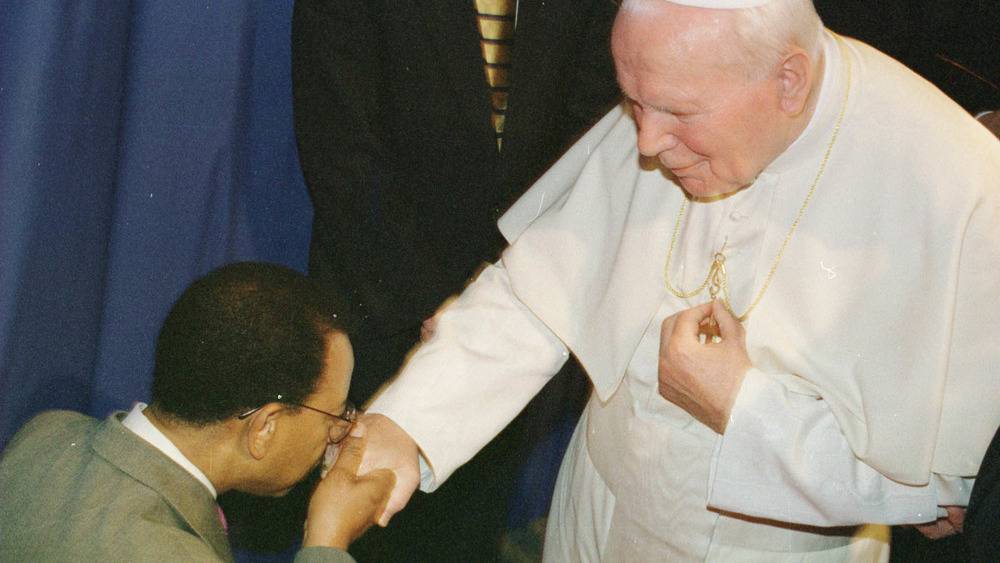 Bill Greenblatt/Getty Images
Kissing the papal ring is a traditional act that's been done for centuries. People often bow and kneel ahead placing a peck on the jewelry, and this common gesture is to show their respect for the pope and his authority. According to historian Father Roberto Regoli, it also demonstrates one's overall enthusiasm for the faith. He says it "expresses devotion not to the person of the pope, but to whom and what he represents: the successor of the fisherman of Galilee" and "indicates fidelity and love for the Church," Father Regoli told Catholic News Agency.
Despite that being the norm, Pope Francis did something that shocked the globe in 2019, when he denied worshipers the chance to kiss his ring. As people lined up to greet him and pucker up to his hand (specifically his ring), he repeatedly and plainly warded them off (posted on YouTube). The video went viral and led many to question why the sudden change. The Vatican eventually responded to growing concerns by saying the pope deterred kisses for hygienic reasons, reported Reuters, and "likes to embrace people and be embraced by people," said spokesman.
But maybe Pope Francis' displeasure with ring-kissing is bigger than other people's saliva. In December 2019, he went viral again for smacking a pilgrim's hand away after she grabbed him in a greet attempt (also on YouTube). He was noticeably vexed in the moment, but later apologized for his actions (via The Guardian).
Discovery+ will stream a documentary on Pope Francis, titled Francesco, beginning March 28.