The Serpent: Whatever Happened To Marie-Andrée Leclerc?
In the years since the arrest of French serial killer and conman Charles Sobhraj and his girlfriend and accomplice Marie-Andrée Leclerc, it's still unclear how much she knew of her boyfriend's penchant for murder. But Woman and Home reported that Leclerc was suspected of being involved with the murders of more than 20 people, mostly backpackers, in Southeast Asia between 1975 and 1976.
Leclerc always denied she knew about any killings, but the U.K's inews reported that Leclerc, who used the fake name Monique, while involved with Sobhraj, traveled using the passport of one of Sobhraj's victims. According to Crime and Investigation Leclerc "fell for his charm and was content to ignore both his dalliances with other women and his criminal activity."
Part of Sobhraj's con included poisoning his victims, only to nurse them back to health so that they were indebted to him. He robbed, stole and murdered while having ambitions of creating a crime family, per Crime and Investigation. Sobhraj involved not only his girlfriend in his plots, but also a young Indian criminal named Ajay Chowdhury who Crime and Investigation called "Sobhraj's second-in-command." Chowdhury is suspected of being the main person who helped Sobhraj kill, but he disappeared shortly after the pair stole thousands of dollars worth of precious gems in Malaysia and has not been seen again. 
Sobhraj — and whoever allegedly helped him — killed by some combination of drowning, strangling, and poison, and bodies were often found burned, per Crime and Investigation.
Marie-Andrée Leclerc died of ovarian cancer in 1984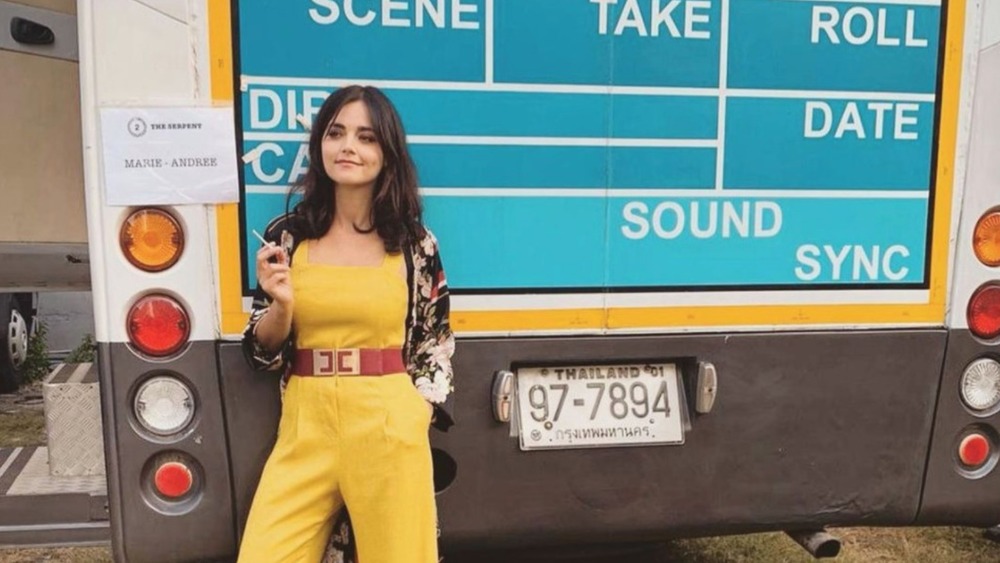 Cosmopolitan reported Leclerc, a French-Canadian medical secretary who met Sobhraj in the spring of 1975 while traveling in India, was officially charged with being an accomplice to two murders attributed to Sobhraj in 1976. She was acquitted on one charge but found guilty on the other in 1980. However, she was released on appeals with the condition that she couldn't leave India. 
In 1983 Leclerc was diagnosed with ovarian cancer and allowed to return to Canada to seek treatment. She died there in April of 1984 from her cancer at 38 years old. 
It's impossible to know how much Leclerc really knew, or what drove her to stay with a man who she knew was a thief and conman at best, a murderer at the worst, but it's possible she feared for her own life if she didn't go along with Sobhraj's criminal enterprises. 
In the Netflix series The Serpent, which begins streaming April 2, Leclerc is portrayed by actress Jenna Coleman (pictured above), who told Radio Times, "I think the [question of] 'is she a victim or is she not?', how much of her was brainwashed, how much of it was a choice to be there and a choice to live in the delusion? I think that's what's really interesting, to make the choices that she made in keeping this reality in a way that she could so that she could keep existing and being with Charles."