The Untold Truth Of The Super Bowl Halftime Show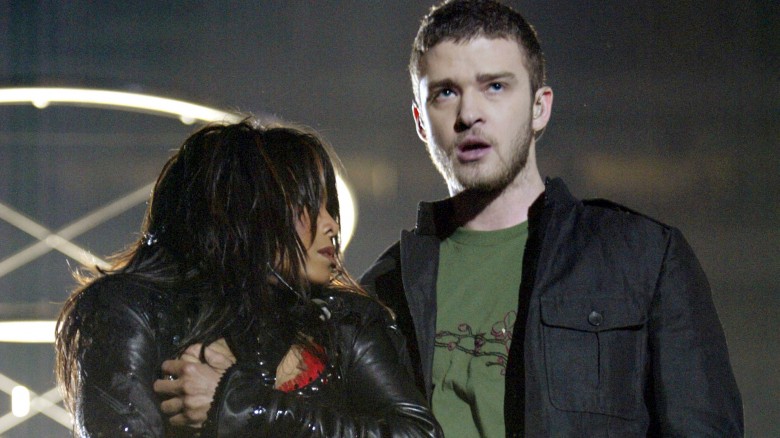 To a certain sector of folks, the Super Bowl halftime show is more important than the actual game itself. It's a badge of honor to play the show, as the NFL only selects the biggest names in music history — legends like Michael Jackson, the Rolling Stones, Beyonce, Tom Petty, Prince, Big Bad Voodoo Daddy ... OK, not all of them are legends, but most!
How did we get to the point where the biggest artists in the world are clamoring to play a 15-minute medley in the middle of a football game? Glad you asked.
Early halftime shows weren't what they are now
The first Super Bowl came together late, so naturally, the Halftime festivities came even later. It was only a few days before Christmas 1966 when Jack Lee, University of Arizona Marching band director, got a phone call asking his band to play at the AFL-NFL Championship Game. A few days later, during a meeting at Disneyland, Lee and Tommy Walker, Entertainment Director for the game, sketched out the entire halftime show in about an hour. Historically black college Grambling State also performed with the Arizona band, along with a high school drill team.
Early Super Bowls were a mix of traditional college halftimes, with marching bands and entertainment acts. The first one even featured people on jet packs — the kind you only see in James Bond films. In the 1970's, Carol Channing performed at Halftime twice, and of course, who can forget (no matter how much they try) Up With People?
Up With People
Up With People, hoo boy. The group strived to be a positive voice of reason during the turbulent 1960's, and they did so by playing sanguine ensemble song numbers, with cherub smiles and saccharine dance steps from start to end. It was like a bunch of Stepford Wives dancing to "Transylvania 6-5000." Despite that spot-on description, Up With People performed at the Super Bowl a whopping four times!
How did a bunch of squares end up at the Super Bowl in the first place, you ask? Well, on their board sat Don Weiss, who additionally was in charge of game-day operations for the Super Bowl. Also, NFL Commissioner Pete Rozelle knew some Up With People (Up With Peoples? Up With Persons?). They quickly became the safety school of halftime shows — their big hit "We Are Many, We Are One" is basically a biblical verse.
After the 1986 Up With People performance (which you can watch above, if you dare), it didn't matter who knew whom, or which person was on what committee. "I never want to see Up With People again," the commissioner declared. And with that, the NFL was down on Up With, but if you're the nostalgic type, you can still catch Up With People today on their world tour. Good seats still available!
Counterprogramming the halftime show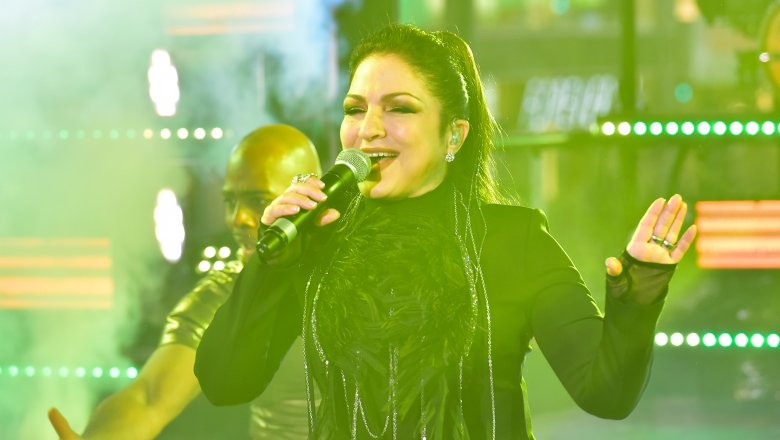 Getty Images
Needless to say, despite the talent and range of Carol Channing, and the pure electricity generated by Up With People, going after Super Bowl halftimes was low-hanging fruit. For the first 25 years, the Super Bowl halftime show was prime picking for counter-programming. Cable counter-programmed somewhat in the 1980s, but once the halftime show started getting really popular, the networks didn't dare try any serious counter-programs.
However, in 1992, Fox saw an opening. They decided to schedule their popular sketch show In Living Color to air right at halftime, competing directly with Gloria Estefan and her tribute to Winter Magic, featuring Dorothy Hamill and Brian Boitano skating around. Really. Fox, unsurprisingly, managed to siphon off almost 30 million viewers. Soon every network was trying some counter-programming, from the Puppy Bowl to the Lingerie Bowl to Howard Stern's Stupid Bowl. There's a lot of money to be made in "hey, at least we're not the halftime show ." Also, squee puppies!
The first big halftime show
With all due respect to the talents of Elvis Presto (don't click that link ... just don't, it's for your own good), the pre-90s Super Bowl halftimes were more an ... eclectic mix of performers. There just weren't any A-list acts. All that changed after the In Living Color counterprogramming. The network hosting the Super Bowl wanted to make sure that no one ran off to another network, so in 1993, the NFL stepped in and went for the absolute top.
Jim Steeg, a founder of the NFL Special Events Department, approached Michael Jackson's management. They started the process a full 11 months before the actual game, but Team MJ wasn't feeling it. When TV producer Don Mincher mentioned that the event would be broadcast in 120 countries, ears perked up. Jackson said, "So you're telling me this show is going live to places I'll never do a concert? I'm in." And with that, the idea of a superstar or supergroup paying Halftime became a common Super Bowl experience.
As far as Jackson's actual performance goes, it's remembered for being completely lip synced on a Milli Vanilli/Mariah Carey level of absurdity, and for him standing so long at the beginning of his performance, you had to wonder if he really was Michael Jackson. The only problem with the Michael Jackson show is that he was so big, and his halftime show was so enormously popular, he scared off performers who didn't want to even try to top the King of Pop. And that led directly to the 1995 Super Bowl halftime show ...
The strangest halftime show ever
The log line for 1995's Super Bowl XXIX halftime show is as follows: Indiana Jones must rescue the Super Bowl trophy and take it a Tony Bennett concert. And that got green-lit. If you don't remember Indiana Jones and the Temple of the Forbidden Eye, you're in for a treat.
Disney handled the halftime production for Super Bowl XXIX — fittingly enough, as Disney owned ABC, the network that carried the game. With Patti Labelle and Tony Bennett already on board, they built a show worthy of Broadway around the two, with a little Indiana Jones thrown in, because why not? Bryan Friday — who portrayed Indiana Jones at Disney — played the lead character, with gymnast Kathy Marshall — originally the understudy — reprising her Disney role as Marion. Harrison Ford was busy cringing, as were we all.
It was over-the-top, awkward, and left everyone with a "what did I just watch?" feeling. Patti LaBelle almost ate it walking down a steep slope — she sang for the "bad guys" for some reason. Tony Bennett sang live — unlike LaBelle's lip sync that was way off — but unfortunately, he was a bit lost at the beginning, until he eventually caught back up to the music. The fighting and action scenes were clunky and failed, like when a piano didn't collapse as planned. SImply out — while your immediate reaction to any halftime performance might be Comic Book Guy-esque, the Indiana Jones halftime is always the worst. Halftime. Wver.
Not that Disney cared — the whole thing was an elaborate marketing ploy for a new Disneyland ride, Indiana Jones Adventure: Temple of the Forbidden Eye. Lines were long when the ride opened, just a few short months after the Super Bowl tie-in, so awkward as it is, they left the Super Bowl with a win.
The halftime show nobody saw
Michael Jackson was the first pop superstar Halftime act everyone saw, but technically he was the second major act. Two years prior, the Halftime committee wanted Super Bowl XXV to go after a new, younger audience. With pop culture firmly in mind, and Disney in charge of the entertainment, they went after the biggest act in America: the New Kids On The Block. The boy-band had a number one album under their belts and, most importantly, would bring in that coveted new audience the powers that be wanted.
With a Disney theme (of course), NKOTB would play a kid-specific performance, featuring children of military families in the show. This was during the first Gulf War, and oh what an impact it ended up having. See, despite the elaborate planning and marketing, the actual halftime show didn't air until after the game. In its stead, ABC aired a speech from President Bush concerning the Gulf War. Stupid real life.
The problem with pushing the halftime show back, was that it became up to the affiliates to decide if they wanted to air it. Some didn't, choosing to go back to regularly scheduled programming. ABC didn't even show the full performance — it was a condensed version shown after the game, and after all the post-game excitement. Virtually no one watched it, so when LFO croons that the "New Kids on the Block had a bunch of hits," they're not talking about the Super Bowl.
The whole story behind the 'wardrobe malfunction'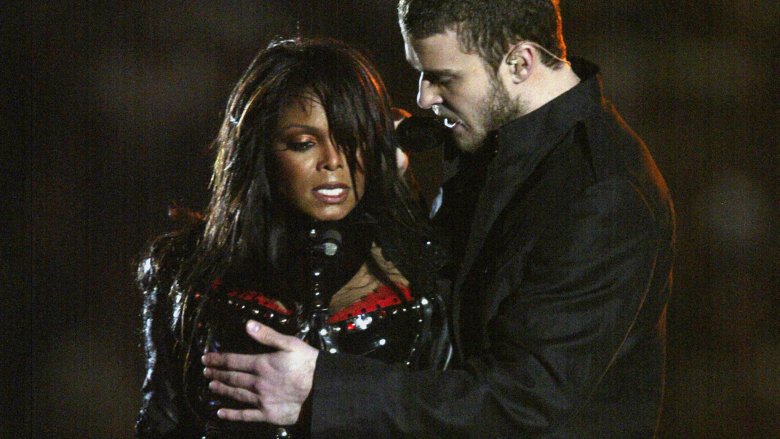 Getty Images
You know the incident — even if you're a fan of the winning team that year, the first thing you think of when you hear "Super Bowl XXXVIII halftime show " is Janet Jackson's "wardrobe malfunction." So what happened, really?
MTV, who produced the Halftime performance, knew something was coming. They promised shocking moments but, after the nipple slip, claimed they meant the guest appearance of Justin Timberlake (which truly shocked no one, as news of his appearance had already leaked). The general thought is that the original plan was for Timberlake to rip off Jackson's kilt, but that didn't succeed in rehearsals.
So who decided on the top-ripping? Well, CBS and MTV both said they had no idea it was coming, Timberlake danced around it by creating a new phrase to explain nudity. Jackson said that the ripping was only supposed to reveal a red undergarment. In other words, Jackson and Timberlake mostly likely did it on their own after the kilt thing didn't work. The nipple certainly featured a not-safe-for-dancing hood ornament-looking thing, which makes one wonder if it was worn to be seen. Judge for yourself — in the above video, she did seemingly look down quickly once Timberlake ripped her top.
What's more concrete is the fallout, which happened immediately. MTV hasn't produced a Super Bowl halftime, and almost certainly never will again/ The FCC tightened their reins, and went after more people straddling their imaginary decency line, like Howard Stern — you can say that Jackson's wardrobe malfunction led directly to Stern's exodus to satellite radio. Alex Coletti, a well-respected music TV producer with an impressive resume, suddenly saw his opportunities dry up due to being the producer for Nipplegate. Janet Jackson's 2004 album Damita Jo tanked, and her career hasn't been the same since 2004. Timberlake survived mostly unscathed, because he's apparently made of adorable Teflon.
The tragedy at the Superdome
A lot of planning and rehearsal goes into putting together a Halftime extravaganza. New Orleans played host to Super Bowl XXXI, and the Blues Brothers headlined, with ZZ Top and James Brown as guests. A tribute to blues was a fitting homage to the Big Easy, and an ensemble cast joined the musicians with planned stunts and jumps.
Trapeze artist Laura Patterson was among those doing one more run on the Thursday night prior to the game. As part of the finale, bungee jumpers would fall from above, and then snap up before hitting the field. Something went terribly wrong, however — volunteers accidentally let out too much rope for the bounce-back, so Patterson's cord didn't stop her fall. She struck the astroturf field at almost full-speed, and she passed away almost immediately.
The NFL immediately pulled the entire bungee routine from the finale, and Doritos pulled a commercial that featured a bungee jump from a blimp to the field. The Halftime performers wore white ribbons as a tribute to her, and they dedicated the entire performance to her memory.
U2's iconic post 9/11 halftime show almost didn't happen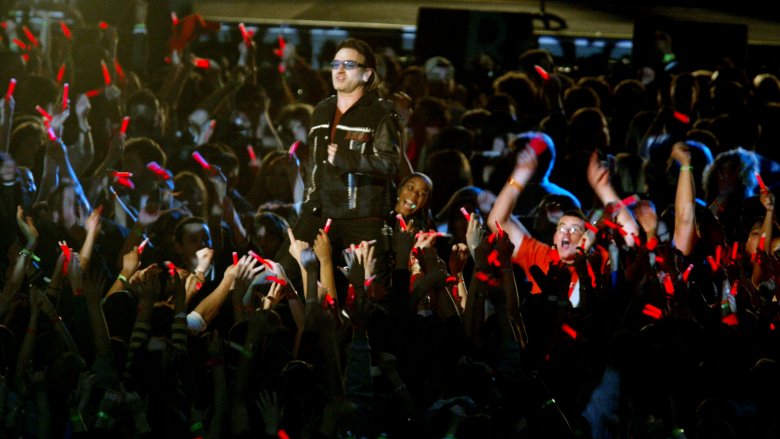 Getty Images
The tragedy of 9/11 altered America irreversibly. The sports world felt the immediate effect of the attacks, as the NFL canceled Week 2 of their season. That pushed everything back a week and led directly to the first February Super Bowl, which is now a yearly staple.
The immediate effect 9/11 had on Super Bowl XXXVI, meanwhile, had more to do with the fears felt throughout the world. Many artists were not touring as they planned after the attacks. Janet Jackson was actually slated to be that year's halftime entertainment, until she cancelled her winter European tour — which would have been the same setup she used for the Super Bowl. That also led to her backing out of the halftime performance.
The NFL quickly placed John Collins in charge of finding a replacement for Jackson. On October 25, he attended the U2 show at Madison Square Garden in New York. During their encore performance of "One," the band paid tribute to the fallen victims of 9/11 by projecting all their names on the MSG roof. That's when Collins realized it — U2 had to play the Super Bowl.
The NFL executives were a bit apprehensive — could an Irish band really perform a fitting tribute to America? That, and U2's recent TV specials hadn't exactly been super ratings winners. But Collins got his wish, and U2 officially had the gig. The plan was to display the victims' names just as they did at MSG, this time on the roof of the Superdome. Only a few weeks before the performance, though, they hit a snag — the generator wasn't powerful enough to project to the roof. They changed the name crawl from the roof to a screen behind the band, but to many who saw it, it didn't look good. Even during soundcheck, just prior to the game, league executives were skeptical — the somber tone had one exec exclaim, "This is going to be the worst halftime show ever."
It wasn't. The reviews were glowing, even at a time where it all seemed "too soon." Boston Globe's Dan Shaughnessy called it "The greatest halftime show in the history of sporting events. Hands down." It is still recalled as a paramount moment in Halftime history, and a proper tribute at a time when America still didn't know how to grieve.