The Feud Between DMX And Ja Rule Explained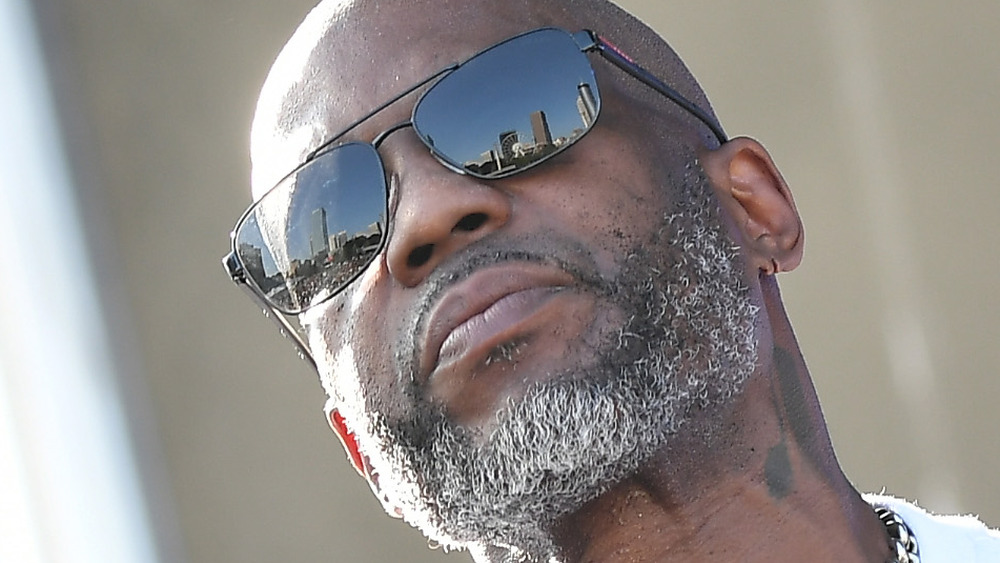 Paras Griffin/Getty Images
Rap and beefs: blood brothers to the end. Hip-hop has been full of petty rivalries, foolish fronts, and full-on feuds as much as it's been a source of solidarity and community for millions. DOOM wasn't joking (ok, he was joking) when he wrote "Beef Rapp" on 2004's MM..Food, with lines such as the opener, "Beef rap, could lead to getting teeth capped" to act as a grimly tongue-in-cheek critique of gun-based solutions to beefs between rappers, in this case analogized to tooth decay.
DMX, son of Yonkers, New York, and hip-hop's most likely verse barker, has himself been embroiled in beefs, disputes, put-downs, and send-ups as well. DMX erupted into popular culture in 1998 with three No. 1 albums in two years (per Stop the Breaks), and since then he's struggled with numerous arrests (per Phoenix News Times), drug addiction (per Billboard), bankruptcy, tax evasion (per The Guardian), and jail plus rehab (per NME).
Most popularly, DMX had a long-standing beef with Ja Rule, who had a beef with Jay-Z, who of course beefed with DMX, like a giant, overdone meatring. Are these kinds of beefs an offshoot of the gruff self-aggrandizement that goes hand-in-hand with the tradition of rap battles? Or does it go deeper into the roots of dog-eat-dog socioeconomics that sadly characterizes the place, geographically and mentally, where some hip-hop artists come from? Thankfully, in the case of DMX and Ja Rule, their beef remained only one of words. 
DMX and others believed that Ja Rule ripped off DMX's verbal style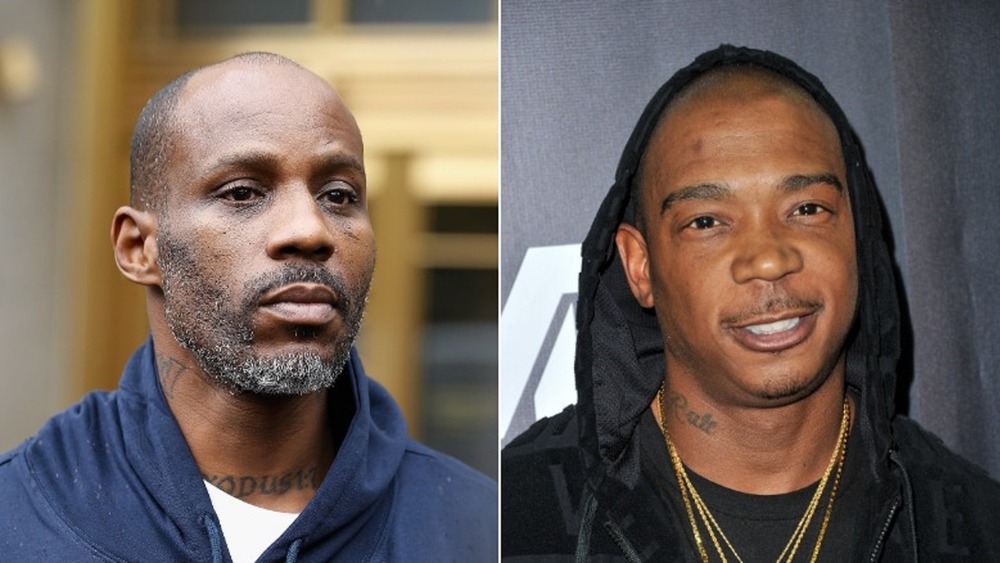 John Lamparski, Allen Berezovsky/Getty Images
"I had never had beef... If I had beef with Ja Rule, man, there wouldn't be a Ja Rule." Such were DMX's words in a 2005 interview archived on YouTube. Shortly after, DMX slides into the same brutal growl-bark that garnered him his fame in the late 1990s. That sound of DMX's — the hyper-aggressive vocal fry — made him instantly recognizable. And as soon as Ja Rule hit the scene with 1999's Venni Vetti Vecci, the year after DMX's debut It's Dark and Hell is Hot, pretty much everyone cocked their heads and said, "Hey, this guy sounds like DMX." And it's undeniably true. A quick revisit to Venni Vetti Vecci (and later albums) illuminates exactly why lots of folks — including DMX, contrary to his former statement — said that Ja Rule was not only engaging in the proverbial highest form of flattery, imitation, but straight-up ripping DMX off.
Way back in 2002, DMX described on HipHopDX how he and Ja Rule had come to a common understanding out of the public eye. At the time, DMX was more concerned that Ja Rule's fame had gone to his head, and that Ja Rule didn't reciprocate the kind of courtesy that DMX once showed him when Ja Rule was merely up-and-coming. Officially, DMX and Ja Rule ended their beef at the VH1 Hip Hop Honors in 2009, per All Hip Hop, when they posed for pictures.