Whatever Happened To Rush's First Bassist And Singer?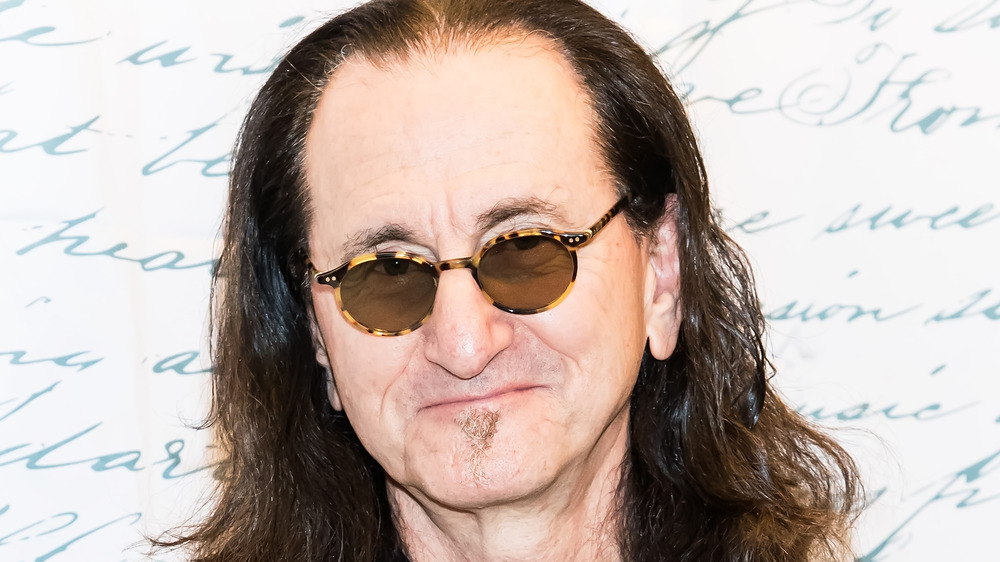 Gilbert Carrasquillo/Getty Images
When one thinks of the band Rush, one usually thinks of the soaring high-pitched vocals and rock-solid bass lines of Geddy Lee, the technically proficient guitar work of Alex Lifeson, and the late Neil Peart's powerful, yet unbelievably complex work on the drums. Thanks to songs such as "Fly By Night," "Tom Sawyer," "Spirit of Radio," and "Limelight," among many others, the Canadian band became titans of progressive rock in the 1970s and 1980s, and remain highly influential to this day. Their lyrics may have oftentimes been far deeper than the ones churned out by the average band from their heyday, but that also helped them earn respect as one of the quintessential power trios in the world of rock.
Yes, it's true that Lee, Lifeson, and Peart were the only three men in Rush for most of the group's 47-year history. But there were a few other musicians who passed through their ranks in the early days. These include drummer John Rutsey, who was replaced by Peart in 1974, and singer/bassist Jeff Jones, who, together with Lifeson and Rutsey, was part of the original configuration of the band that formed in 1968. Rutsey left soon after the release of Rush's first album and mostly faded away from the public eye until his death in 2008. But what about the frontman who played just one gig before Lee permanently replaced him? Let's find out what happened to Jeff Jones after his ever-so-brief stint with Rush.
Jeff Jones nearly topped the charts with his next major band after Rush
After playing just one gig with Rush and getting replaced because he wasn't available for the band's second gig (via 2112.net), Jeff Jones quickly moved on to another garage band as he officially became a footnote in the future prog legends' history. But in an ironic twist, he enjoyed chart success well before his former bandmates ever did. As noted by Shiny New Nickle, Jones eventually joined a Christian rock band called Ocean, which had a No. 2 hit on the Billboard Hot 100 in 1971 with "Put Your Hand in the Hand." Granted, they didn't come remotely close to the top 40 with their next three releases, but nearly topping the singles charts with your band is pretty heady stuff for any young musician.
According to his official website, Jones also played bass for Red Rider in the late 1970s and 1980s. Their singer/guitarist, Tom Cochrane, also reached one-hit wonder status on the Billboard Hot 100 with his solo single, "Life is a Highway," which peaked at No. 6 in 1992.
Connections to notable one-hit wonders aside, Jones was still an active musician as of 2018, when his band, Roar, released a single called "Naked in the Church." The group's website describes the song as Jones' return to his "spiritual roots," as well as a number that fans of "'70s feel good [sic] pop" and Tom Petty can appreciate.