Why Poison Fired C.C. DeVille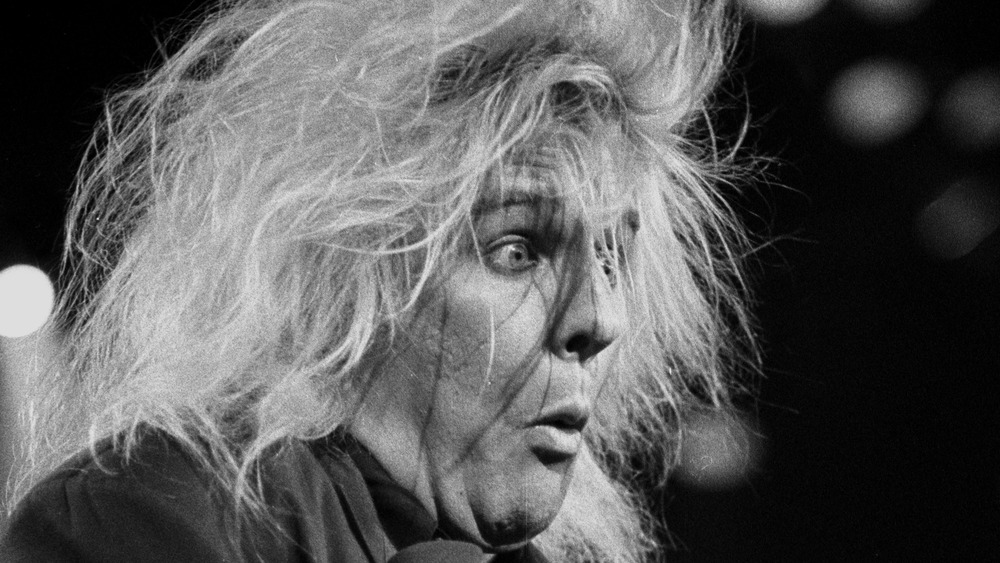 John Atashian/Getty Images
In "Talk Dirty To Me," one of hair metal heroes Poison's first hit singles, lead singer Bret Michaels famously yelled, "C.C. pick up that guitar and a-talk to me!" This introduced one of guitarist C.C. DeVille's solos that helped the band "[make] their mark by polishing glam rock down to radio-friendly Hollywood pop-metal," according to Guitar World.
It's hard to imagine Poison without the pick-scraping antics of DeVille. He was born Bruce Anthony Johannesson in Brooklyn, New York in 1962, per AllMusic, and was the fourth member of the band to join. Michaels, bassist Bobby Dall, and drummer Rikki Rockett all moved to Los Angeles together from their home in Harrisburg, Pennsylvania and auditioned guitarists once they arrived. DeVille reportedly beat out Slash for the gig, who would go on to play his own famous guitar solos for Guns N' Roses. 
Poison signed to Enigma Records in 1986 and their debut album Look What The Cat Dragged In sold two million copies within a year of its release. Their second album, Open Up & Say...Ahhh!, was even more successful. Their third, Flesh and Blood, also did well, but "signaled the end of Poison's glory days," as well as the end of DeVille's tenure in the band, when Bret Michael's actually asked him to put down that guitar and not talk to him anymore. 
Unfairly kicked out of the band?
Emma Mcintyre/Getty Images
While touring in support of Flesh and Blood, DeVille notoriously started playing "Talk Dirty To Me" with his amp unplugged during an appearance on MTV, which led to the band breaking into a backstage brawl, per AllMusic. At the end of the tour, DeVille was fired "due to his increasing addiction to drugs and alcohol" and replaced by Ritchie Kotzen.
In 1992 DeVille made an infamous phone call to the radio show Pirate Radio Saturday Night on which Bret Michaels was appearing as a guest. DeVille angrily insisted that he'd been "unfairly kicked out of the band," per the Los Angeles Times, and the two former band mates got into a heated argument. The host refused to broadcast the fight, much to DeVille's chagrin, but he did record it, and the tape made the rounds for years. 
Kotzen played guitar for Poison's 1993 album Native Tongue, but was fired within a year and replaced with Blues Saraceno, until DeVille returned to the band in 1996. Per Rolling Stone, DeVille got sober in 1995 and started a side project, the "punk pop" band Samantha 7. Poison's original lineup released their first album in several years with 2002's Hollyweird. They later toured in support of 2006's The Best of Poison: 20 Years of Rock, which put them back in the Billboard Top 20.
Poison continues touring to this day and has a 31-date stadium tour planned for the summer of 2021 with Mötley Crüe, Def Leppard, and Joan Jett, as reported by Consequence Sound.