Where Is Vini Lopez From The E Street Band Today?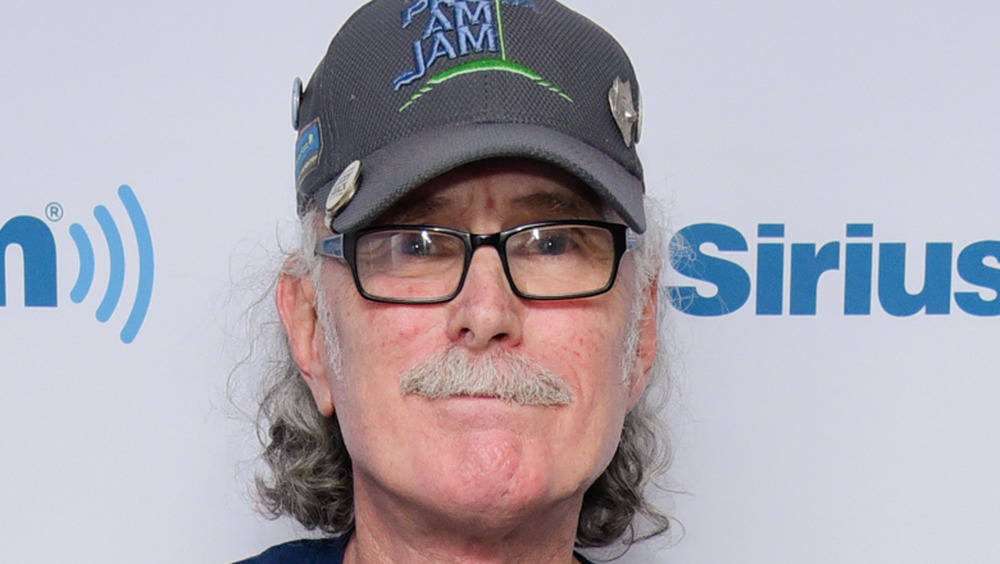 Matthew Eisman/Getty Images
Over the years, members of Bruce Springsteen's E Street Band have gotten into some pretty diverse careers far outside their genre, and, in some cases, outside the world of music. In the late '90s, E Street Band guitarist Steven Van Zandt ended up with a very prominent role as Silvio Dante on HBO's The Sopranos. In the early '90s, Max Weinberg got a gig playing drums and leading the band on Late Night with Conan O'Brien. However, before Weinberg sat in on drums for the E Street Band, there was drummer Vini "Mad Dog" Lopez, Springsteen's original drummer, per The New York Times. Lopez, who left the band after their first two albums, ended up becoming a professional golf caddie.
Lopez was nicknamed "Mad Dog" because of his unpredictable temper, though his change in careers was just as unpredictable. Before Lopez would become a professional golf caddie, the former E Street drummer would end up being fired by Springsteen. "At that point, I didn't think the band was going to go too far and I didn't care either," Lopez told The Times. "I made a few mistakes, you know, everybody makes mistakes. I still thought it was my band."
When Lopez left the E Street band, he ended up becoming a caddie master at the Deal Golf and Country Club, per NJ 1015. Years later, Lopez became the caddie for Pro Golfer Mark McCormick of Union, New Jersey. Lopez would help McCormick qualify for the U.S. Open in 2012.
Vini Lopez's career as a golf caddie
Larry Busacca/Getty Images
Lopez would also spend his time helping those with substance abuse disorders by spending his time at different golf events which sponsored charitable causes, such as the Seth Nemeroff Foundation Par 3 event.
Even as the "Mad Dog" shifted his attention to golf, he would always play music, going from band to band, following his passion in life. Eventually, Lopez would end up hosting a radio show Sundays on 105.7 FM in Ocean County, New Jersey. Lopez would also form a band called Steel Mill Retro and play shows throughout the state, including the famous Stone Pony in Asbury Park, New Jersey, a venue where the band used to play a lot in their early days.
Lopez would also get to play with Springsteen and the E Street Band several times in the 2000s, at Giants Stadium and the opening night at MetLife Stadium, as well as The Spectrum in Philadelphia, per NJSGA. In 2014, Lopez would again reunite with his bandmates when they were inducted into the Rock and Roll Hall of Fame.
"I'm looking forward to the induction," Lopez told NJSGA. "I'll be sharing the stage with Paul McCartney and Ringo Starr, sharing the billing with all these guys. I think of how many musicians there are in the world, and how few actually get into the Hall of Fame."