The Tragic Real-Life Details About Lenny Dykstra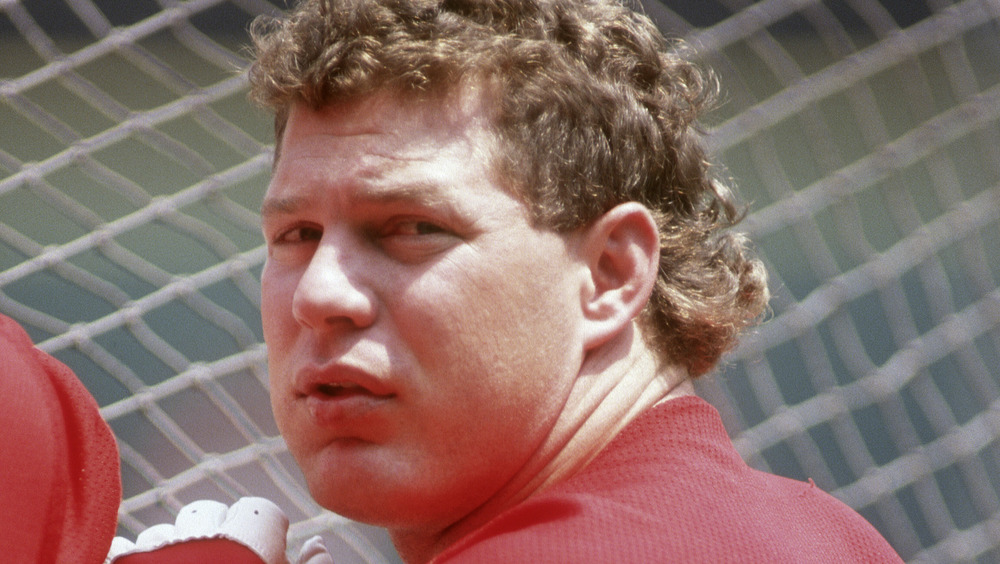 Focus On Sport/Getty Images
There aren't many falls from grace that are as painful to acknowledge than that of center fielder and three-time All Star, Lenny "Nails" Dykstra. Scouted by the New York Mets while still in high school, the team signed Dykstra at the tender age of 18. After a short stint in the minors, Dykstra made his major league debut on May 3, 1985, against the Cincinnati Reds (via Baseball Almanac). He electrified fans in that game with five at-bats that included two hits; one was his first major league home run (via Baseball Reference). A season later, Nails would lead the New York Mets to their second World Series title in the team's history late in October '86. Since his retirement from baseball in 1998, Dykstra's life has been on an awful downward trend, serving over six months in federal prison in 2012.
Born in Santa Ana, California, in February 1963, Dykstra was a mischievous kid who split his time between getting in trouble and playing football and baseball for Garden Grove High School (via Society for American Baseball Research). While debating whether to commit to Arizona State University in his senior year of high school, the Mets drafted Dykstra in the 13th round of the '81 draft. Over the next four seasons, Dykstra ascended through the ranks of the minor leagues before finally getting the call up to the majors. Replacing veteran outfielder Mookie Wilson, Dykstra and the Mets crushed the Reds 9-4 that day, launching Lenny Dykstra into baseball's mainstream.
Tough as nails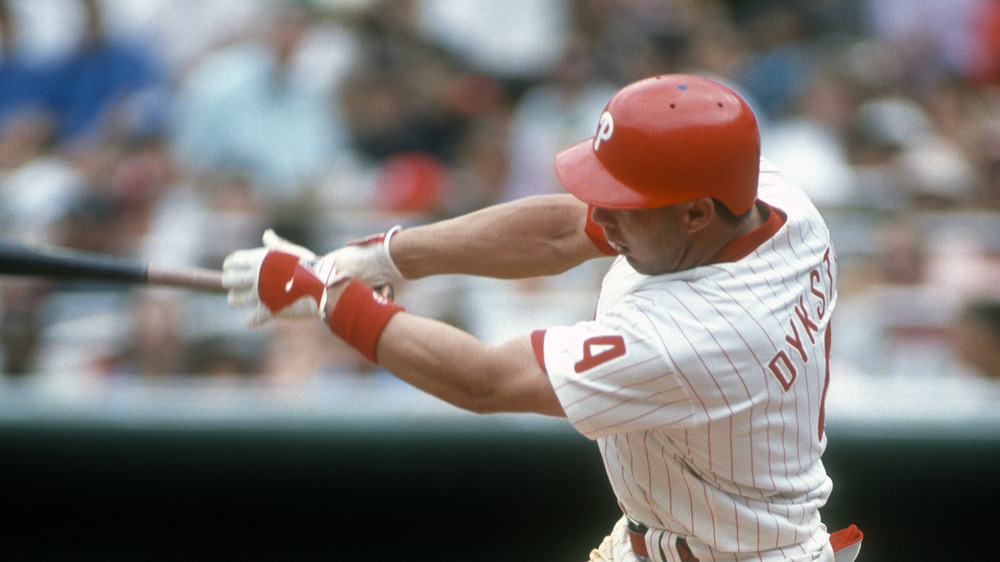 Focus On Sport/Getty Images
After three more seasons of limited play due to injuries, the Mets traded Lenny Dykstra to the Philadelphia Phillies. Nails' run with the Phillies is legendary, winning "All Star" three times and culminating with a run to the World Series against the Toronto Blue Jays in October 1993. While the team would lose the championship, Dykstra continued playing ball until poor performance forced him to retire in 1998 at the age of 38.
While Dykstra was winning fans with his tough, gritty work ethic, trouble was already brewing behind the scenes for him. Soon after being traded to the Phillies, Dykstra crashed his car while driving drunk (via Sportscasting). The injuries he suffered from the crash (broken cheekbone, fractured collar bone, and ribs) forced him to miss two months of play during the '91 season. While Lenny seemed to put his ways behind him, post accident, big trouble still lay ahead.
Lenny Dykstra's long way down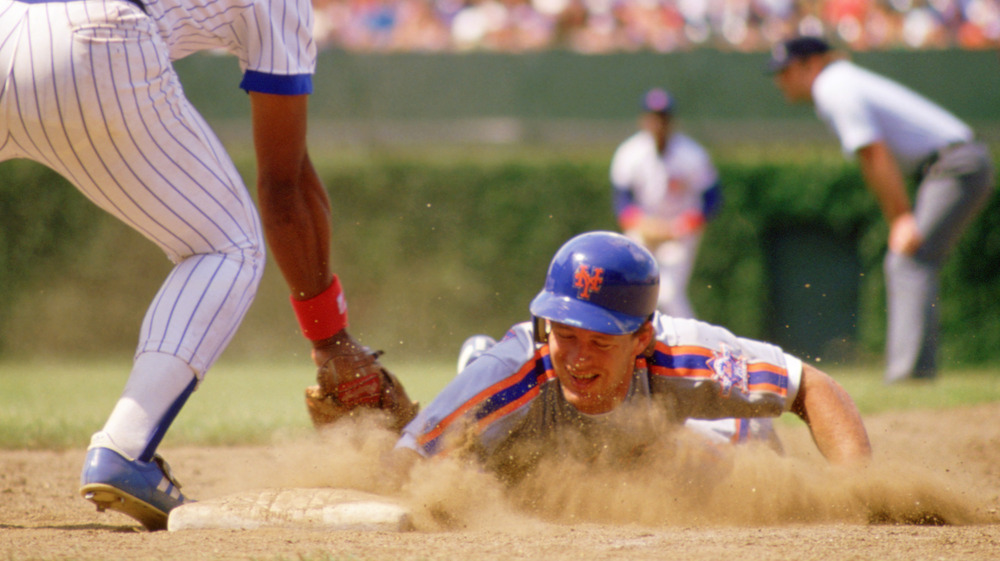 Ron Vesely/Getty Images
After starting business ventures with varying degrees of success, Lenny Dykstra founded a high-end magazine that catered to professional athletes. Called The Player's Club, the company offered many services to athletes, including financial (via The New Yorker). In 2009, stories began leaking about the internal affairs of the company. Reports that involve everything from credit card fraud (via GQ) to paying for rent with bounced checks, Dykstra's burgeoning empire was full on crumbling. Lenny filed for bankruptcy in August 2009, living out of his car, while his 1986 World Championship ring sold at auction for $56,000 (via ESPN). All of which went toward the $31 million in debt Dykstra owed.
It only gets markedly worse for Dykstra from there. In January 2011, Dykstra was accused of sexual assault by a former housekeeper. Four months later, he was arrested and charged with bankruptcy fraud. Two months after that, in June 2011, Dykstra was arrested again, this time for grand theft auto and identity theft along with possession of cocaine and ecstasy (via ESPN). 
But wait, there's more. And that more comes in the form of an indecent exposure charge in August 2011 (via Reuters). While Dykstra paid his debt and finished his probation in April 2014, complying with weekly drug testing along the way, he would be back at it again in 2018. In May of that year, Dykstra was arrested for possession of drugs. Just five months later, Nails was indicted once again, this time for cocaine and methamphetamine possession, as well as making terroristic threats (via AP News). It appears for the former MLB All Star, that there might be no bottom.