A Look At Gene Simmons' Relationship With Shannon Tweed
Noel Vasquez/Getty Images
Legendary rocker and bassist for the heavy metal band KISS, Gene Simmons married girlfriend and mother of his two children, Shannon Tweed, back in 2011. While that might not come across as earth-shattering news these days, Simmons and Tweed have had an interesting relationship nonetheless, with Simmons finally proposing to Tweed after 28 years of dating. Stemming from an interview with the pair on The Joy Behar Show, Simmons joked about faithfulness and the rock star lifestyle, causing Tweed to storm off set. Shortly after the episode aired, and facing immediate backlash, Simmons stepped up, finally proposing to his longtime girlfriend (via CNN).
Born Chaim Witz in August 1949 in Haifa, Israel, Gene Simmons along with Paul Stanley formed the heavy bass, guitar driven group, KISS, in 1973. Wearing wild space-age costumes, intricate makeup, and giant platform heels as well as spitting blood, KISS owned the mid '70s, selling everything from multiplatinum albums to 12-inch dolls for little kids. While their initial popularity would wane in the early '80s, the group would find resurgence again with the popularity of "hair metal."
The daughter of a mink rancher, Shannon Tweed was born in Newfoundland in March 1957. At the age of 20, after her father was left paralyzed from an accident, Tweed began entering beauty pageants, eventually placing third in 1978's Miss Ottawa pageant (via Famous Canadians). After posing for Playboy magazine, Tweed was named Playmate of the Month for November 1981 and won the honor of Playmate of the Year the following year. At Hugh Hefner's famous Playboy Mansion, Shannon Tweed met Gene Simmons in 1982.
Happily ever after?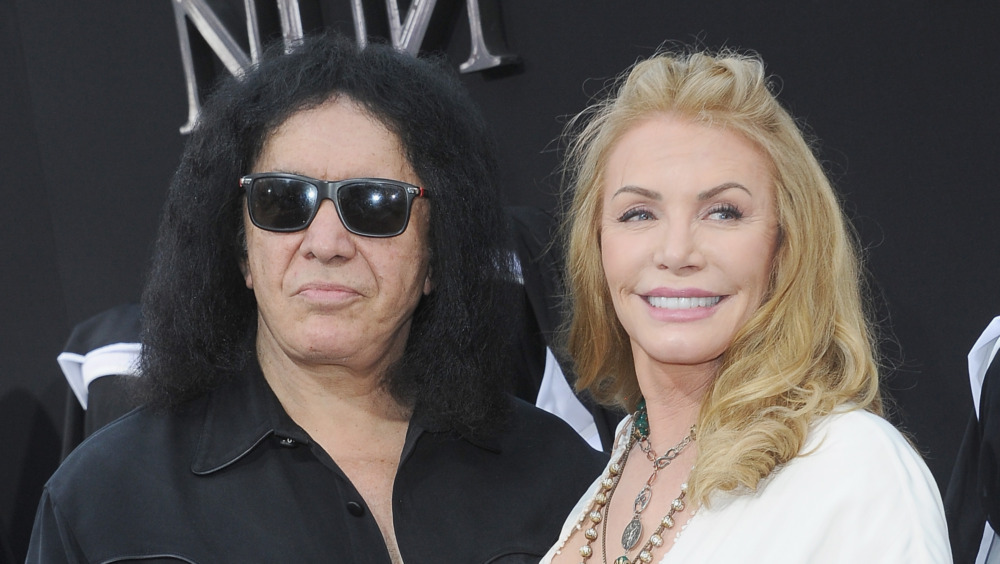 Albert L. Ortega/Getty Images
The pair was together for the next 28 years, surviving multiple KISS reunion tours and a reality show, A & E's Gene Simmons' Family Jewels. In an interview on The Joy Behar Show promoting the series, Behar joked with Simmons about his notorious womanizing. Questioning him about the 5,000 women he claims to have been with (via Daily News), Behar jokingly asked the KISS vocalist how has his back was holding up after being with so many women. To which, Gene lightheartedly laughed and joked. Tweed, though, had enough, stating to him before storming off set: "That's very nice for you to joke about it," Tweed said sarcastically. "F— off."
The debacle was the final straw for Tweed, who had been struggling for some time with Simmons' legendary infidelity. In an interview with People Magazine in July 2011, Tweed informed the world that she had moved out of the family home (via Orange County Register). 
After a few months apart, Gene reconsidered his long-standing stance on marriage and proposed to Tweed on a pre-recorded episode of Gene Simmons' Family Jewels. While most things are scripted on reality shows, Tweed forgave the fire-breathing bass player and married him on October 1, 2011, at the Beverly Hills Hotel in California (via Billboard). Now, who says true love doesn't exist?