The Real Reason Princess Diana Didn't Have An Open Casket Funeral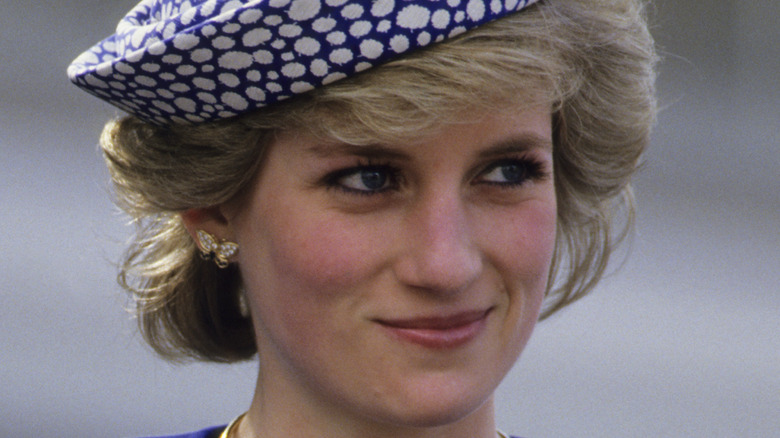 Georges De Keerle/Getty Images
The devastating loss of Prince Philip, Duke of Edinburgh in spring of 2021 brought to mind other tragedies that the British royal family has endured throughout history, such as the terrible car accident that took the life of "the people's princess," Princess Diana, in 1997. Beloved worldwide, Diana's funeral was unlike any other, as Town & Country reports. Despite (or perhaps because of) intense global interest in the event, Diana's funeral was closed casket. But why was that the case, and is there an instance where the adoring throngs might have caught one last view of the princess before she was laid to rest? The answer to those questions lies not only in the nature of how Diana died but also many aspects of British tradition relating to funeral ceremonies.
Princess Diana died when the car she was riding in crashed as the driver sped through a tunnel in Paris.  Diana, her boyfriend, Dodi Al-Fayed, and her bodyguard were reportedly trying to get away from the paparazzi who hounded them at dinner that night, as History notes. Aside from Diana, two other passengers died in the crash, including Al-Fayed. Diana was taken to the hospital but died a short time later, and the world was shocked by the loss. For that reason, Diana's funeral ceremony was a media frenzy, covered by media outlets and attended by celebrities and heads of state, including actors like Tom Cruise, Nicole Kidman, and Tom Hanks, as well as fashion designer Donatella Versace, opera singer Luciano Pavarotti, and then-First-Lady Hillary Clinton, among others.
Princess Diana was badly injured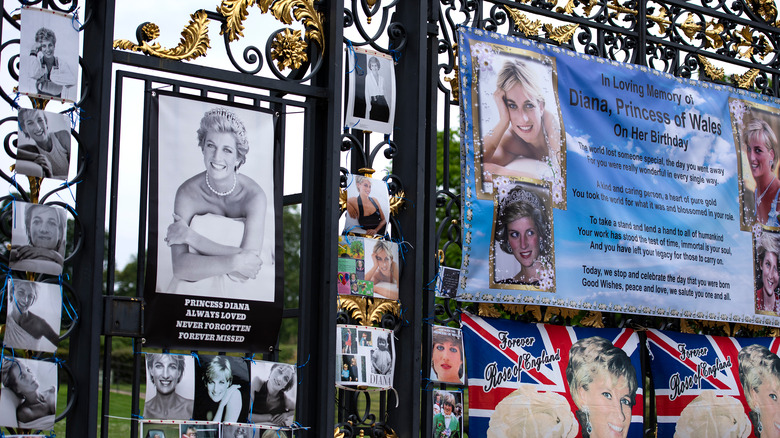 Loredana Sangiuliano/Shutterstock
After being brought to the hospital following the crash, Princess Diana underwent massive medical intervention as doctors attempted to save her life. The British royal suffered a concussion in the car wreck, as well as a broken arm and a badly cut thigh. More than the other injuries though, it was a serious chest injury that killed her. The injury was so severe, in fact, Diana's heart had moved within her rib cage, and she suffered massive internal bleeding caused by a severed pulmonary vein. If Diana had been wearing a seatbelt, she might have survived, argues Parade. After suffering such a long list of injuries and undergoing an autopsy, Diana's body was in no condition to be put on view.
Although conspiracy theories swirled around Diana's death, it was eventually ruled by British police to be nothing more than a tragic accident, worsened by the intoxication of limo driver Henri Paul. Paul died at the scene with a blood alcohol content three times the French legal limit. No one was charged in the case, according to History. If circumstances surrounding the death of Princess Diana were different, could she possibly have had an open casket funeral? That's impossible to say. Based on tradition, though, it's highly unlikely that would be the case.
Open-casket funerals are uncommon in England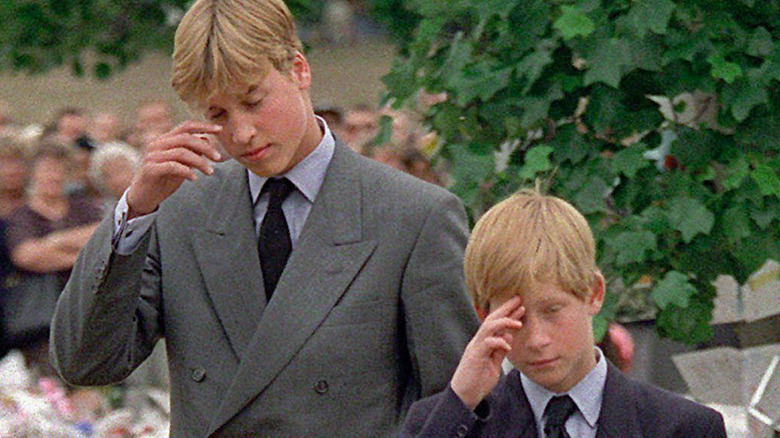 David Brauchli/Getty Images
For Princess Diana to be put on view at her funeral in that fashion would be doubly grim since her two young sons, Prince William and Prince Harry were in attendance (William and Harry are pictured above at the ceremony). According to Parade, though, Diana was interred as elegantly as she was known to be while alive, in black heels and pantyhose and in a black wool cocktail dress from fashion designer Catherine Walker. Touchingly, pictures of William and Harry were also placed in her casket, and so, too, were rosary beads Diana received from Mother Teresa. Diana is buried in her familial property at Spencer Estate grounds in Althorp Park. Some 2,000 people attended her funeral, per Reader's Digest. 
According to Lost in the Pond, though, it's highly unlikely Princess Diana would have ever had an open casket funeral because open casket funerals just aren't that common in England. And they haven't been, in fact, since the age of Victoria. Back then, mourners would sit next to the body for several days as part of what's called a "wake." Part of the rationale for the practice was to make sure the person was really dead and not just in a coma, as HauntedOC reports. The English in the Victorian era even sometimes took pictures with their loved ones' bodies. Luckily, post-mortem photography fell by the wayside, but the practice of a wake is still much more common in America and other parts of the world than it is now in England. Diana was buried in a lead casket as they are believed to preserve bodies longer than wooden ones.