The Surprising Amount Of Money Weezer Was Offered To Break Up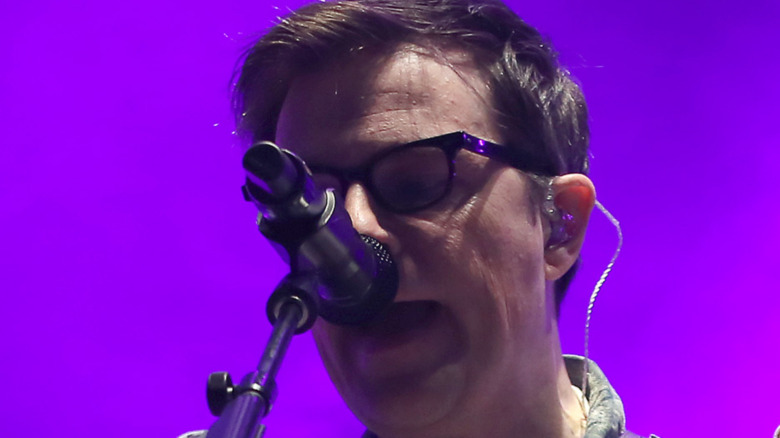 Medios Y Media/Getty Images
Grammy award-winning rock band, Weezer, has been around for a long time. Founded in Los Angeles, California, back in 1992, the band hit it big less than a year later when they were signed by Geffen Records. A year after that? The band released their historic self-titled debut in May 1994. While any band can ride plenty of ups and downs over the course of three decades, not many get an offer of $10 million dollars to break up. But, back in 2010, that's exactly what happened to Weezer. According to The Guardian, a group of fans, frustrated by the band's lack of growth, got together to convince Weezer a breakup was long overdue.
In October 2010, Seattle, Washington, native James Burns came up with the idea of raising money to get the band to break up. The motivation for the campaign? According to Burns, Weezer hadn't improved since the release of 1996's Pinkerton. "I'm tired of it," James Burns explained, as quoted in The Guardian. "Every year, Rivers Cuomo swears that he's changed, and that [Weezer's] new album is the best thing that he's done since Pinkerton, and what happens? Another pile of crap like 'Beverly Hills' or 'I'm Your Daddy.'"
Payout for breakup
John Medina/Getty Images
The rub, however, is that James Burns isn't handing the band $10 million out of his own pocket. Instead, Burns was counting on other disgruntled Weezer fans to join the fray. On a now defunct fund-raising site, Burns turned toward fellow fans for support back in 2010. According to the ArtsBeat blog from The New York Times, Burns said, "This is an abusive relationship, and it needs to stop now. I am tired of my friends being disappointed year after year. I am tired of endless whimsical cutesy album covers and music videos. I'm sick of hearing about whatever this terrible (and yes, even if you like the early stuff, you should be able to admit that they are wretched now) excuse for a band is up to these days." With the campaign no longer in existence, it's hard to tell exactly how much money Burns raised. However, according to MTV, as of October 2010, only $350 of the $10 million was committed to the cause.
Admitting that it was just a silly campaign, it didn't take long for James Burns (and the world) to hear back from the band, however. Patrick Wilson, Weezer's drummer, took to Twitter himself to respond (via MTV). "If they can make it 20 (million), we'll do the deluxe breakup," he wrote. Of course, the $20 million marker was never met, let alone the $10 million. As for James Burns? He's just a footnote in the band's history. Weezer, however, they're still together as a band, recording two albums within the last year alone.