Here's How Whitesnake Fell Apart In 1982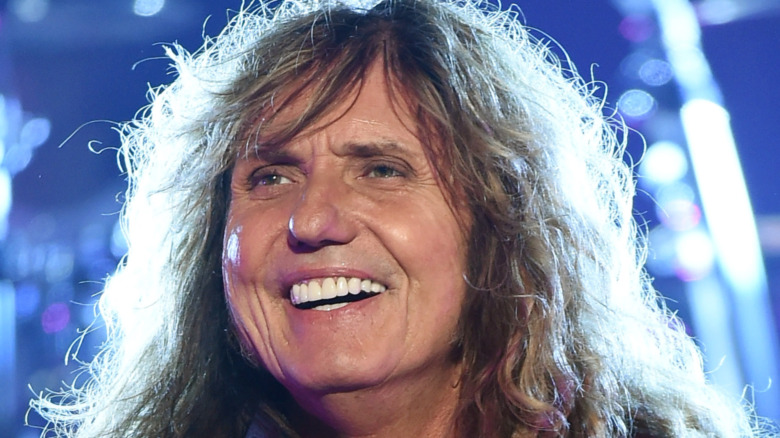 Ethan Miller/Getty Images
The British rock band famous for their song "Here I Go Again" created a timeless hit when the widely recognized track rose to popularity in 1987. The song earned Whitesnake their first No. 1 in the U.S. It was written by the group's lead singer and frontman David Coverdale in 1981 and originally released in 1982. Yet, it initially didn't really see much success until the late '80s. In 1987, some lyrical and sound changes were made to the song, and it was re-recorded, per Song Facts.
Not only was the song a little different, so was its composers. Some previous members of the band weren't there to record the re-release of the song. Why? Well in 1982, Whitesnake had briefly separated after Coverdale needed to take some personal time off to tend to his daughter, according to Classic Rock and cited by Louder Sound. The hiatus followed until they regrouped later that year. One set of members recorded the 1982 version, and the popular 1987 version was recorded by a few new members. So how did that happen?
Prior to the break, the band originally consisted of Coverdale as the vocalist, drummer Dave Dowle, keyboardist Jon Lord, guitarists Bernie Marsden and Mick Moody, and bassist Neil Murray. Dowle left the band shortly after, and he was replaced with drummer Ian Paice. When they recorded the 1987 version, the only original band member was Coverdale. The break would permanently change the group.
A serious illness leads Coverdale to pause Whitesnake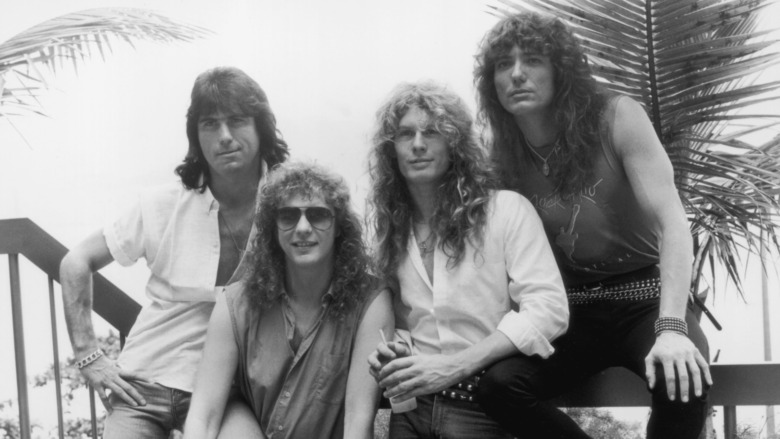 Dave Hogan/Getty Images
David Coverdale has been married three times and has two children from those marriages. He has a daughter and oldest child named Jessica with ex-wife Julia Borkowski and a son named Jasper with current wife Cindy Barker. His other ex-wife Tawny Kitaen famously appeared in the video of Whitesnake's hit song, says Stereo Gum. But the pair never had any children together.
In 1981, Whitesnake was charting in the U.K. and touring in different countries. This was the beginning of their growing fame, but that came to a halt in 1982. That year, Coverdale's daughter contracted bacterial meningitis and was gravely ill. No one was sure what it was at first, but after learning that he could've been potentially responsible for her sickness, Coverdale made the biggest decision of his career — bring the band to a standstill at their peak.
He described the situation to Classic Rock (via Louder Sound) as a low point in his career and said it prompted him to act quickly and take care of what was most important to him at the time. "A horrendous low was when my daughter was ill in '82 and the doctors had no idea what it was. One doctor guessed it was Kawasaki syndrome, which I think I brought back from tour in Japan. My daughter's illness gave me the balls to realize that I could change the situation. That's when I broke my management contract," said Coverdale.
Whitesnake is comprised of a new crew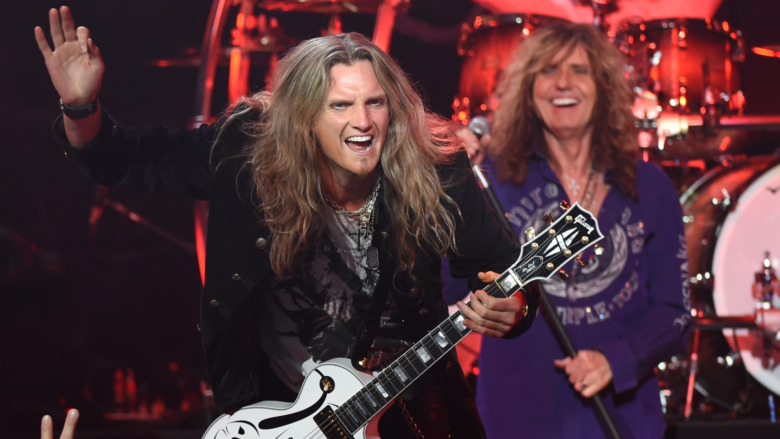 Ethan Miller/Getty Images
His daughter eventually recovered, and later that year, the band got back together. But as previously mentioned, Coverdale added some new faces to Whitesnake.
When they got back together again in 1982, they had a new bassist in Colin Hodgkinson, another new drummer with Cozy Powell, and one new guitarist with Mel Galley. Along with Coverdale, Moody and Lord were the only initial members still there, according to Oldies. But the pair would also leave Coverdale, and he'd have to rebuild the group once again. When the  song "Here I Go Again" was re-recorded again, it was with a completely new lineup of band members. By 1987, the band also consisted of guitarist John Sykes, drummer Aynsley Dunbar, and the band's former bassist Murray returned to the band, per Oldies. And maybe it was worth it because Whitesnake found their biggest break with the newer production of the song.