The Inspiration Behind The Beastie Boys' Sabotage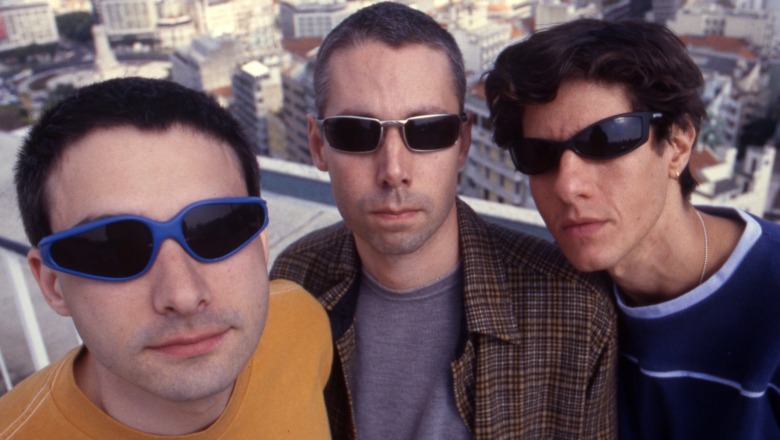 Martyn Goodacre/Getty Images
If you were a rock fan back in the 1990s, you probably have fond memories of the Beastie Boys' 1994 hit "Sabotage." With a repetitive, yet instantly memorable guitar riff and high-pitched, aggressive rapping courtesy of Adam "Ad-Rock" Horovitz, "Sabotage" had the lyrical and musical hooks to make it one of the legendary New York City rap-rockers' most popular songs in their three-plus decades together. However, it can be argued that the song's video made it even more iconic, as it featured Horovitz and bandmates Michael "Mike D" Diamond and Adam "MCA" Yauch sporting goofy wigs and fake mustaches while paying homage to 1970s cop shows, right down to the cars and the font used whenever the song's title would appear on screen. 
That video for "Sabotage" was a classic example of the Beasties' sense of humor shining through and making a good song even better. Still, if you take away the video, you've got a seemingly caustic tune with angry lyrics, with Horovitz screaming in the first verse that he's "got this f***ing thorn in my side" and, throughout the song, repeatedly accusing someone of sabotaging something. But what were the Beastie Boys so worked up about, and what inspired them to write "Sabotage" in the first place? 
Sabotage was a playful jab at the Beastie Boys' producer
Although "Sabotage" does indeed sound like the Beastie Boys at their most ticked-off, that's not exactly the case if you consider the real inspiration for the song — Mario Caldato Jr., who engineered and produced their 1994 album, Ill Communication. In the band's 2018 autobiography, Beastie Boys Book, Adam Horovitz wrote that "Sabotage" was a rather playful reaction to Caldato's insistence that they finish the album as quickly as possible at the expense of their creativity.
"We were totally indecisive about what, when, why, and how to complete songs," he explained. "Mario was getting frustrated. That's a really calm way of saying that he would blow a fuse and get p***ed off at us and scream that we just needed to finish something, anything, a song. He would push awful instrumental tracks we made just to have something moving toward completion."
Horovitz went on to explain that "Sabotage" was the last track to go on Ill Communication, though at that point, it was still an unfinished song with a working title that shared a name with a soon-to-be-famous actor but had nothing to do with him. (Per The A.V. Club, the Beasties called the song "Chris Rock" because an engineer named Chris "thought the track rocked.") With Horovitz finding inspiration in Caldato's idiosyncrasies, he decided to have some fun with the producer, writing a song about how he was holding the band down and trying to sabotage their "great works of art."