The Time Ronald Reagan Was Almost Assassinated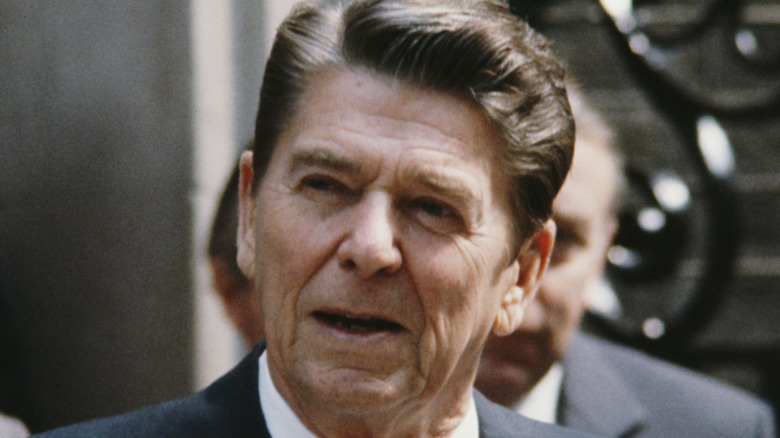 Fox Photos/Getty Images
In history, four U.S. Presidents have been assassinated while in office (per National Geographic): Abraham Lincoln, James Abram Garfield, William McKinley, and John F. Kennedy.
Great Britain's Queen Victoria survived eight attempts on her life, but she's not the only high-profile target to have narrowly survived a brush with death. Several U.S. presidents have survived such attempts, too, including Ronald Reagan. Here's a closer look at the terrifying tale of John Hinckley Jr., Reagan's would-be assassin.
Hinckley was born in Oklahoma on May 29, 1955. According to Biography, he had a rather standard childhood, but after moving to Texas and struggling in high school, he become more of a lone wolf. A failed music career and abrupt departure from Texas Tech University did him no favors. As his mental health declined, he developed an obsession with the film Taxi Driver and its star, Jodie Foster. According to The Independent, Hinckley "began to dress like Travis Bickle, wearing army clothes and boots and keeping a diary just like Travis did. He became obsessed with Foster." To impress her, he chose to go for a bold gesture, as in the movie: the assassination of the president.
Hinckley wrote a series of letters to Foster, but the final one, in March 1981, was the most chilling of all. "Jodie, I would abandon this idea of getting Reagan in a second if I could only win your heart and live out the rest of my life with you," reported The Independent. "... I am doing all of this for your sake."
'Taxi Driver' fanatic turned would-be assassin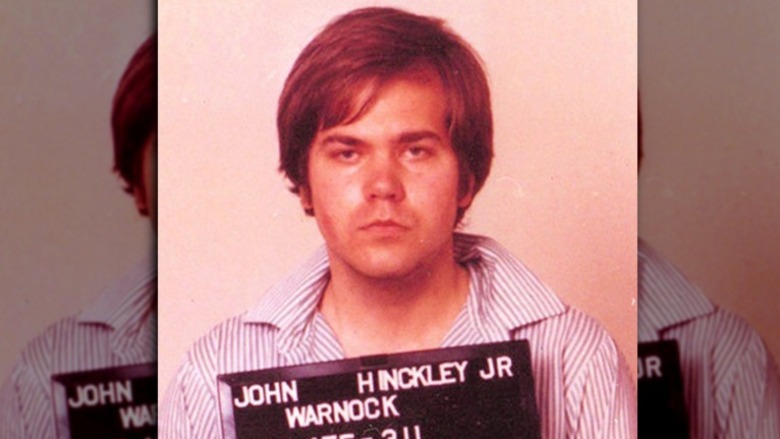 Donaldson Collection/Getty Images
This menacing missive was left in a hotel where the would-be assassin was staying. He had tracked President Reagan to the nearby Washington Hilton Hotel, where the president was speaking, on March 30. That day, Hinckley ambushed Reagan and fired six shots from a revolver at him. It was perhaps only thanks to Hinckley's bad aim that the president wasn't killed. According to The Independent, Press secretary James Brady was struck by the first shot, causing severe brain damage and leaving him wheelchair-bound until he died over three decades later. Officer Thomas Delahanty and the Secret Service's Tim McCarthy were also injured before Hinckley was subdued. The president himself wasn't shot directly; rather, he was hit by a ricochet. The bullet pierced his lung, causing a life-threatening injury, says Biography. It would be 11 days before he returned to the White House.
At his trial the following year, the shooter was deemed insane and found not guilty by reason of insanity (per Fox News). He remained in a mental health institution in Washington until 2016, when he moved to the Kingsmill Resort, a gated community, living under a set of strict legal conditions and restrictions.