The Tragic Death Of Anneliese Michel
Anneliese Michel was just 23 years old when she died of malnutrition and starvation in 1976 after enduring nearly a year of weekly exorcisms by two Catholic priests. 
The Bavarian-born woman was deeply religious, as were her parents, but prior to determining demonic possession to be the cause of her mental anguish, Michel was diagnosed with temporal lobe epilepsy in her teen years, according to the Documentary Channel, who reported that diagnoses led to Michel taking medication that possibly caused hallucinations.
Through struggles with mental illness, the young woman carried on with her studies, graduated high school in 1973, and attended college with the goal of becoming a teacher. However, the Documentary Channel reported that her mental suffering continually got worse. Michel believed demons were following her. She was plagued by hallucinations and voices in her head. 
Michel reportedly sunk into deep depression and erratic behavior. History Daily reported she would eat insects, bark like a dog, and lick urine from the floor. According to that publication, Michel herself believed demons were the cause of her mental torment. The Documentary Channel, however, reported a family friend first suggested Michel may be possessed by malevolent forces. Demonic possession was finally confirmed by a priest named Father Ernst Alt, according to The Washington Post. 
It was Alt and Father Arnold Renz who together visited the girl once or twice a week for nearly 11 months to perform church sanctioned exorcism rites in an effort to cast out the demons. 
Anneliese Michel believed she was possessed for a purpose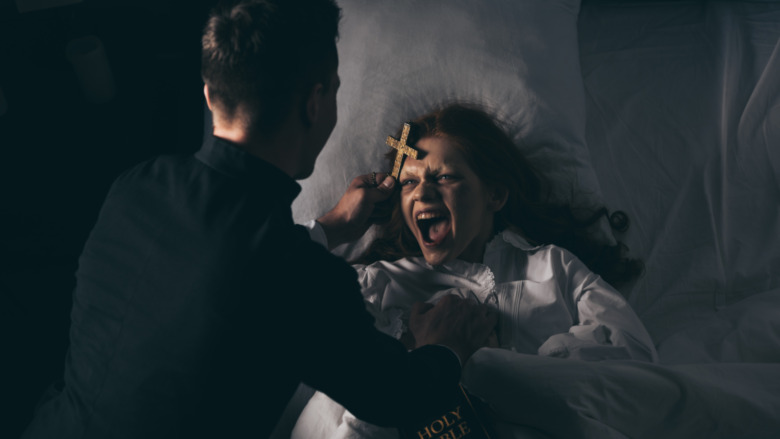 Shutterstock
According to The Washington Post, due to Anneliese Michel's continual declining mental health, she and her parents decided to halt her medications, and in 1975, they secretly enlisted the help of Alt and Renz. The priests recorded their exorcism sessions with Michel. They determined she was possessed by six different demons, according to History Daily. 
During the months Alt and Renz were trying to free Michel from her demons, she claimed "Mother Mary regularly visited her and told her to do penitence for lost souls," according to the Documentary Channel. Michel and those around her believed the reason she was plagued by demons was because she was chosen by the entities to suffer for the sins of others. 
At some point during those months, Michel began refusing to eat, believing it would help rid her body of the unwanted forces, according to the Telegraph. 
Over the course of nearly a year, she endured 67 exorcism sessions until she died on July 1, 1976, of starvation and dehydration. Her parents along with Alt and Renz were convicted of negligent homicide, but only received three years of probation and fines, according to Find a Grave. 
Her mother told the Telegraph in 2005, "I know that we did the right thing because I saw the sign of Christ in her hands. She was bearing stigmata and that was a sign from God that we should exorcise the demons. She died to save other lost souls, to atone for their sins."