This Is What The Oscar Statue Is Really Made Of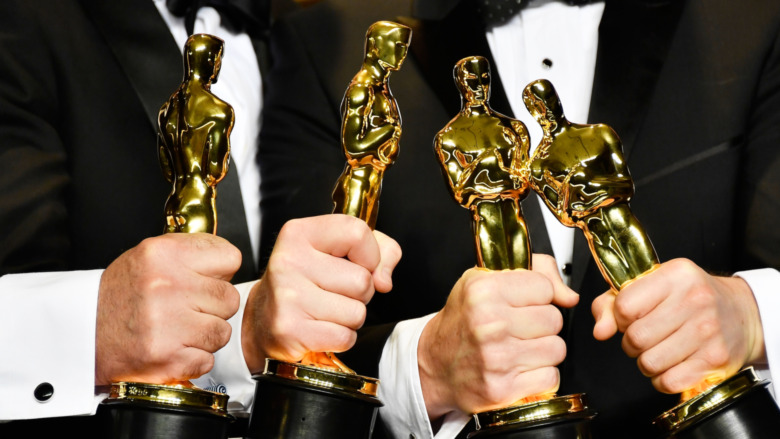 Frazer Harrison/Getty Images
There are many illustrious prizes out there that seek to reward excellence in the film industry: The Golden Globes, the British BAFTAs, Berlin's Golden Bear, the Cannes Film Festival's Palme D'or. None, however, is quite as iconic as the Oscars, awarded annually by the Academy of Motion Picture Arts and Sciences. Per the official website, this year's awards ceremony is due to air live on ABC Sunday, April 25.
Much of the ongoing prestige of the Oscars derives from the awards' pedigree and impressive longevity. Per Britannica, the Academy began presenting the awards all the way back in 1929, and in the years since have honored some of the finest creative individuals in the business, from classic actors of the 20th century, such as Bette Davis and Sidney Poitier, to recent breakthrough directors such as Greta Gerwig.
But though much of the awards' appeal is what they represent — truly, the high point of any film career — it would be a mistake to overlook how much film fans and professionals alike are in love with the physical Oscars themselves, the beautiful statuettes that are proudly clutched, kissed, and held aloft by the prizes' delighted winners. The statue itself — a sword-wielding figure standing atop a reel of film, according to Britannica — has been the prize for Academy Award winners since the awards' inception. But is the glimmering gold Oscar statue as valuable as it appears?
Are the Oscars really gold?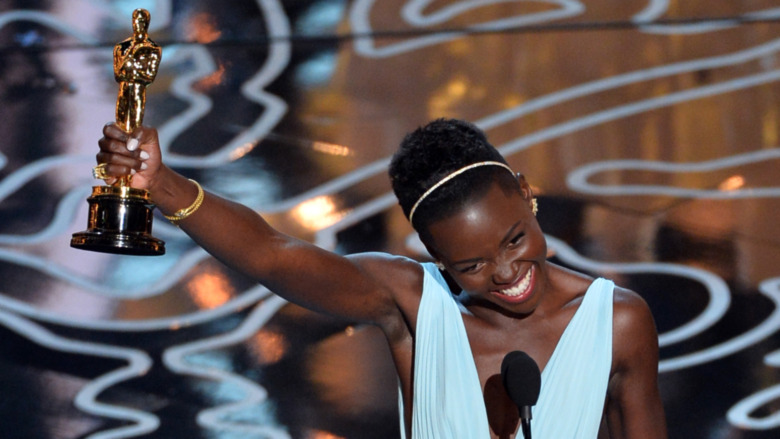 Kevin Winter/Getty Images
According to Britannica, the Oscar statuette was designed by Cedric Gibbons, an art director at Metro-Goldwyn-Meyer who himself went on to win 11 Oscars (from 39 nominations) for his work in film, per RTE.
Gibbons' design for the Oscar statue has remained unaltered in the century since the first Oscar was handed out, but there have been some subtle changes to the award itself, and what it is made of.
First, the base of the statue has raised over time, according to Britannica. The Oscars' official site says that the base of the statue varied throughout the first two decades of the awards, until in 1945 the size of the base was standardized; it remains the same size today.
As with the very first Oscars in 1929, the statuettes themselves are 24-karat gold plated. However, there is one major difference between those early awards and those handed out by the Academy today. According to Britannica, the material beneath the gold used to be pure bronze, a precious metal in its own right. Now, beneath the shimmering gold is a base of brittanium — a pewter-based metal alloy, as AZO Materials tells us. The only time a metal was not used, according to the same source, was during World War II, when, with metal in short supply, the statuettes were made of plaster.